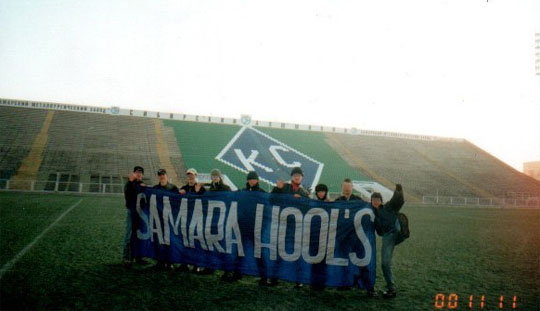 We talked with one of the groups that support FC Krylia Sovetov
We talked with one of the groups that support FC Krylia Sovetov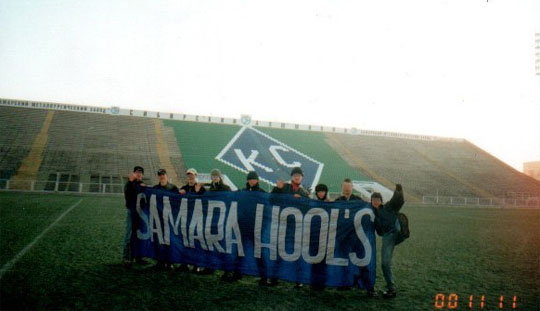 In cooperation with our russian friends from The Spirit of Old School ,we are introducing you an interview with one of the groups that are behind the FC Krylia Sovetov from Samara, a town that will be one of the hosters of World Cup 2018.
You can read it in russian language - here.
Follow Ultras-Tifo in Vkontakte - here.
- Hello mate, introduce yourself and tell us a little bit about your movement.
- Hi there, my name is Igor. I represent YRF (Young Rats Firm) based in Samara. Our group is active since 1987, when the first trip to support our club in another city was done. There are also some other groups of supporters in Samara. Such as: Shadows, North Side, Funeral Crew, Unit & Grinadery. Also some youths – Juniors. Since we flew out from the Premier League to the 1-st League – we got some process of small stagnation, but I think it`s also benefit for the future of our movement.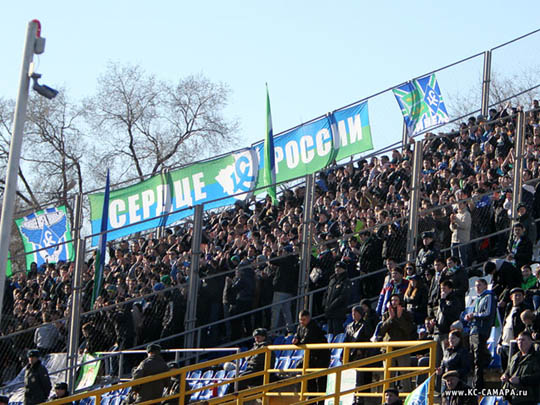 - Tell us about your stadium performances.
Things are not as good as they can be with choreography during matches. Ultras groups that make visual support do not participate in serious fight actions, they have a few number. But I can name some good pyro-shows we made. Now we have some troubles with it, because our Government is gradually "tightening the screws" before the World Cup 2018. They only need obedient scarfers with hotdogs, which is not acceptable for us.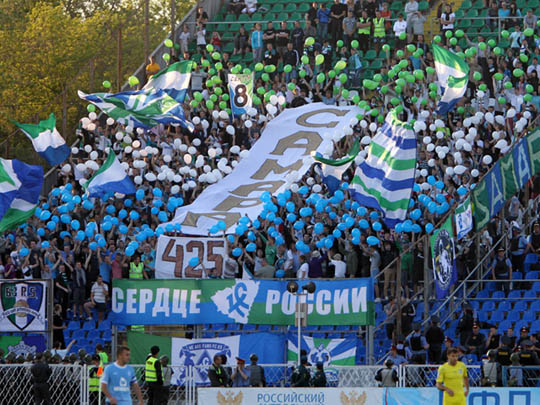 - World Cup 2018 will be in Russia and Samara city is also hosting the competition. Can you name your 3 attractions in Samara?
- There are enough places for sightseeing in Samara. Refine works in the city, the New Stadium constructions already started, everything goes on and on. The main attraction of course is the embankment (Volga River). It is fully restored! Of course all fans won't be able to pass by such a cult place in Samara as «DNO» (Brewery in Samara). I think that there will be a 24/7 queue during the WC18. A walk through the old part of the city is also a great pleasure. Well, as for me, I would recommend getting to the other coast of the Volga River and staying for 1 or 2 nights there in some rest house, a beautiful nature and a minimum of civilization.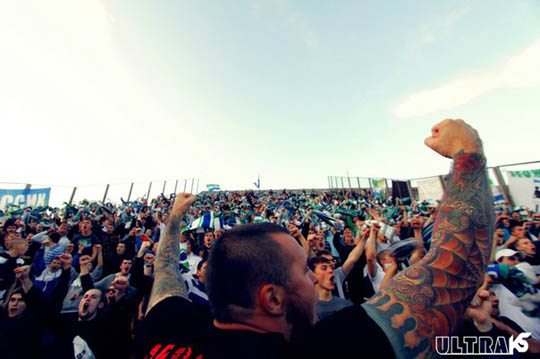 - Do you have any friendships with other groups?
- Officially we have no friends in other cities. We have some good relations with guys from St. Petersburg (Zenit), but it's not a friendship. Especially when they have relations with our opponents – FC Ural Yekaterinburg. As to our contacts with FC Zemun, I would say, our relations are just on the first step. Our Serbian brothers always meet us with great hospitality. I hope that one day they`ll come meet our city to become more familiar with us, our realities, way of life and our movement.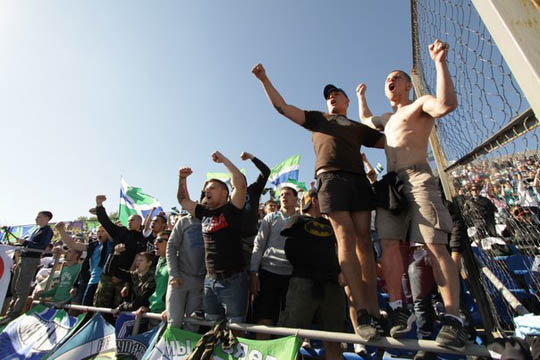 - And who are your enemies?
- It's easier. We have a lot of enemies. I don't want to list them, but some of the main ones are: Lokomotiv Moscow, Rostov and Shinnik Yaroslavl. Also I can pick up one of the oldest and principal – Lada Togliatti, but they unfortunately have low level firms, so we can't treat them as a serious enemy. To be honest, in the 1st League there is a weak level of firms, so they cannot act even during home matches. I also forgot about our "Friends from the Mountains", all the teams from Caucasus are also in our enemies list.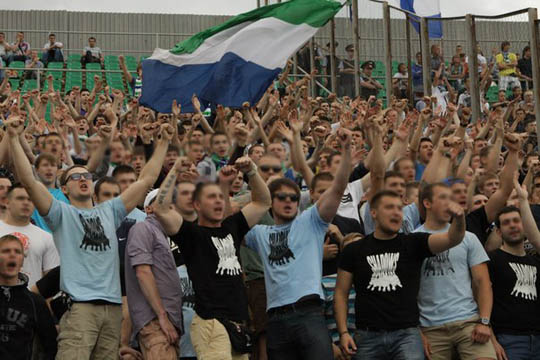 - Tell us please about your conflict with the Police.
- They arrest us for no reason. A good friend of mine received a fine of 1500 rubles for standing in a pass of our sector for a couple of minutes. Another guy got ban for half a year for the banner "Yebat` Yaroslavl`" (Fuck Yaroslavl). Hope we`ll find a compromise with our club Management and cops persecutions will be weaker.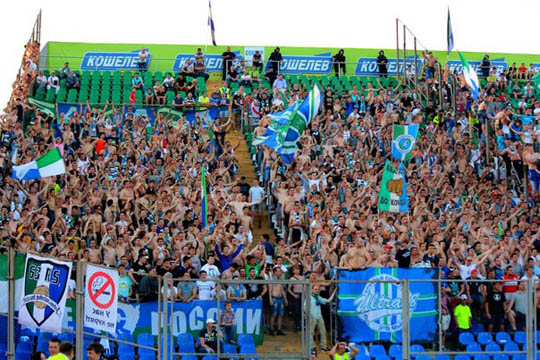 - Can you rank your movement comparing with other movements in Russia?
- It's not correct to rank ourselves. But I think that Samara is in the list of top-10 Russian movements. Also I hope that next year we will get back to the Premier League.
- What are your thoughts about the scene in Europe? Who's number one?
- The European scene is various and eventful. Primarily I can single out The Balkans: Greece, Serbia, Bulgaria, Croatia. Main clubs of these countries have good Ultra Scene and level of violence. Also I can mention Poles. We have our own "Russian Style", we refused to use "weapons" in fights. But if I really need to rank, my personal top-5 is: Russia, Serbia, Poland, Greece, Bulgaria.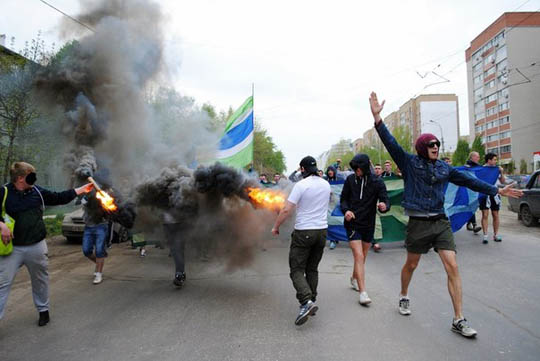 - Which team would you like Krylia Sovetov to play in the future, with whom you never played before?
- We are ready to visit any away games in Europe, hope that one day our team will please us and qualify for the European tournaments. Of course the priority is Eastern Europe and the Balkans, but maybe some of us are dreaming about Allianz Arena, or maybe…Amsterdam.
- What are your plans for the future of your fan-scene and what are your wishes to the readers?
- I hope that our fanatic-scene will only develop and get stronger. In spite of all the difficulties that may arise. I want to wish your readers a health and to stay faithfull to their principles.