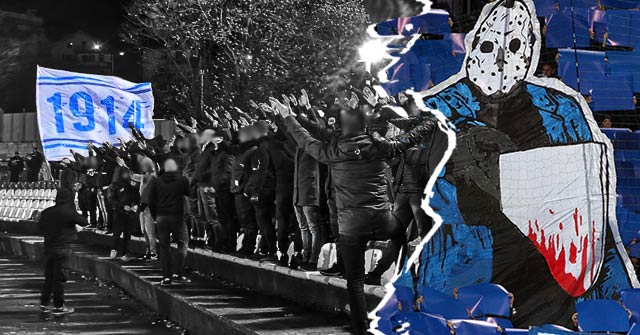 Bulgaria: Interview with the ultras from Sector A of Levski Sofia
In times of quarantine and no football, we talked with some Levski Sofia supporters to tell us a bit more of their group. Hope you guys enjoy and let us know in the comments who should we contact next.
- Hi, introduce your group.
- Hello, our group is called Ultras Levski. The group was formed in 2018 as a result of a reunion of several groups - South Division, Blue Hunta and other supporters, who want real, pure and financially independent tribune. At the stadium you can find us at Sector A, Block 5.
- Why did you move away from Sector B and start supporting from Sector A? What are you struggling for and how is your connection right now?
- The long story short: year after year the main group in Sector B had financial affairs with the owners of FC Levski. There were many compromises during the years in order to stand united in Sector B but the final one was in 2016 when South Division published statement against one of the owners. After that problems started between the two groups and SD moved to Sector A, first alone but soon followed by Blue Hunta and other supporters, who didn't agree with those close connections.
Of course we can mention many more reasons but this is the main one. We are struggling for the ultra way - independent and self-financing tribune, without any relationship with club owners. That's the only way to be the corrective factor when you love your club. And today we can proudly say that we do not have any dependency on the club ownership.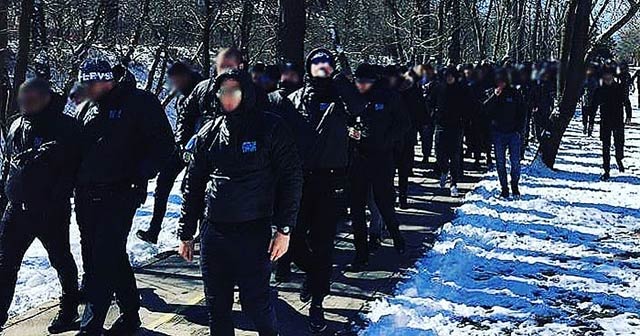 - We know Levski have financial problems the last few months and that supporters started to collect and donate money to the club. Can you explain more about the situation?
- So .. in the beginning of the year our owner has been charged with corruption. Тhe state changed gambling law and shut down his entire business without any investigation and practically Levski was in situation of bankrupt.
Then all Levski supporters start collecting money by their own and together with the club start different campaigns. Since then, for 45 days we managed to collect almost 1.5 million.
Our group took active role in this initiatives - every game we walk with ballot boxes, call for donations from our tribune, sell own merchandise and donate all money and also donate quite good amount of money by name of Ultras Levski.
Unfortunately, due to the coronavirus outbreak we are more passive but our fight is still going on and you can check on levski.com what's happening.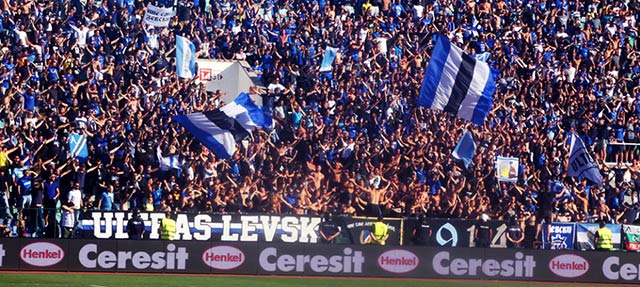 - Can you tell us more about your stadium performance this year?
- We try to be everywhere where Levski plays. We started very well this season with small tifos on home and away games, but after that we received a ban from our club owner to use even drums and megaphones at home games. So then we started to be more attractive at away games and sing loud at home ones.
We are trying to improve by every single game, to make more different and good-looking tifos, pyros and clothes of course. Now all bans are lifted and our Sector is again power- and color-full. You can see our last presents against cska-sofia and ludogorets for example.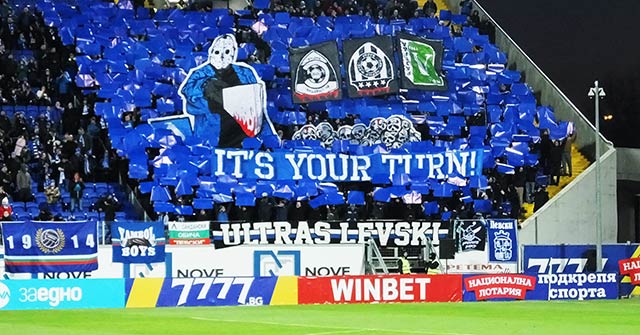 - Is there any chance of reunion in Sector B again?
- Between 2008 and 2016 both groups - South Division and Blue Hunta managed to do almost everything in Sector B and you can see clearly the difference between this period and the one after that. But to be honest at this point - NO. We want independence from whole the political-scum picture.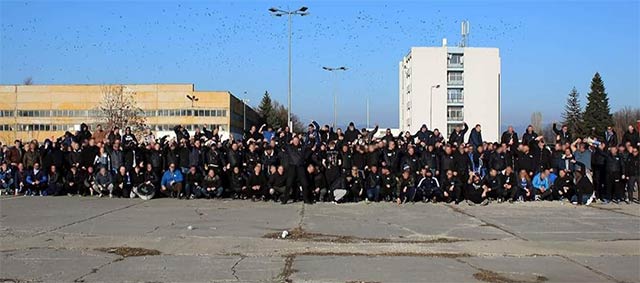 - How many members do you have and how do you organise your games, choreos and presence at all?
- We are around 100 members, but on the stand we have one core between 200-300 people on average - home or away games. For every game we prepare everything in the days before - choreography, visualization of the stand and after that on the match day we gather in our drink some beers or looking for troubles with away (or home fans).
On the away games it is more difficult because we have to negotiate for a separate away stand. But so far we are doing it cool - and most importantly with our own money.
- This season you made some nice away games, can you tell us which is your best away so far?
- This season we started very well away at Ruzomberok (Slovakia) - more than 100 people attend the game - we sing loud, proud and we won. It was really risky because we didn't have tickets for the match. After that we made nice invasions with a lot of pyro in Tarnovo and Plovdiv. We made a pretty cool choreo in Stara Zagora. Which is the best? It's yet to come for sure. We are just starting.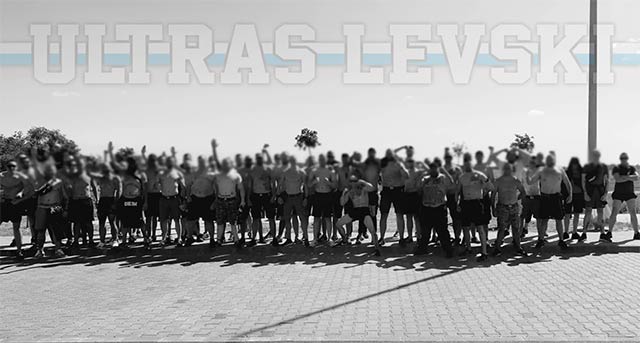 - Can you tell us more about your activity outside the football games?
- We are trying to be active outside the ground as well. This year we captured few flags - one from our biggest rival the NEW CSKA (former Litex Lovech which moved to Sofia), also some from Botev, Slavia and English fans when they played in Sofia vs. Bulgaria. We proposed an arranged fight to Botev in Plovdiv the night before the game but they declined. We went there, waiting for them couple of hours but even that didn't help.
Our art crew made a lot of graffiti in Sofia. We made a charity football tournament in the memory of Andrey Monov (killed in centre of Sofia) and with the money we gathered we bought an equipment for the National Children Hospital. Our members train together, do different activities on the street.
- Do you support your national team?
- Yes, we do. We visited Praha away in June, 2019 with a nice group of people. Drinking and having fun for two days all around Praha. Before that we made the same in Amsterdam. We were looking forward to the game vs. Hungary, but with the coronavirus outbreak...
- Do you have any friendships in Bulgaria or outside?
- We as a group don't have any official friendships - there are of course some personal contacts between people with same way of thinking.
- What is your opinion about ultras movement in Europe last years?
- We think that Europe holds number one in ultras mentality. We can say that central european scene us growing up with every year. Also Scandinavian and of course Poland, Croatia and Russia. No doubt. Last years we see a great performance from supporters in Africa and part of Asia.
- Any last words to our followers?
- Be safe, support your local club and defend Europe! Cheers!