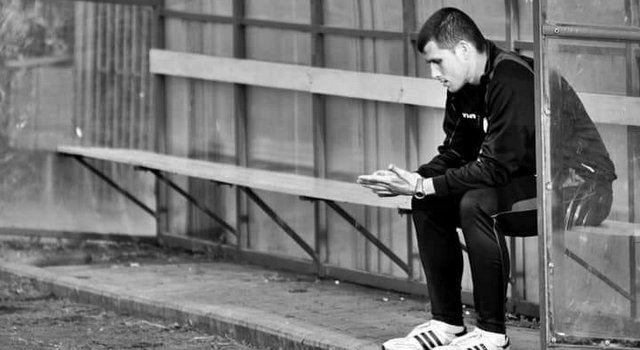 First Polish football manager in the English Football League!
Our friend Matt White made this interview with Emil kot.
From suffering a career ending horror injury at just 17 years old, Emil Kot managed to become capo of Ultras Engima, main group of Polonia Warsawa who at that time played in Ekstraklasa, the Polish top division.
Close to death after a fight to become a scout assistant manager in Polonia Warszawa. And today he is the first Polish football manager in the English Non-League!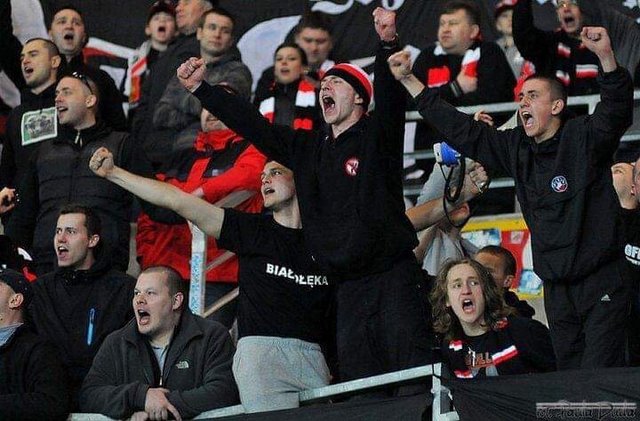 EK in action as capo of Ultras Engima.
Beginning of EK's football journey
You were born in Warsaw, Poland and that's where your football journey began at a young age?
EK: - That's correct. I grew up in North-East Warsaw in Bialoleka on the right bank of Wisla river. Back in the 1990's, it would be described as more like the village side of Warsaw you could say. Quite similar to Bedfont where I'm living now in England. We had a large garden full of animals – three cats, three dogs, pigeons, chickens and of course that garden was my first football pitch. I've been playing football since I was 6 years old, everyday you would find me with a ball at my feet. I have great memories of the summer months where from early morning to late evening most days, it would be constant football games being played with my older brother and our friends.
I played for various clubs in Warsaw – Polonia Warsaw, Polfa Tarchomin, Dolcan Zabki and Marcovia Marki. Across my youth football, I was playing mainly as a centre back but when I turned 16, the first team coach called me up to the first team and changed my position to a more central defensive midfielder role. I was too small to play as a centre back in adults football, I'm only 180cm (5ft 9) so they pushed me into the middle of the park.
Unfortunately, my playing "career" finished when I was 17 years old after one season in adults football. I was playing for Marcovia Marki in the 4th tier of Polish football at the time. I twisted my left knee and suffered tears to my ACL (anterior cruciate ligament), LCL (lateral collateral ligament) and PCL (Posterior Cruciate Ligament). Additionally, I also damaged my meniscus. On the way to the hospital in the ambulance, I just knew that it was a very serious injury and that it would be the end of my playing career.
The pain was unbearable. After a long period of recovery, I tried to go back to playing football 2 or 3 times. Unfortunately, after every single attempt, I had problems with my knee. In the meantime, my coach Jaroslaw Wojciechowski told me that I had shown some mental attributes to be a good coach. He knew that I loved football. He was pushing me to make sure I kept football in my life. That's why I ended up doing my first coaching badge when I was 18 years old. Straight after that, my club (Marcovia Marki) gave me an opportunity to be a coach of the U7/U8 group. That was the beginning of my coaching journey.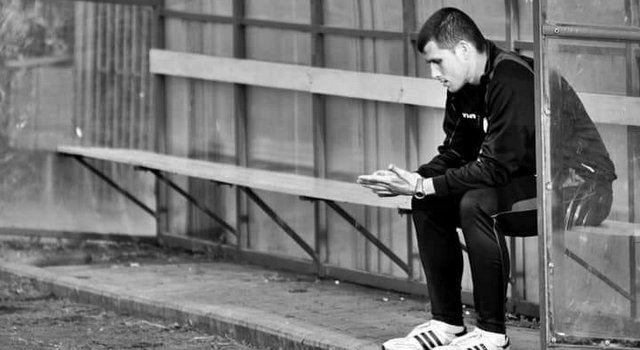 Many football fans have a strong interest in Polish football and many of you have done numerous 'groundhopping' trips across Poland. Some have ended up watching Polonia Warszawa, a club that Emil Kot has had a link with from a young age. He grew up supporting them and regularly attending their games, becoming a part of the Ultras Enigma group which he explains more about below. As a child, Emil spent 4 years playing for their youth teams, was a scout for the club while they were still in the Ekstraklasa for the 1st team, U21's and academy. In 2013, the club found themselves playing in the IV liga (5th level of Polish Football) after they had problems off the field with their owner and finances, which led to the club not receiving a license to play in the Ekstraklasa.
From the stands to the dugout at Polonia Warsawa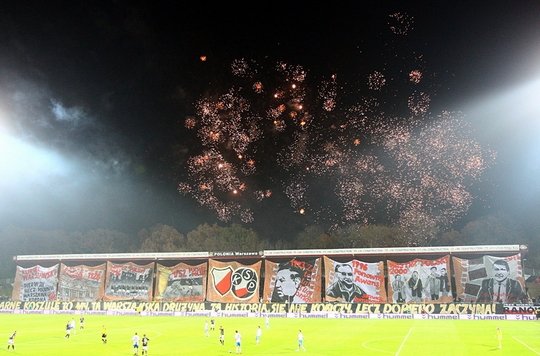 Photo from the 100th anniversary of Polonia. Report online here.
You were appointed as assistant manager to Piotr Dziewicki and got Polonia promoted in your first season. As a passionate fan of the club, you must be proud to be able to say that you not only played for them at youth level but you also scouted for them and coached them which led to a promotion during a tough period for the team?
EK: - I'm very proud that I'm part of the history of this fantastic club. I've been a Polonia fan since 1998, I can definitely say – "Polonia till I die!"'. When anyone in the UK is asking me what my favourite club is, I always answer that I don't support any club in UK and that I'm a Polonia Warsaw fan. After that they normally have to Google who they are, it ends up being good marketing for Polonia you could say (haha).
My fan journey with Polonia is one that is rather crazy. When I was 14 years old, I started supporting Polonia more actively. I was travelling with my brother to the away games and I was a part of Ultras Enigma group. Sometimes it put me in dangerous situations but… it's "part of the game". As you know yourself, we have a different fans culture in Eastern Europe. When I was 17 years old (after my knee injury) I started to be a fans leader (capo). I ended up doing it for nearly three years. I had some problems because of being in that position from our local rival fans – Legia Warsaw. It was a good lesson for me and it certainty enhanced my character.
In 2010, there was a fight and I was close to death. I lost 1.5 litres of my blood after this fight on the street and was left with several knife wounds. Fortunately for me, the paramedics from the ambulance saved my life. Just 7 days after this incident, I turned up at the next home game to lead the fans because I wanted to show my character and my love to the club. I carried on leading the fans for the next couple of games but my situation in the city was getting even worse than it was previously so I decided I had to end this and focus on my coaching education. I did go back to leading the fans one more time when Polonia played their last game in Ekstraklasa against Piast Gliwice. There were almost 6,000 fans in the stands; great atmosphere but it was a sad farewell to the top flight.
EK as in action as capo for Polinia.
EK: - I was lucky, sooooo lucky that Piotr Dziewicki gave me a chance to be his assistant manager straight after relegation to the 5th tier. It was like a dream as I had been a player, fan, ultras and assistant manager. It was a great season. We played in front of 3k – 5k people at our home games, a massive turn out for that level. In the end, we won the league and got promoted to the 4th tier. I'm still following what is going on at Polonia and I know some of the players, manager, other people at the club. I hope we will be back soon to the Ekstraklasa. Fingers crossed as always!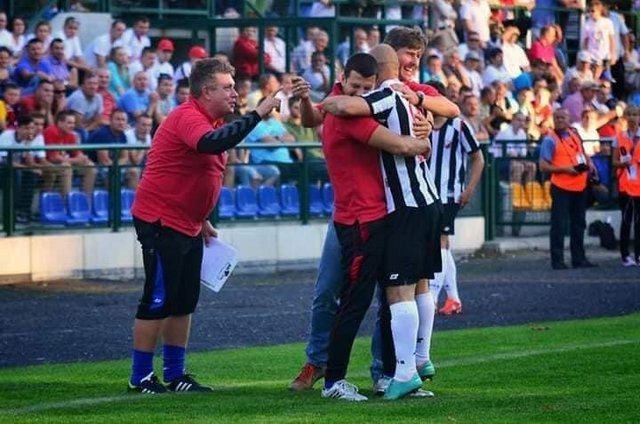 - After several years with coaching in different clubs, EK moved to England. Today he is coaching in Balham FC, as the first Polish football manager in the English Football League!
You can read the full interview with Emil Kot at mattwhitefootballwanderer.com
You can also check out Matt White on Youtube.