Germany: Over 3000 cops on duty for this derby match!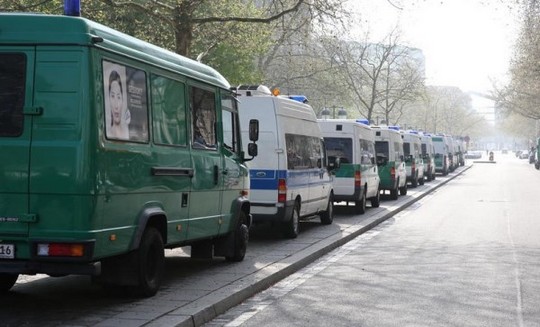 Germany: Over 3000 cops on duty for this derby match!
The Re-match of the "Niedersachsen-Derby" was the Days/weeks before in the Press mainly because of the "Bus-compulsion". A ticket you get only if you go with a, from Hannover 96 organized bus from Hannover to the Match (and return). This should "ensure security".

This is so in the fundamental right of "freedom to travel" intervened, is completely beside the point.

Over 3,000 cops were Matchday in use. An absolutely absurd number. At "normal" high risk Matches there are usually 800-1500 cops.

With this "Bus-compulsion" was virtually everyone who lump sum stamped over 2,000 fans as criminals. Who chose its own journey, the simply had bad luck. This took the active scene of Hannover 96 as a reason to stay away from the match and instead perform a demonstration (around 1.000 Peoples) in Hannover and Braunschweig.

"Freedom of travel for all football fans" was written there at the forefront. Correction! Unimaginable, could such a model will be normal. Where would we go when looking for himself, his friends and / or family can not even choose whether you want to arrive by car, bus, train, bike or whatever. We come to the game...
In the guest block of activity was hardly what to feel . Course . Only banners on the theme "bus travel" there .

The Eintracht fans, however, offered a really good show. The atmosphere was really good. The whole game was whipped your team forward. At the beginning there was a great choreography. Balloons, confetti, snippets and more were shot into the air , the entire stadium a sea of blue-and- yellow flags , and in the south stand were , by means of some outsized characters and a message on the fence , again illustrates the importance of the derby victory. Implementing nearly perfect.

During the game, were repeatedly " pyrotechnic products" presents , but especially after the goals. All in all a great performance by the BTSV fans.

A bitter aftertaste remains, of course, when one thinks about what could have been in the guest sector may be going on, you would not have taken the fans the fundamental right to freedom of travel.
Report written by Unterwegs-in-Sachen-Fussball
Eintracht Braunschweig: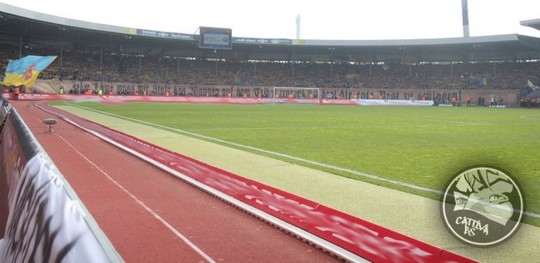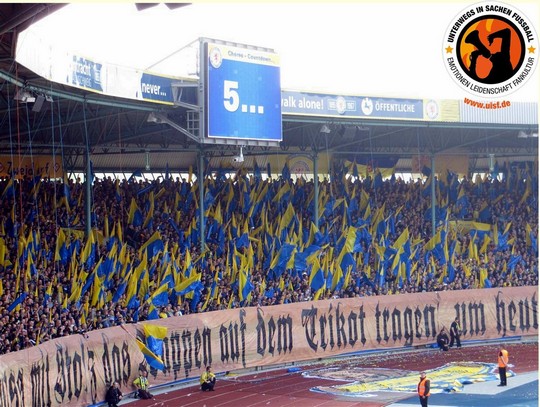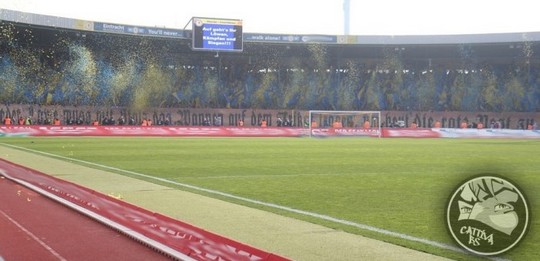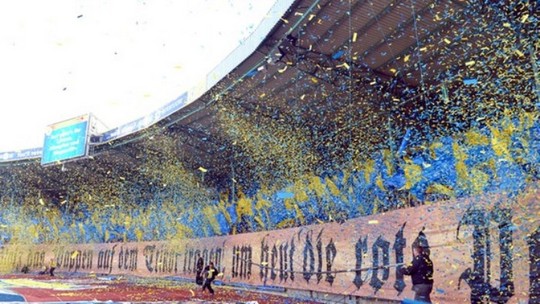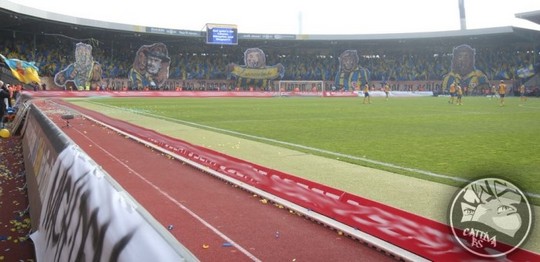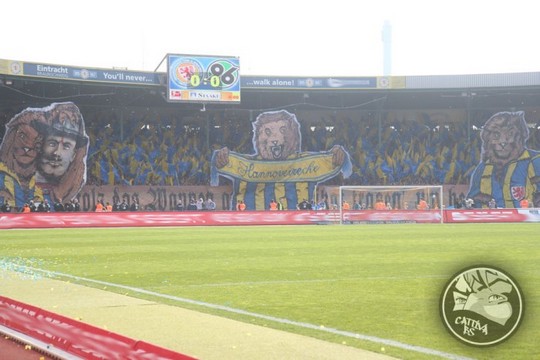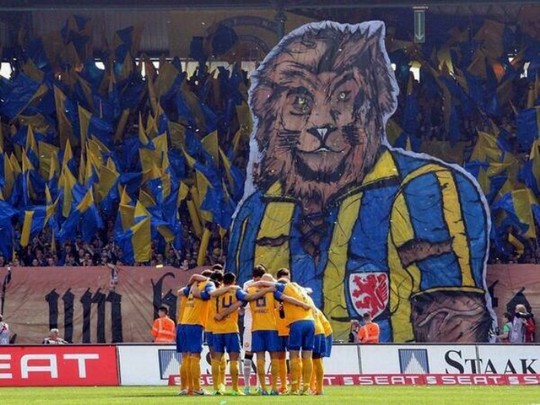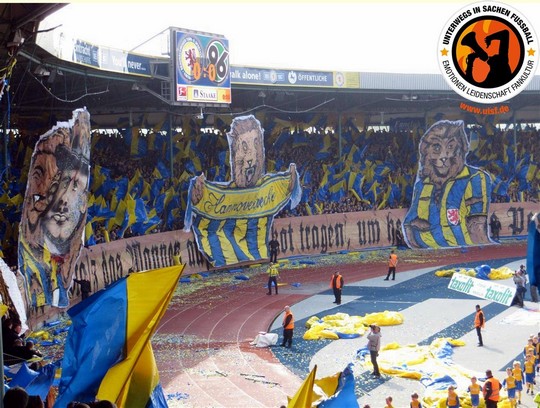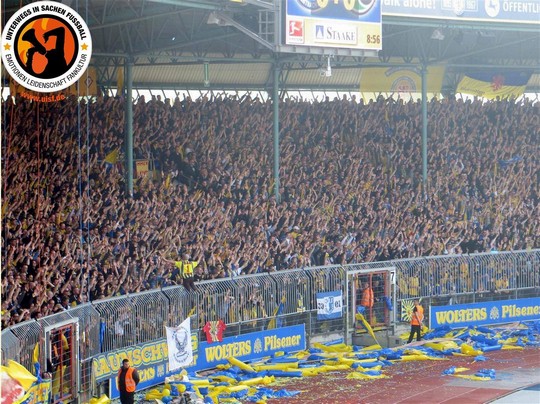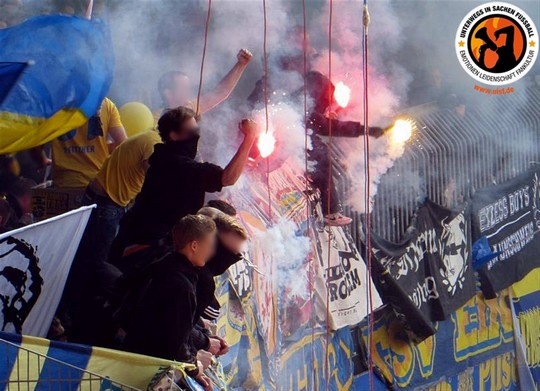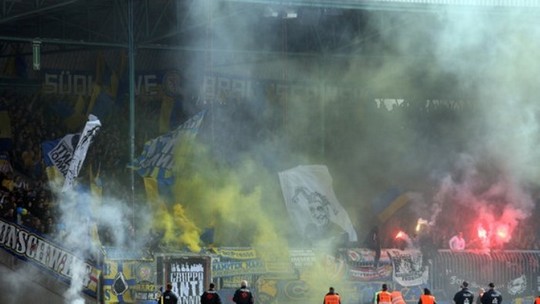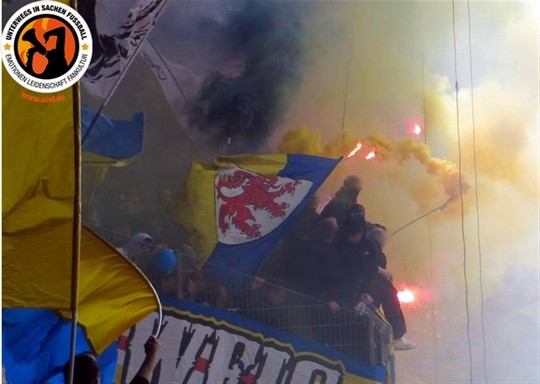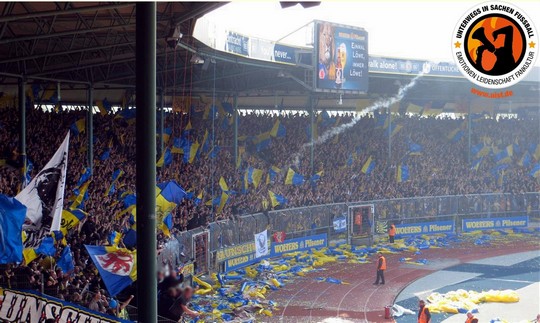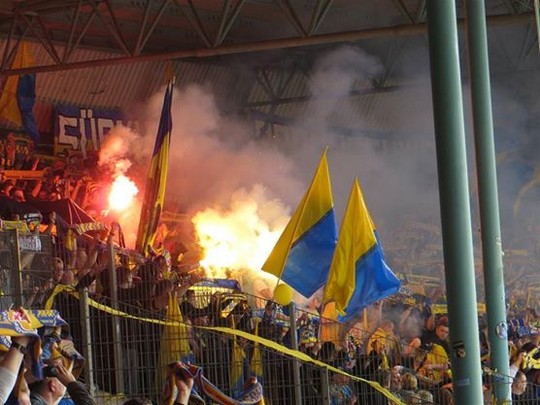 Hannover 96: