Interesting match in first round of Austrian cup.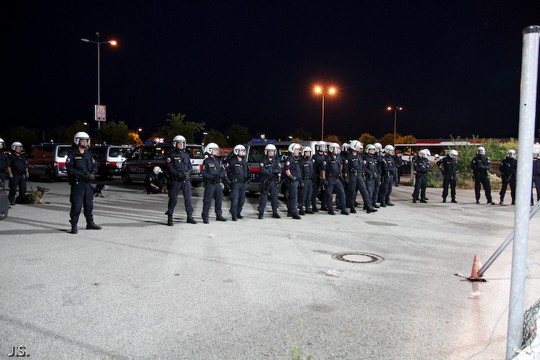 First round in Austrian cup is normally nothing special. Teams from Bundesliga are playing in villages against small clubs and win with x:0 (ok, sometimes there are surprises).

This time the first round brought also a fan highlight: Austria Salzburg against Blau Weiß Linz.

Blau Weiß Linz was founded in 1997 after there former club VOEST Linz fusion with city rival LASK. They joined with another small club and built Blau Weiß. Highlights in the younger history was the promotion to second league, but now they are back in Regionalliga Mitte (3rd league). As many know in Austria it is something special to have supporters at lower league clubs. Blau Weiß is one of this special ones. They have a proper fanscene and for special games they recruit their old hooligans (famous in the 80s/90s).

First cup round brought us one of these special games. Fans of Salzburg and Linz hate each other (except for the, meanwhile dissolved, friendship between Union Ultrà and Viking Linz). In the last years this hate was getting stronger again, because Salzburg had beaten Linz a few times. So this game could be good for a revenge.

Also police noticed this fact and made it harder to find a place to "play". Stadium of Austria Salzburg wasn't allowed to use for this match (no away section), other cities didn't want this game in their city, so it was announced to be played on Wednesday evening in Linz.

2 days after announcement it was shifted to Vöcklabruck because in Linz the costs and safety measures were too high. Vöcklabruck was for the home team (Austria Salzburg) a complete new stadium.

Club and fans never played here, so it was difficult to coordinate and plan everything. Due to the good weather 3000 spectators went to Vöcklabruck.
From Linz around 300 fans came, 100 by train and corteo through the city. Away section was complete shit (100 wide, 2 long), so no special tifo by them. Just small banners (first on the fence, later in their hands).

Union Ultrà made a tifo out of violet and white (with club emblem) flags and a banner said "At every place, on any time – we are standing always for Austria".

Support was quite okay, sometimes really loud. Around 50-100 supporters on the opposite side were just a few times loud. Support stopped in half time, because a friend had a heavy accident on the same time and they were all little bit shocked.



On the pitch it was a equal game, but Austria Salzburg was a bit stronger. After the 1:0 Linz had a few chances, but in the 90th minute the violets made everything clear. During celebration of the second goal one supporter jumped on the track and took a flag from the away section. But security and supporters from Linz took him and the flag came back to the owner. In the same time a few fans attacked the away end from outside. Short clash started, police intermediated but it started again. Some good kicks and punches from both sides, but police won with their gas cans and batons.

Salzburg regrouped (around 60 guys) and walked to city to attack Linz on their way back. But police hold away fans for more than an hour in the away section and so the surprise effect was gone. Police tried to catch Salzburg guys a few times, but they were running around different ways. After long time Linz came back to the railway station with heavy police escort. Nothing more happened.

It wasn't the big riots that many expected. But it was nice to see that both scenes aren't dead and could have some nice actions if they wanted. Let´s see what second round brings!

 

Photos: