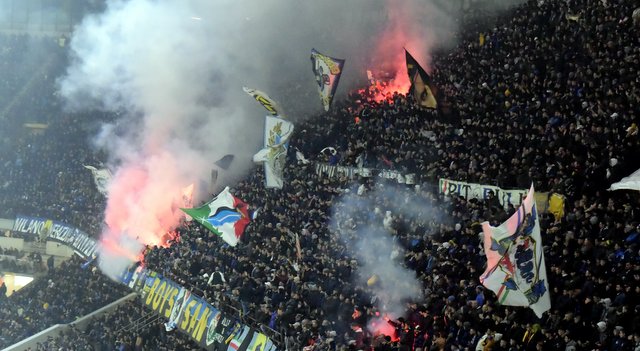 Italy: Ultras-tifo visited the Derby di Milano!
Last weekend we went to Italy to see the Derby di Milano between Inter and Milan. During the same weekend we also tried to watch 3 other matches...
Firenze:
We arrived at Malpensa Airport in Milan and drove 355 km to Firenze for the match between Fiorentina vs Atalanta with kick-off 15:00. Great match in Serie A played at Stadio Artemio Franchi, an old school stadium built in 1931. Unique stadium in the city of Firenze. There is hardly any modern VIP sectors in this stadium and the stadium can be seen from far away due to the four tall stadium lights surrounding this ground. Absolutely worth a visit if you get the chance and the city is outstanding, as many other Italian cities!
We bought tickets from the official club shop nearby. About 25 EUR behind the goal, on the opposite side of Curva Fiesole, the ultras of Fiorentina. Any foreigner need to show passport when you buy tickets, as well as when you are entering the stadium with tickets. Your name and birth is written on the ticket.
Unfortunately the ultras of Atalanta didn't attend this match. There was some trouble last time these two clubs met and the Italian FA made some restrictions for the away fans. The away sector was open for fans, but the ultras decided not to go.
Curva Fiesole was loud during most of the match, sometimes they also got the other stands to chant. But in second-half Atalanta scored two goals and won the match 2-1.
Attendance: 35 034.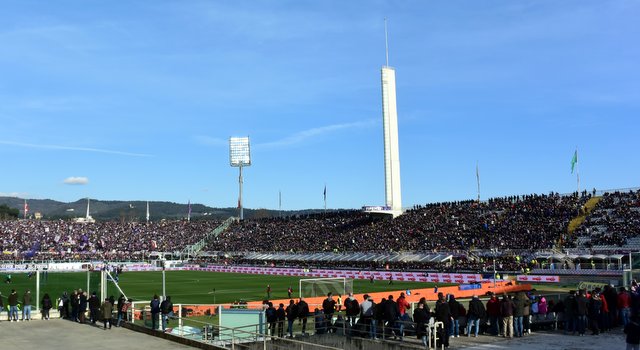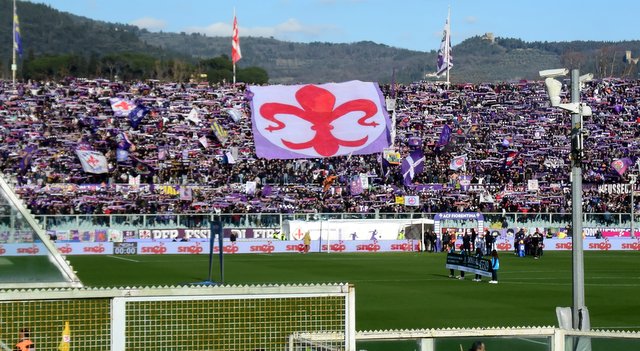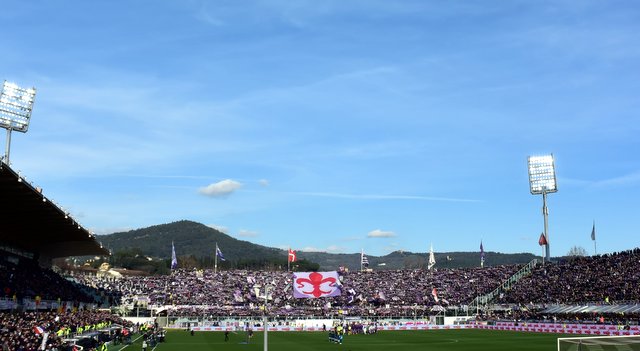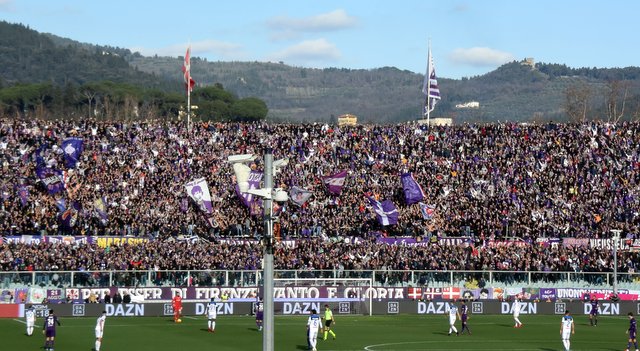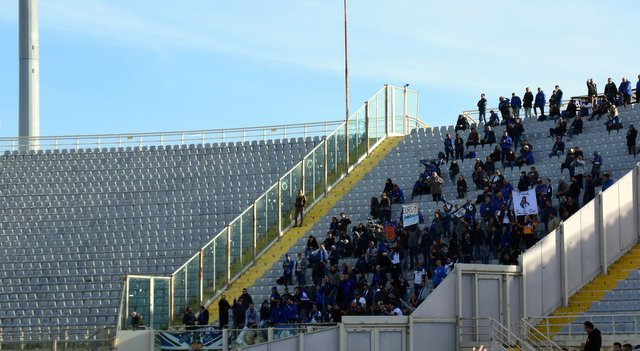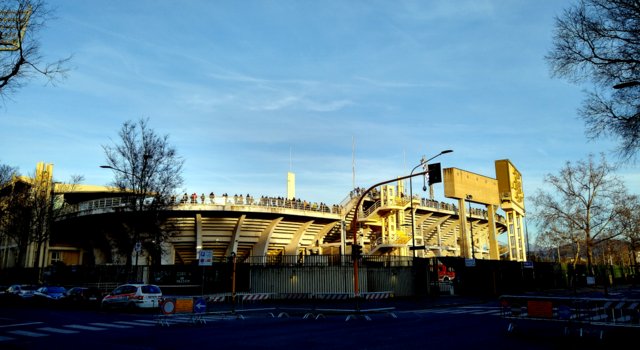 Verona
Just before full-time in Firenze we had to get to the car quickly and start our journey to Verona. We wanted to attend the match between Hellas Verona vs Juventus the same day. With kick-off 20:45 and 232 km to drive, we didn't have much time.
For this match we was unsure if we could get tickets. There was never any open sale of tickets, only for fans with membership, season card and away fans. Tickets on the open market never went online and Hellas Verona told us it was sold-out. We still wanted to give it a try, and there was no other matches the same evening we could attend.
Parked the car at our hotel nearby and went to Stadio Marc'Antonio Bentegodi to search for tickets. Quickly understood this was impossible. With a capacity of 39 000 fans, Hellas Verona is only allowed to sell 31 000 tickets (for this match 28 600).
Sad for us, and sad for many hundred supporters of Hellas Verona who was left outside while the stadium still had 10 000 empty seats which they couldn't use (probably not approved by the Italian FA).
We watched the match in one bar outside the ground together with other ultras. Some supporters also watched the match through the gates, at some points you could see part of the pitch. But best of all, standing outside you could absolutely hear the atmosphere!
What a night this was for Hellas Verona. From Seria B last season to 6th place in Serie A now. And this night they managed to win 2-1 against Juventus. Stadio Marc'Antonio Bentegodi is very intimate, totally different from Fiorentina earlier same day. Bangers and chants was loud and clear from the outside of the stadium, and it made our situation much better.
We had the option to buy expensive tickets on the black market (ticket web sites), but we decided to not support this kind of activity, as they only increase the ticket prices for local supporters.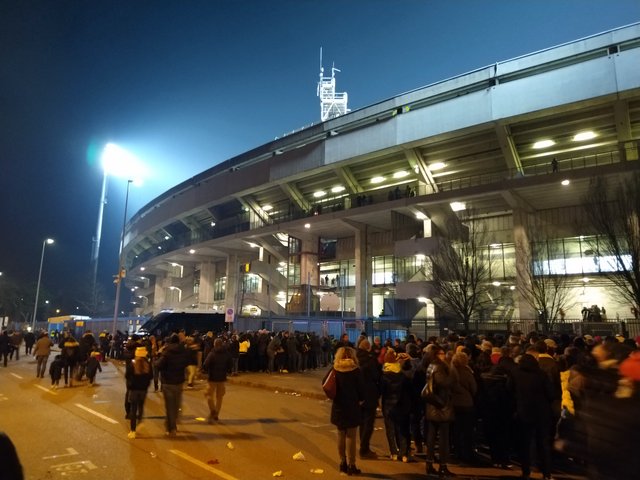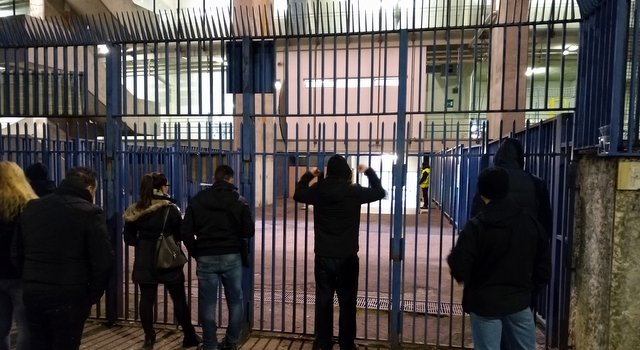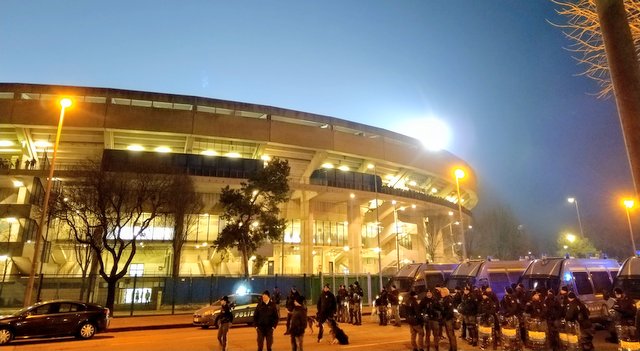 Modena
The next morning we took a quick sightseeing in Verona before our journey started again. The derby of Milan, between Inter and AC Milan, had kick-off 20:45. On our way to Milan we had planned one stop in Modena, a small city with 185 000 inhabits, just 120 km south of Verona.
Modena FC played against Sambenedettese 15:00 in Serie C, just in time for us to reach the derby in Milan later the same day.
We bought tickets at the stadium. 20 EUR for the long side. Really not expectations to this match, but it turned out to be a good choice.
With 6800 sold tickets is was quite a bit crowd of ultras from Modena. And the away fans, probably 100-150 fans, were impressive as well. Some of the older lads got in touch with us during the match and we had a chat together with a couple of beers. Probably not the most interesting match for Modena FC, but the home crowd never disappointed us.
Capacity of Stadio Alberto Braglia, which was built in 1936, is 21 151 fans. The stadium was totally renovated in 2003, but it didn't look too modern. Still got some old sharm and very intimate stands.
With 200 km to drive we had to leave the match before full-time to reach the derby in Milan...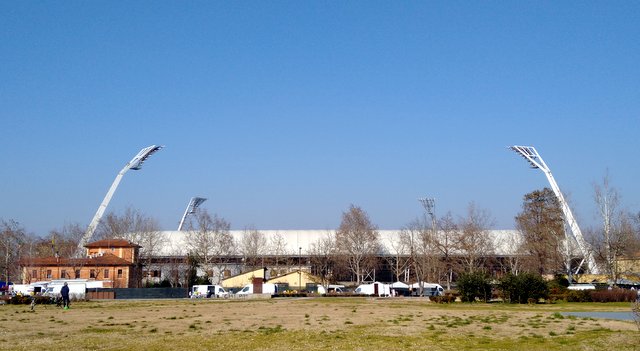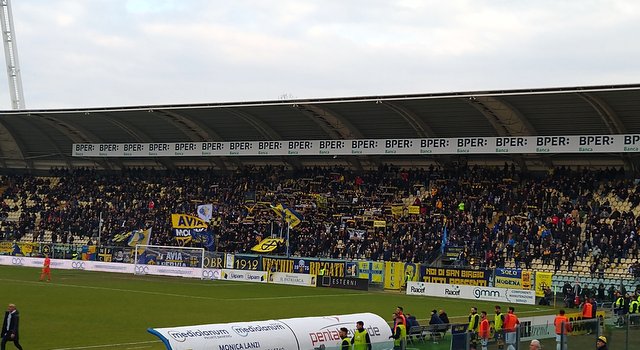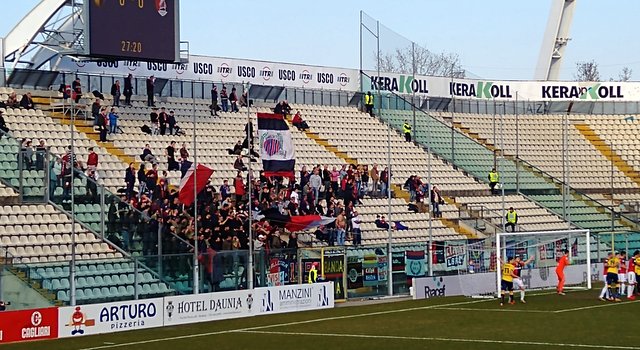 Derby di Milano
Sold-out match at the famous San Siro. With 3 points Inter would be on top of the league with same amount of points as Juventus (who just had lost against Hellas Verona).
Already an hour before kick-off, Curva Nord (Inter) and Curva Sud (AC Milan) was filled with supporters. On this derby there is no restrictions for home or away fans on the neutral stands. They mix all together, both Inter and Milan. We had seats at the end of the long side, very close to Curva Nord. But there was plenty of AC Milan fans around us sharing for their team.
We were just talking about how friendly this derby seemed to be, when Curva Sud Milan suddenly displayed "Inter Merda" with flash lights! The tension definitely raised minutes before kick-off!
Both sides with choreography when the players entered the pitch. After 2 goals for Milan in first-half, things looked bad for Inter. But in second-half they scored 4 goals and won 4-2!
Curva Nord exploded, it was insane! We had never expected such an atmosphere for this derby. Chant after chant, very loud. And mixed with some smoke and flares for 90 minutes. This couldn't get much better!
From our seat it won't be possible to give an objective description of Curva Sud Milano, as we were too close to the Inter fans. But we've been told they did very well, despite the results, and often we could hear their songs. In second-half Curva Sud pulled off some smoke bombs.
We can highly recommend this derby to any other groundhoppers. And San Siro is probably one of the best stadiums in Europe (ultras vice). The construction is massive. Constructed back in 1926 and upgraded several times. Inside it is very steep and with roof. The noise just don't disappear! We also noticed there is nearly none VIP sectors in this stadium, which for us is perfect.
It's been discussed to demolish this stadium and build a new modern stadium. Hopefully it never happen!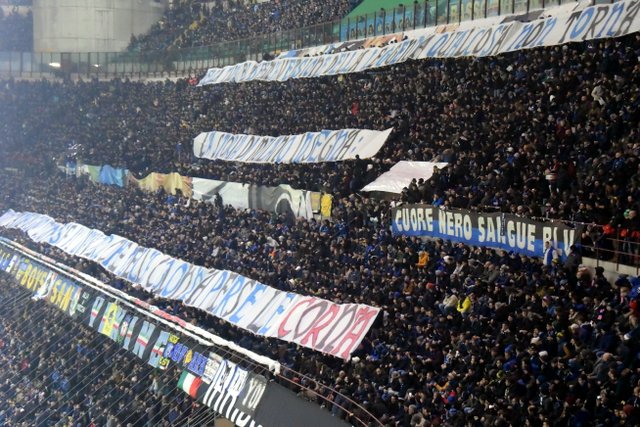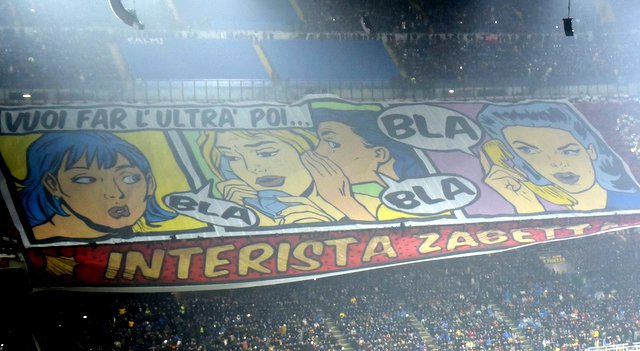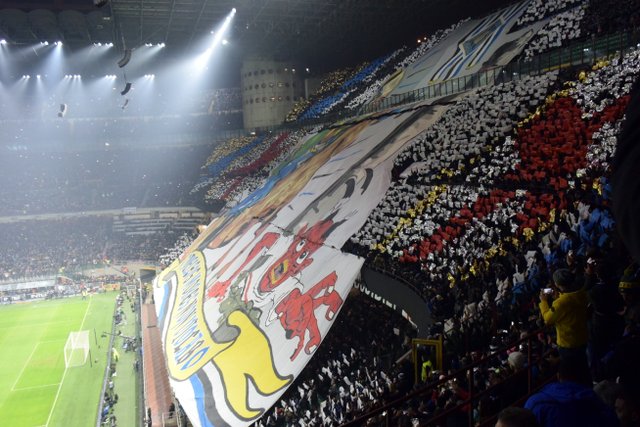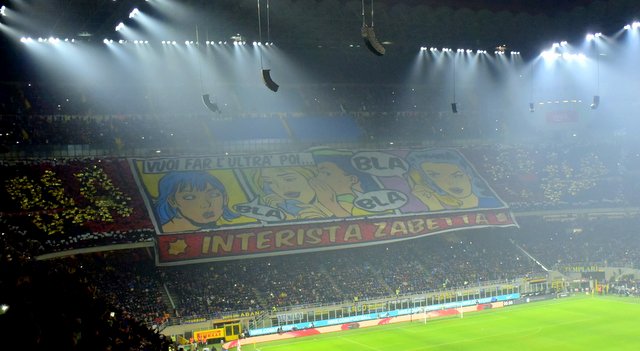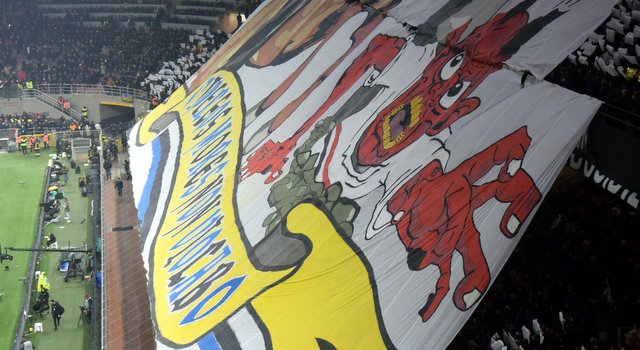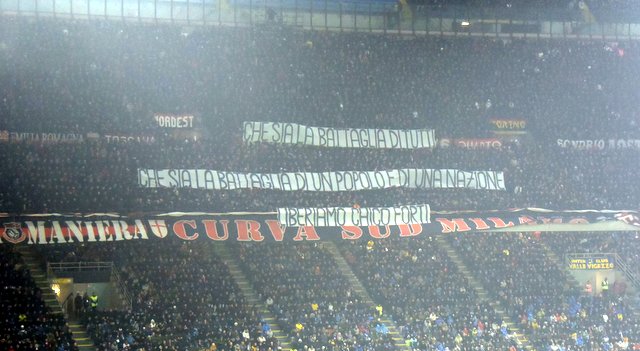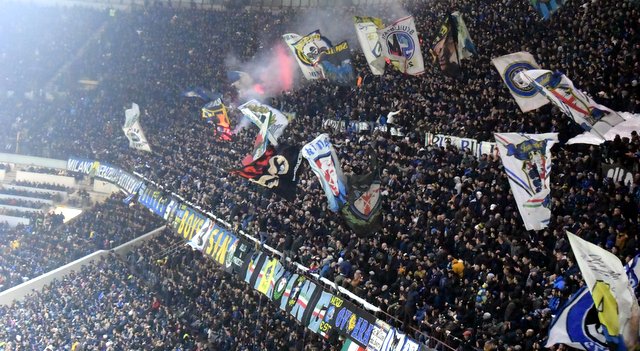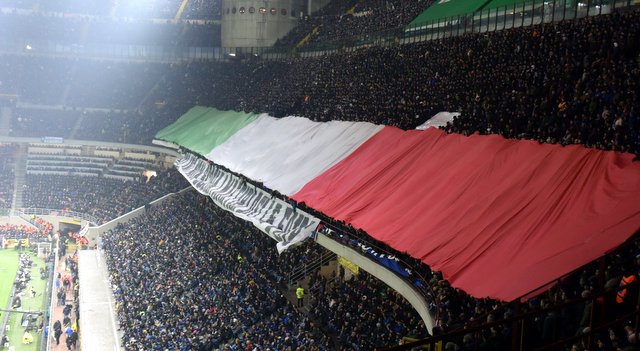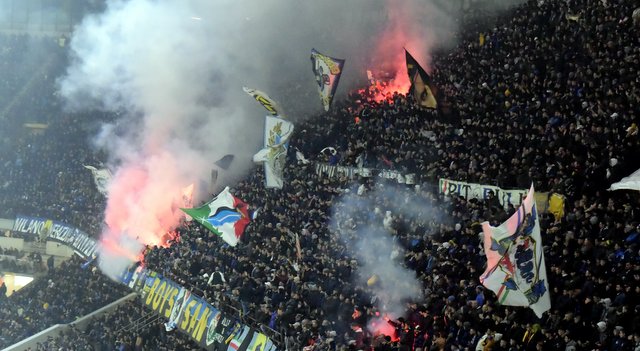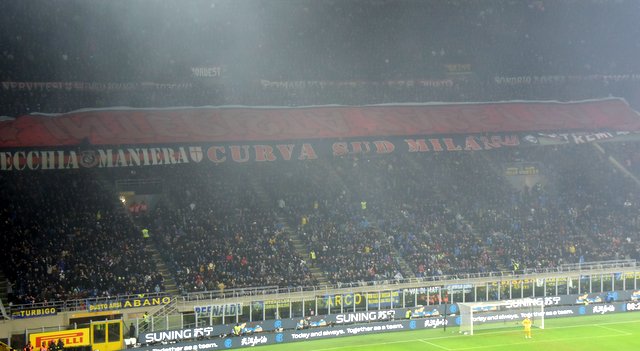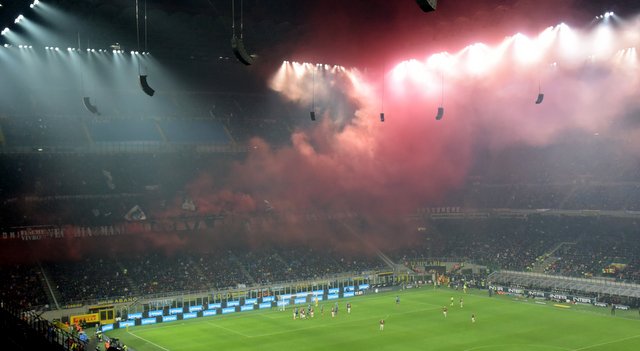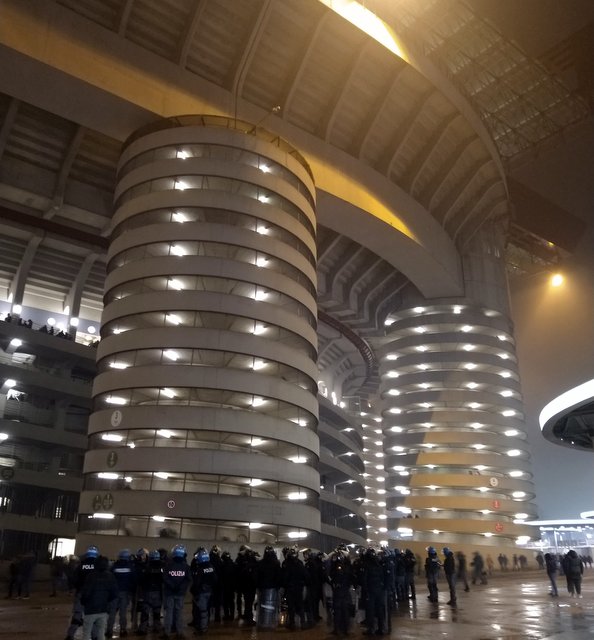 We nearly managed to attend four games in two days. But even thought we never got tickets in Verona, this trip was absolutely a great experience.
Click here for more photos from the Italian scene!