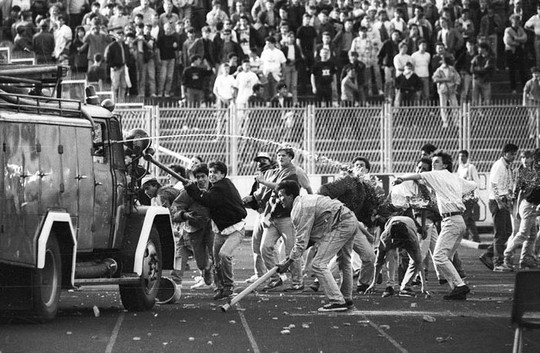 One of the most famous football matches in Ex Yugoslavia is definitely that between Dinamo Zagreb and Crvena Zvezda played on 15th May 1990 at Dinamo's Maksimir Stadium in Zagreb.

Late 80s in Yugoslavia tensions and hatred between Croats and Serbs were very high. In that period Croatian Ultras were united in "Croatian brotherhood" (BBB, Torcida, Armada and Kohorta) and almost on every match between Croatian and Serbian clubs there were riots (smaller and bigger).

Croats wanted independence and their own country, not to be ruled by Serbs from Belgrade and in February 1990 on Croatia's first multi-party elections they voted for party favoring Croatian independence.

On that day (13 May 1990) few thousands Delije came in Zagreb by train and troubles started already on their way to stadium, but that was "usually". The real problems started on stadium before the match.
Delije were situated on lower part of south tribune, and above them were some Dinamo fans. Interesting fact that should be mention, in that time one of the main guys in Delije became Željko Ražnjatović Arkan (1970's and 1980's most wanted man on Interpol's list), after to become a feared Serbian paramilitary leader and war criminal.
Hour before the match, Delije were singing nationalistic songs to provoke Croats and Dinamo's fans that were above them started throwing stones on them and also provoke with Croatian nationalistic songs. As the tensions rose, the Delije broke loose, smashed the protective barrier that separated them from the Dinamo fans and attacked fans on stand above them. Delije brutally beaten fans who were standing there.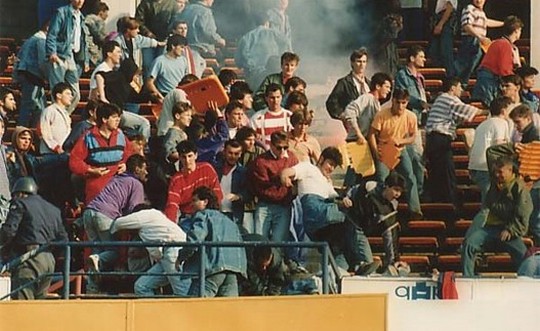 Police (who were pro Serbian) didn't react on that and other Dinamo's fans just "explode". First, fans from East stand jump over the fence, came near Delije and took one of their flags, but police chased them.

Real chaos started when Bad Blue Boys broke their fence on North tribune and stormed the pitch. Police in last moment stopped them before they came to Delije. War on the pitch between fans and police. But also between police and players! The most iconic moment of the match happened after then 21 year old Dinamo captain Zvonimir Boban noticed a BBB being beaten by police. He jumped on the officer and delivered a full on football kick to him, giving the fan an opportunity to run away. The kick made Zvonimir Boban a hero in Croatia.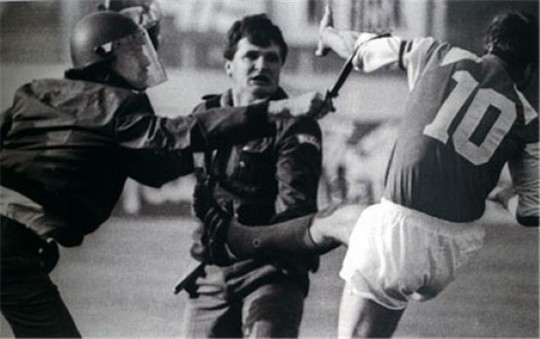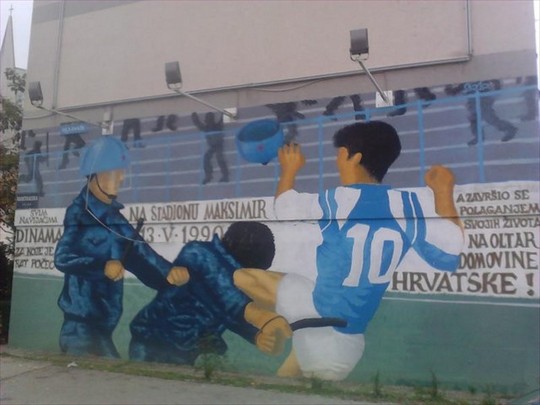 With the arrival of reinforcements, police deployed water cannons and tear gas to disperse the rioters. Riots from stadium moved to the streets. Police took Delije to police station.

After all was said and done, 117 policemen, 39 Red Star and 37 Dinamo supporters were injured and more than 100 fans arrested. Number of injured were probably much bigger.

The riot marked the beginning of the end for the Yugoslav First League and this match is famous as start of the war in Yugoslavia.



More photos: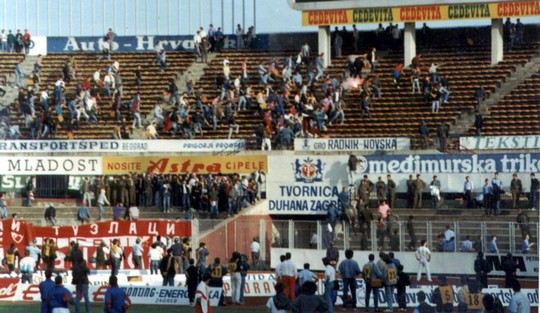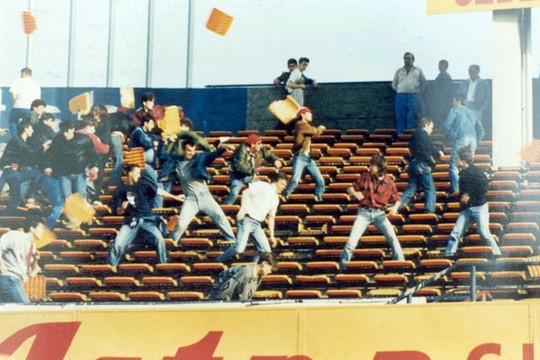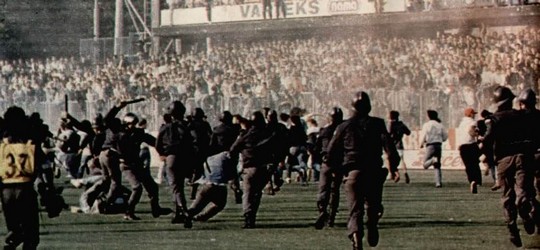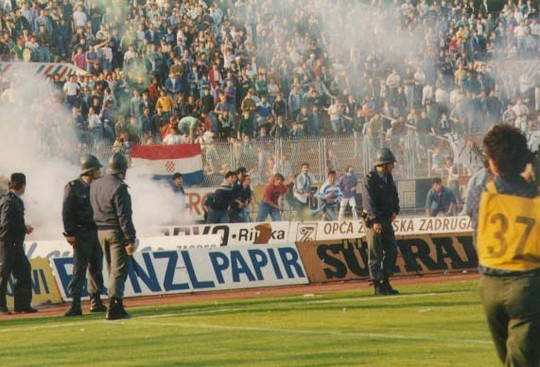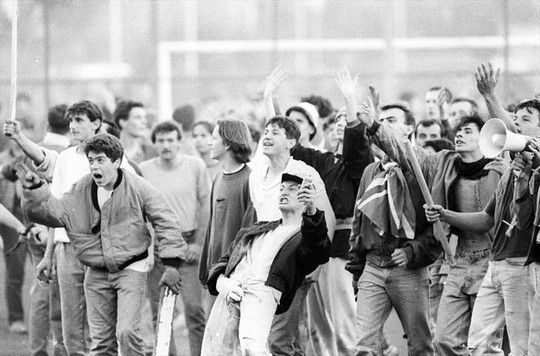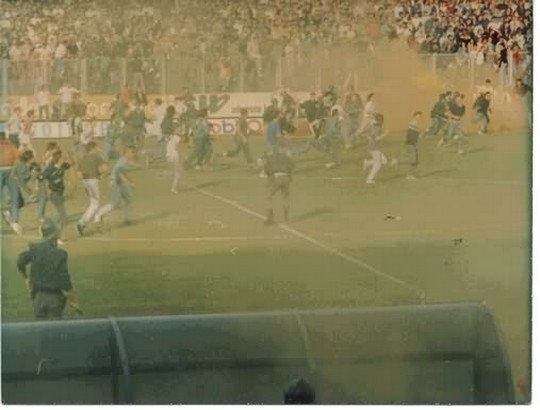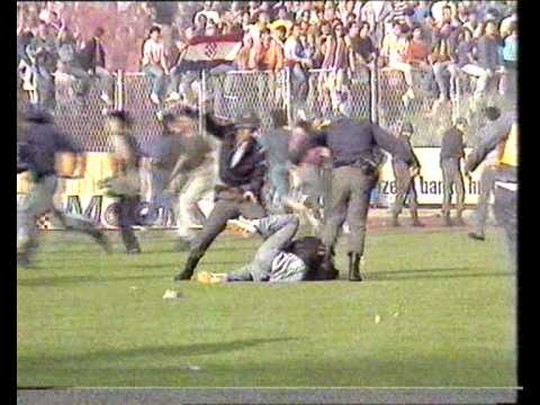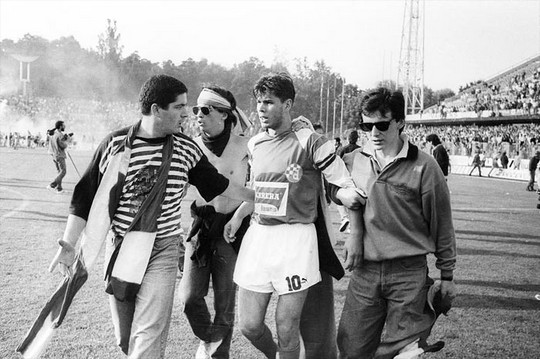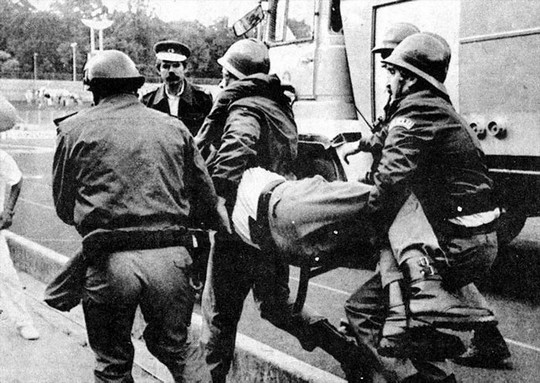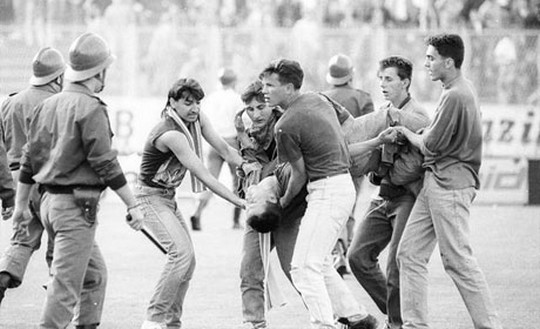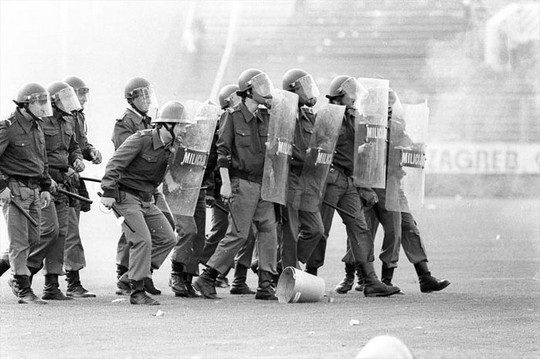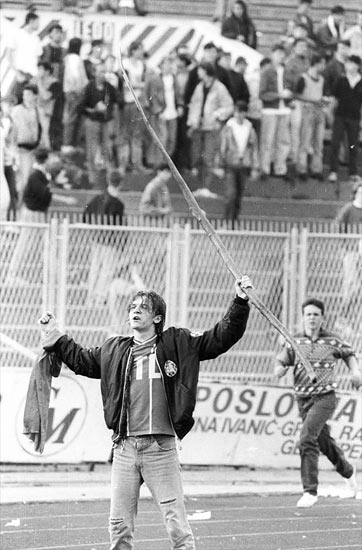 Make sure to watch videos!
Short version:
Long version:
Alternative camera:
We made new category on our site called "Memories" which we gonna use to write articles about old famous matches like this one. We need your help. Send on materials on our mail, Facebook inbox or private messages on forum (nicks: Brann, FCT, Semper Fidelis). Materials you send us need to be good (photos, videos, few sentences, and match must have been played before year 2009).