England: Sunderland have now taken a hard-line stance against supporters who stand.
England: Sunderland have now taken a hard-line stance against supporters who stand.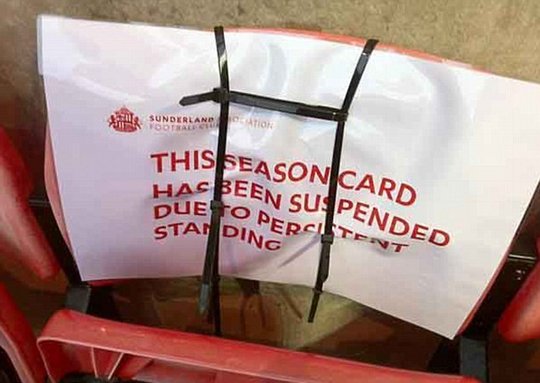 This message could be seen on 38 seats at last match of Sunderland. The club have banned 38 of their own supporters from their seats for "persistent standing".
When stewards tell people to sit, it often lead to abusive chanting aimed at steward, and now Sunderland seem to be fed up with this situation.
Bans are given, and these messages are now seen on 38 empty seats, warning for anyone else who want to stand and sing for their beloved club.
Sunderland's head of safety Paul Weir said:
"The figure for fans ejected due to persistent standing last season as a whole was just 20 so we can see that there has been a significant increase in the early part of the season."
"We certainly don't wish to spoil the enjoyment of any supporter, we want a vibrant matchday atmosphere just as much as the fans do, but we also have legal obligations that we must be seen to adhering to."
"We also have a duty of care to all our supporters, including elderly and disabled fans who have contacted us very concerned that their enjoyment on matchday is being compromised because people around them stand throughout the game."
"Naturally we want to ensure a sage, comfortable and enjoyable experience at the Stadium of Light and we'd ask supporters to listen to request from stewards and help us to eradicate persistent standing for the sake of all fans"
Ultras-Tifo wonder...
How hard can it be to create a own section for fans who want to stand, sing and support their club? Stadium of Light was not even sold out against Manchester City this week, and this is how they treat their own fans!
They care about "elderly" supporters who can't see when someone stand in front of them, but why don't they care about fans who want to sing and support their club?
With 7000 empty seats last match it should be able to find another place to sit for people who can't stand 2x45 minutes.
Against modern football!