1 woman, 2 passions, 100 matches around the world...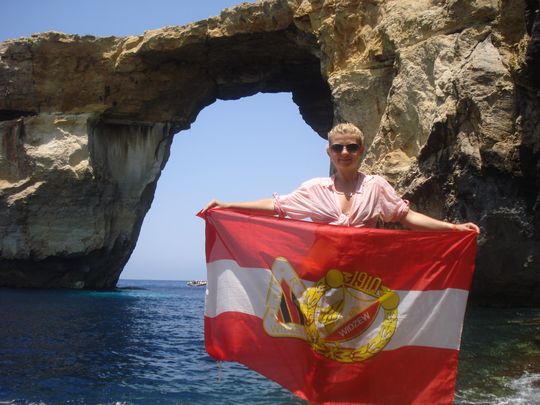 Magdalena is 27 years old Polish girl with big passion for football and traveling.

She decided to connect these two passions into one big adventure. On May 11 she's going on a journey around the world with the aim of visiting 100 football matches!

Her first match will be away in Poznan with her club Widzew Lodz and she plans to return home after 2 years!
You can find out more about this great advanture on her Facebook fan page, and in text that she wrote to us: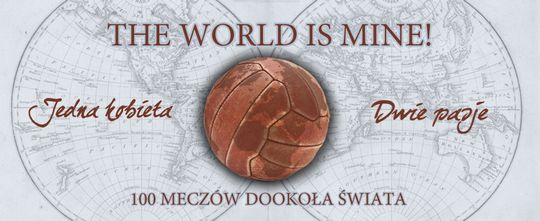 Hi,
Everybody calls me Poziomka (which means Wildberry), although the ID card says that my name is Magdalena Warszawska.

I'm quite a normal woman with two passions : ) 1 woman, 2 passions, 100 matches around the world...

Two passions

I'm so normal. Loving football and travel, willing to spend all my free time and all the funds to be able to perform both of these passions.
Life without them is just raw monotony boat, which does not know where it's going ...

The first trip I went hitchhiking at the age of seventeen. Wonderful feeling when you do not know who to stop and where to spend the following night. Give the time and you feel that you are free. Do not look nervously at the clock and wondering if you manage to catch the train, and if you do not limit, then you can focus on what's important. You see the beauty and goodness in each person you meet, you recognize the "plastic bag-free"culture. Yes, because the culture of the region is; the people and their stories, roadside bars and blind alleys, not the neon signs of shops selling fridge magnets, five-star hotels, and payable pony ride.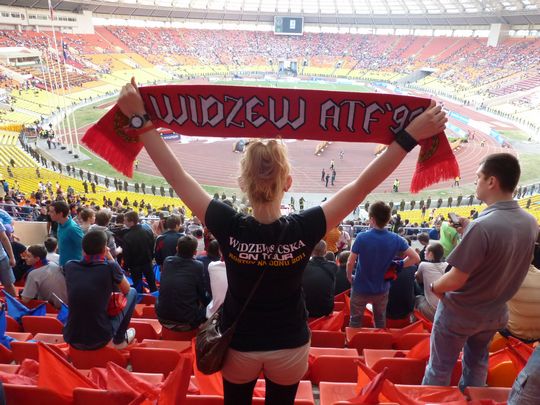 I returned from one journey, and I'm already planning another trip. The desire to meet new people, myself, own limits of endurance and the awareness that "a ship in harbor is safe, but not to build the ships" are stronger than the desire to have a new pair of shoes Once a person asked me whether or not I feel sorry for the money to travel. I smiled and replied significantly only: "You would forget in 10 years a computer game which you bought, but I will remember Mr. Thomas, with whom I ate fish soup in Wejherowo, sunrise in Malta and my first BLT sandwich in California."

Travel addicts, as strongly as football ...

The year is 1992, the UEFA European Football Championship, and I instead of playing with dolls, I can not take my eyes off the TV. Absurd situation; Seven years old girl curiously listening my grandfather's arguments about off-sides and penalties. Yet the "only living absurdly can break out of this infinite absurdity."

I remember my first game, learning the basic "eleven", the purchase of scarf and excitement when the players took to the pitch. Then I did not know yet that this will be my love, that the stadium on Pilsudskiego Street will be like Home for the next eighteen years, and that even the Ninth Symphony of Ludwig van Beethoven will not work for me as soothing as the sound of thousands of throats singing, "You know, after all, who is the Champion ... "
What may arise from two formidable passion and one extraordinary woman?
The biggest dream of her life-lonely journey hitchhiking around the world, in which will participate in 100 matches.
Madness, one can think of. I say that in every madness lies the genius and energy. This is not a freak of a little girl, but deliberate choice of adult women. I have a clearly defined goal, and I know it works, because that's how it is that when we want something very much, we are taking action to bring us back to the project.

P.S. If anybody has family/friends/enemies on my journey's route just let me know :) From time to time I would love to swap my tent for a piece of floor and I won't say "No" to a hot shower. Also I'm interested in meeting other fans that can help me and show me their clubs :)
Best regards,
Poziomka
Ultras-Tifo wish Poziomka good luck and lots of fun on this journey :)
We will keep you updated about her journey.