ENGLAND: Fans gathered in London for protest.
ENGLAND: Fans gathered in London for protest.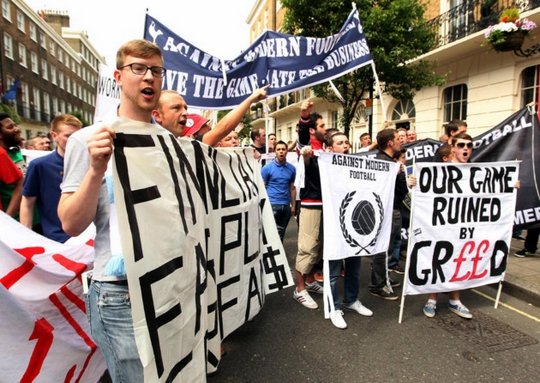 At Wednesday fans from various clubs took part in a demonstration outside the competition's headquarters in London on the day fixtures for the 2013-14 season were published.
A delegation comprising representatives of fans' groups from Liverpool, Manchester United, Tottenham and Arsenal, as well as the Football Supporters Federation, also met with Premier League chief executive Richard Scudamore.
The aim was that the league would agree to help fans pressurise individual clubs into lowering prices.
The rally was organised by the Liverpool group Spirit of Shankly and their spokesman James McKenna said: "Supporters have begun to ask why they are paying £62 at Arsenal, why are they paying £50-plus to go to Man Utd, Chelsea or QPR.
"When do we draw the line in the sand? People have said enough's enough and we need to take this message to the Premier League.
"It has got out of hand. There is more money than ever coming into football clubs - there is this new TV deal bringing in so much money - but they are charging us more and more.
"Supporters are looking at this new TV deal, and stadium naming rights, shirt sponsors and kit manufacturers - hundreds of millions of pounds - and the prices are still going up and up.
"It's pure greed and supporters have had enough of it."
Source: www.london24.com
Here is an overview of prices for the 2013/2014 season in Premier League:
(Click for larger image)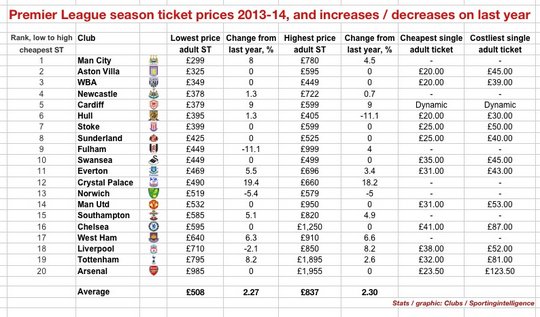 Few pictures from the protest in London: