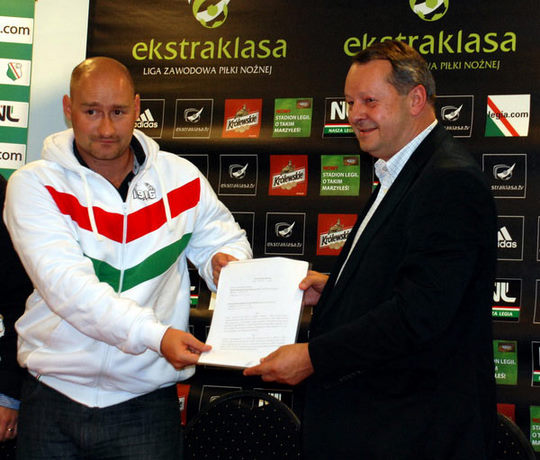 Poland: 3 years of protesting, read the whole story here!
Facts & dates-calendar of conflict Legia Warszawa fans against owner "ITI".
Supporters of Legia Warszawa finished their protest against club owner-ITI - the biggest media company in Poland. Legia's fans didn't support own team during home matches for three years! For away matches they had ban from own club so they visited home fans sectors to see the matches.
More than one thousand fanatics of Legia received stadium bans! After riots in Vilnius in 2007 during match of Intertoto Cup between Legia and Vetra, owner of club started war against Legia fans. A lot of stadium bans without proofs, cooperation between ITI and police… that was reason for huge protest organized by Legia fans. After 3 years of hard work supporters of Legia can finally say - WE HAVE WON!!!

Now Legia fans are coming back on terraces with their loud support and you can read about history of this long conflict here.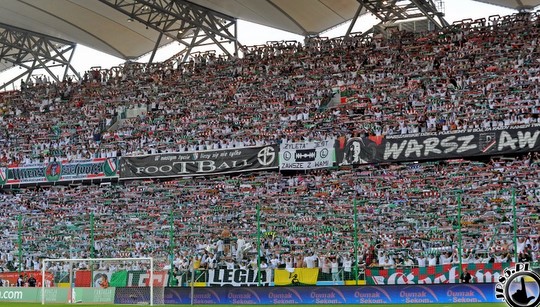 May 2002 - Legia won Championship of Poland. But next year because of politic of Legia's president Leszek Miklas, the best football club become bankrupt with 20 millions polish zloty debt. Miklas was also well known of his politic against supporters. Soon he lost his job but Legia had huge troubles.


26.03.2004 - Match Legia vs. Polonia. During half time speaker told that the biggest media corporation ITI bought Legia and financial problems are resolved. Fans were celebrating and Legia won 7:2 against local rival!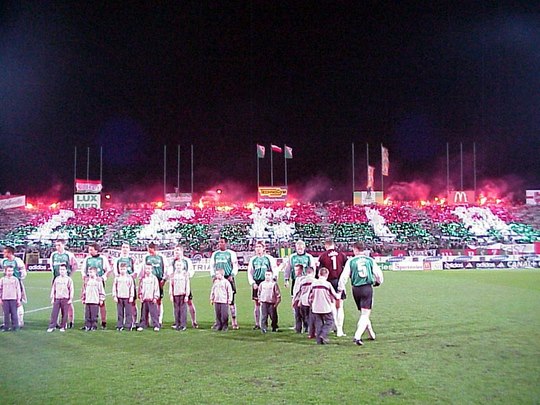 22.08.2004 - During match Legia vs Zaglebie Lubin, fans in protest against expensive prices of tickets went out from stadium.

1.06.2004 - Final match Cup of Poland. Legia lost against Lech Poznan 0:1. Players from Poznan were singing insult songs about Legia and showed fingers to fans… Mad supporters beated few players of Lech and took their medals. Owners of Legia started their politic against fans, they introduced new system of selling tickets, fan cards and new stadium monitoring.

Next season. ITI hired player Pawel Kaczorowski. Ex-player of Lech Poznan who insulted Legia and Warsaw fans after final of Polish Cup. Fans didn't accepted him. During matches fans were whistling (even when Kaczorowski scored a goal for Legia) and throwing plastic ducks on the pitch (nick name of Kaczorowski is "Kaczor" which means "Duck"). There was even special banner for this player: "Hey you singer! You will never be Legionist!". Of course fans knew that responsible for employment of Kaczorowski in Legia is president Piotr Zygo. Supporters had own song for "singer" from Poznan:
"Spiewaja miasta, spiewaja wioski: "There are singing towns and villages:
Najwieksza kurwa to Kaczorowski! The biggest whore is Kaczorowski!
Nasza piosenka jest bardzo krótka, Our song is really short,
Kaczor to kurwa i prostytutka!" The Duck is a bitch and prostitute!"

After few months Kaczorowski decided to leave Legia before end of contract...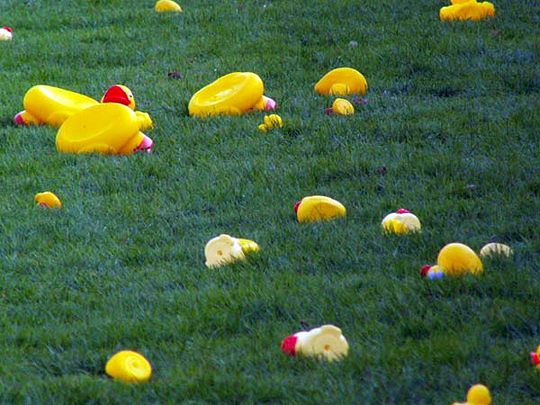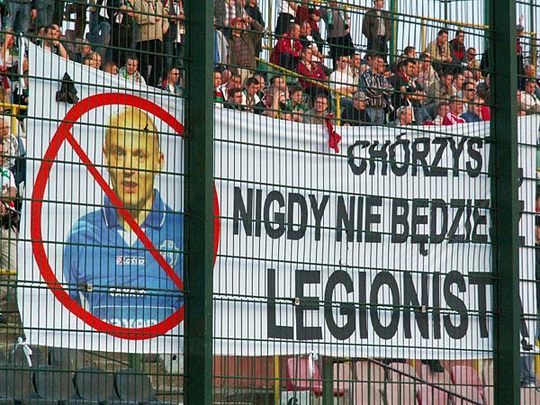 16.09.2004 - Austria Vienna vs. Legia. Legia fans beated Austrian cops in Vienna. Cops lost a lot of helmets, shields, sticks and 3 guns.


18.05.2005 - Legia plays against Lech in Cup of Poland. This time in 1/2 final. Legia fans in protest against owner of club, stopped the match by throwing flares on the pitch.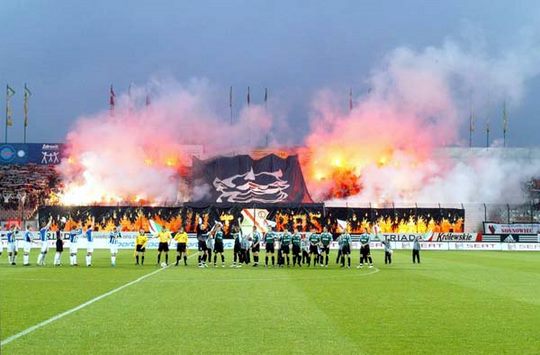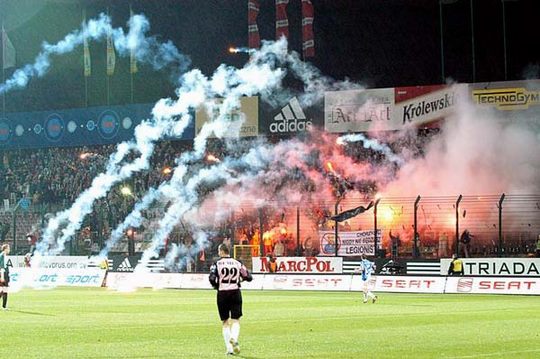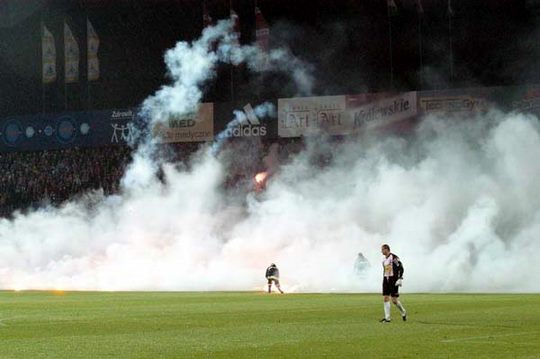 23.09.2005 - In next months Club didn't stop their politic against fans. There were new stadium bans and more and more expensive tickets. Fans insulted president of Legia Piotr Zygo and boss of security Stefan Dziewulski (during communism he was commandant of the most aggressive troops of militia-ZOMO). During derby match against Polonia, fans of Legia showed beautiful tifo "You have to feel it to understand, to believe in this". In second half they stopped match by throwing flares on the pitch.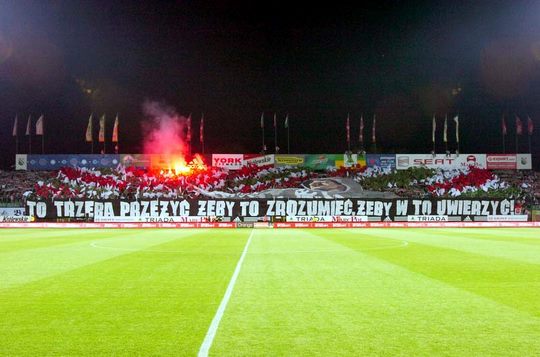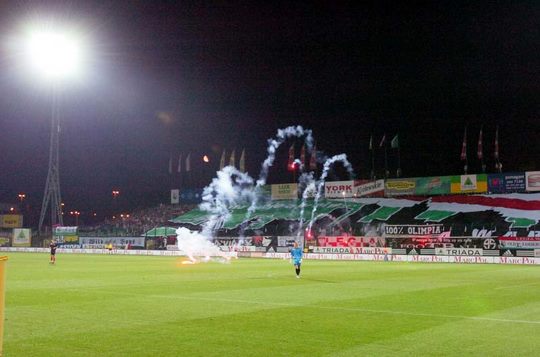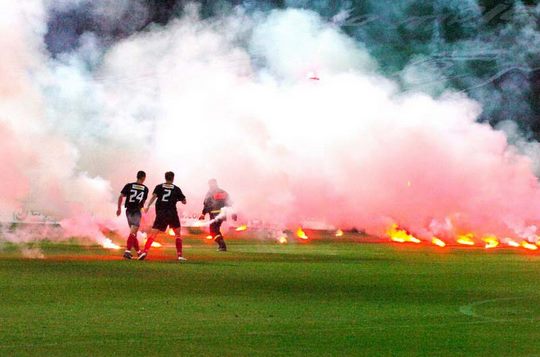 In next weeks supporters of Legia started boycott of matches in Warsaw. For few matches Club sold out from 13 to 200 tickets. Stadium was almost empty and thousands of fans support their players from outside of stadium.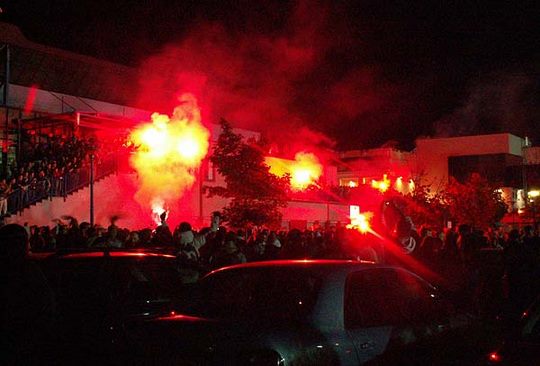 In the end of November 2005 president of Legia and Legia Fans Society (SKLW) signed an agreement. The protest was finished and fans came back on terraces.

13.05.2006 - Legia won Championship of Poland. Many thousand fans celebrated success of their team in Old Town district. Celebration finished by huge riots against police. After those riots, Polish Government introduced new law - "24h courts". Courts could give harder fines for football fans much faster.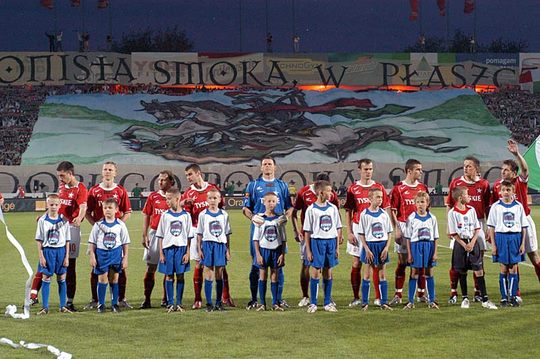 2007 - Leszek Miklas, man responsible for financial problems of Legia again becames president of Legia. He started his job from changing symbol of Legia football club. Fans started talking about theory that Miklas worked for ITI in 2002. Thanks to Miklas who took Warsaw Club into financial problems, ITI didn't have to pay even 1$ for buying one of the biggest Polish Football Club - Legia Warszawa. Man hated by supporters is again president of Legia.

08.07.2007 - Intertoto Cup. Match Vetra Vilnius vs. Legia. During half time fans from Warsaw were unhappy because of score 2:0 for Lithuanian amateur team. Because of huge riots referee couldn't start match again.

Next days riots in Vilnius was everywhere on TV and newspapers. Leszek Miklas said on TV that Legia starts war against hooliganism and Club will never cooperate with Legia fans. President forbade stadium choreographies and club started giving stadium bans, firstly for 7 ultras from "Nieznani Sprawcy" group (Unknown Perpetrators). Bans were given for cases from one or two years ago without any proofs. But mass media told that bans are given for hooliganism. Legia fans in solidarity with banned ultras started protest.
In few weeks number of banned fans was about 100, after 2 years of protest there were more than… 1000 banned fans. Legia football club also forbade away matches to own fans for 3 years!

Fans didn't support own team. During matches of Legia there wasn't atmosphere like in the past. There were not any flags or tifos. President forbade to players talking about fans protest. Thanks solidarity of fans from other Polish clubs, Legia fans could travel on away games (Gave section to Legia fans other places in Stadiums). Supporters in whole Poland were singing in stadiums "ITI spierdalaj" (ITI fuck off).

13.05.2008 - Final match Cup of Poland in Belchatów. Legia vs Wisla Kraków. Club of Legia till the day of match tried to destroy plan of trip made by Legia fans for final game. But finally thanks to good organization of Legia Fans Society (SKLW) 4000 Warsaw supporters arrived to Belchatów. Fans showed tifo against owner of Legia - ITI company ("Power of love destroys power of money"). Match was stopped because of riots. Warsaw fans started throwing flares in Wisla's sectors and attacked supps from Kraków. In the end after penalties Legia won Cup of Poland.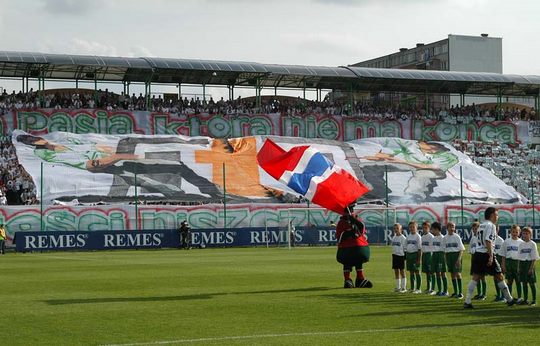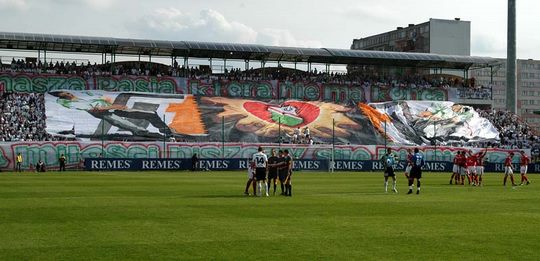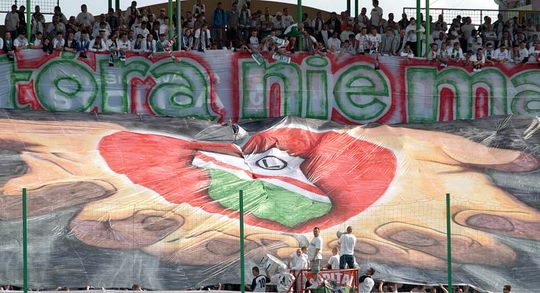 02.09.2008 - Derby match Polonia vs. Legia. Fans of Legia couldn't buy tickets from own club. Supporters didn't care about decision of own club and in huge corteo started walk to the Polonia's stadium. About one thousand supporters were stopped by the police troops. Because of provocation of the police, fans answered by throwing stones and flares against cops and police cars. After few hours police arrested 741 Legia fans. They left headquarters after 24 or 48 hours. Everybody got stadium bans. Police arrested many innocent people who even were not fans but just were walking down the street. This provocation was prepared by Grzegorz Schetyna - minister in Polish government and his friend Mariusz Walter - owner of ITI and Legia football club. As we know, police started preparing this huge action two weeks before derby match. Till today case is not closed.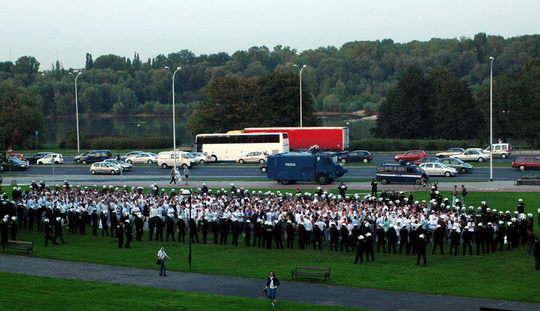 April 2009 - Fans and club started work for temporary agreement.
30.05.2009 - Last match of season, Legia vs. Ruch Chorzów. Legia fans prepared tifo "Catched on support". Ultras didn't care about boss of security and used flares.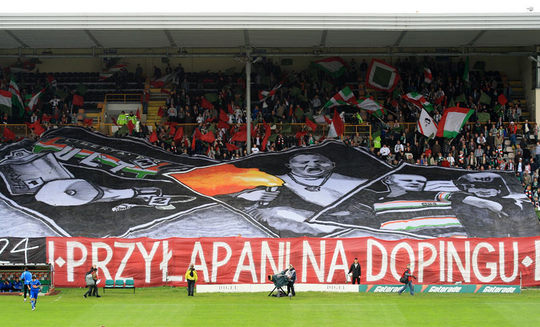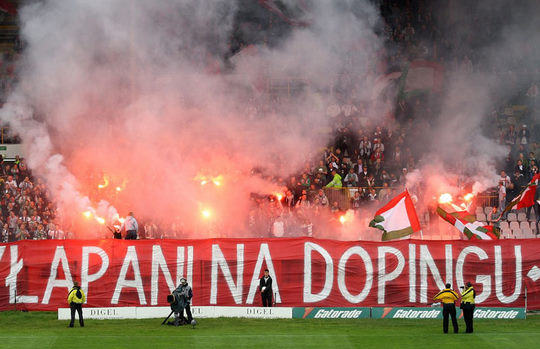 30.07.2009 - Brøndby vs Legia. About 1500 fans from Poland arrived to Denmark. But only 500 could buy tickets. Boss of security from Legia in cooperation with Danish Club decided to let 1000 supporters from Warsaw info stadium. Aggressive police tried to stop Legia fanatics which started riots near the stadium. About 100 Warsaw supporters were arrested.
After this match Society of Legia Fans (SKLW) decided to finish cooperation with club and organize protest again. During revenge match in Warsaw angry fans screamed "Copenhagen provocation!".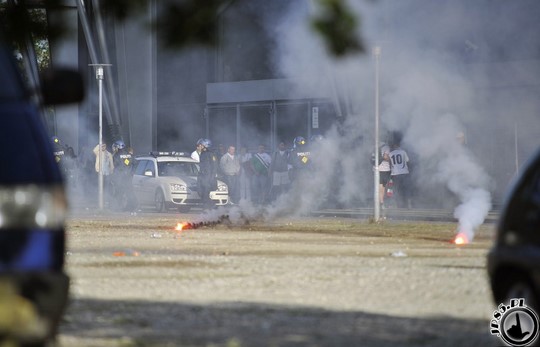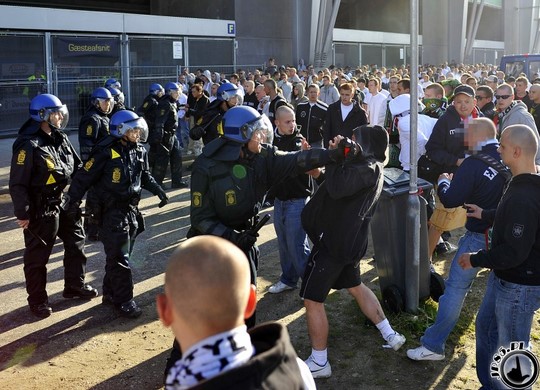 30.09.2009 - President of Legia, Leszek Miklas during meeting in Polish Ekstraklasa office was hit by a cake. Angry fan who threw a cake screamed "Jihad Legia!" and "Now you'll see what is war!".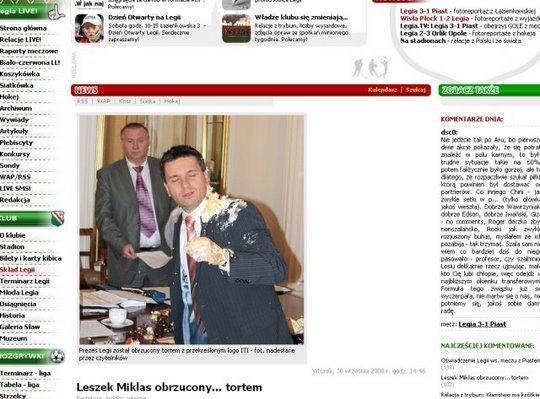 31.10.2009 - That day died one of two owners of ITI-Jan Wejchert. During match against Ruch Chorzów, fans of Legia screamed popular Polish song "One more time, one more time!" but with dedication to second owner - Mariusz Walter who is still alive. Match finished by a huge scandal and capo of Legia fans was arrested.

15.05.2009 - Legia vs. GKS Belchatów. Fans organized protest outside stadium like few years ago.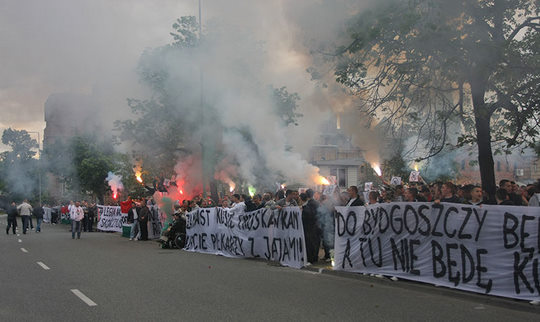 In April 2009 Legia changed president… the new president of Legia becomes Pawel Kosmala who replaced Leszek Miklas. New president of Legia was aware that new stadium which is almost finished, in new season could be empty because of protest of fans which lasts for last three years. So Pawel Kosmala started negotiate with supporters and their organization SKLW. In negotiation were involved authorities, the most important politicians in Polish government and Major of Warsaw Capital City. After 3 moths fans and president signed an agreement:

-All stadium bans for Legia fans and ultras are canceled.
-Legia football club came back to simbol which is accepted by fans (that simbol was changed by Miklas two years earlier)
-Tickets are cheaper and Legia fans who are not from Warsaw don't need fan cards
-Legia Fans Society (SKLW) can organize trips on away games for Legia fans
-the most fanatic Legia fans have own tribune called Zyleta (the Razor) behind a goal with own rules.

So we can say that we've won 3 years protest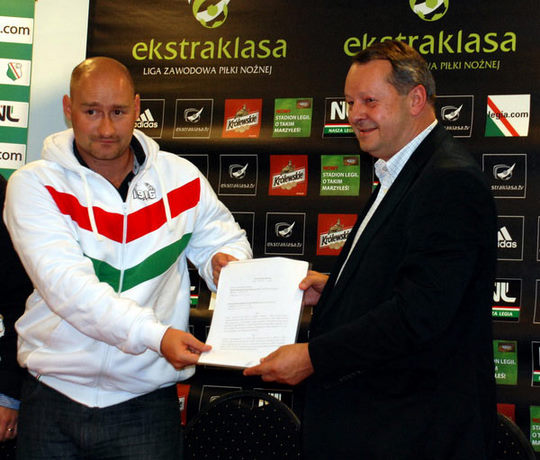 Information about agreement in Legia was one of the most important news that day on tv channels.

Written by Giorgio