Putin signs anti-hooligan measures into law.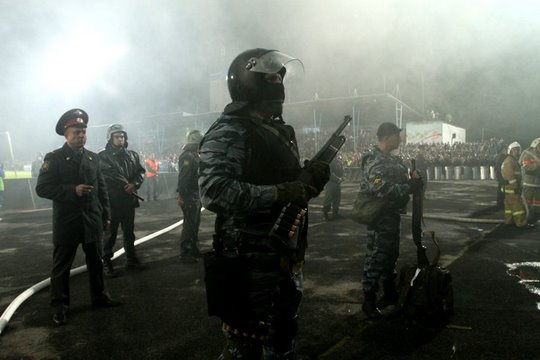 Russian President Vladimir Putin signed into law Tuesday legislation that would ban convicted hooligans from sports events for at least six months and up to seven years.

The so-called Fan Law, which is aimed squarely at keeping the 2018 World Cup in Russia safe from hooligans, will come into effect on January 19, 2014.

Under the new law, fines of 3-10,000 roubles (€70-230) or alternatively 160 hours of compulsory work, and stadium bans of six months to 3 years can be imposed for failure to follow the stadium rules of behavior.

Also, if someone serving a stadium ban is found at a sports event, he or she can be fined up to 25,000 rubles (€570) or detained for 15 days. Police and sports federations will be required to keep lists of violators, while stadium owners must install CCTV systems to identify troublemakers.

Organizers and owners of sports facilities can be held accountable for violations of security at events with fines of up to 300,000 roubles (€7,000), or up to half a million if damage is caused to human health or property. They may also face a suspension of up to 90 days.

The legislation had its first reading in the lower house of parliament back in April.

There were more than 14,000 offenses committed at Russian sporting events over the last three years, according to federal sports ministry data. Firework-throwing and racist chants are commonplace at Russian football matches, while violence occasionally erupts.

On Sunday, police arrested 38 people for lighting flares and ripping up seats at a Russian Premier League match in Nizhny Novgorod between FC Volga and Lokomotiv Moscow.