Champions league qualifications: Dinamo - Sheriff 30.07.2013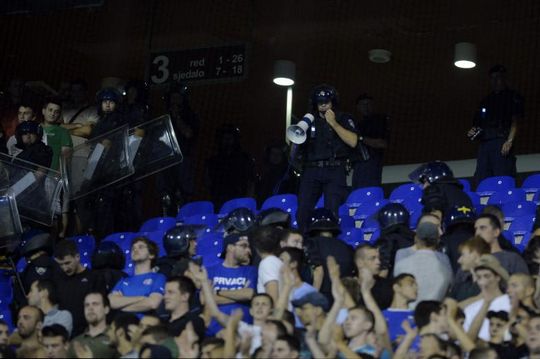 Champions league qualifications: Dinamo Zagreb - Sheriff 30.07.2013
After second leg in 2nd round of qualifications for Champions leauge between Dinamo Zagreb and Luxembourg's CS Fola Esch, UEFA fined Dinamo with €25,000 and ordered to close the east section of their stadium for their next European home game due to racist chanting by supporters.

As you probably know, Bad Blue Boys (Dinamo's ultras group) are in war with their club board and club vicepresident Zdravko Mamić. As usual, during the match with CS Fola, they sang against him. One song was: "Mamiću cigane, odlazi iz svetinje!". On English: "Mamiću gypsy, go out from sanctity!".
Of course, closing only 1 stand at stadium didn't stop BBB to go on another tribune. On yesterday's match against Sheriff they went back on their North stand and again sang against Zdravko Mamić, same song as earlier matches.

In 66th minute police came to North tribune and forced BBB out. But they didn't let them outside stadium, they locked them under the stand for identify every person (took photo and ID card).

Total of 300 supporters was identified and 64 of them was arrested and will be accused for racists singing. In Croatian there is a law considering "racist singing", fine for that is 2 years ban and 5k-20k kunas (€660-2660).


Hajduk Split, another CroatiaN club, also got fine from UEFA. Reason was throwing flares and displaying banner with "Hate UEFA" during away match in Skopje, Macedonia (Qualifications for Europa League)