SCOTLAND: Section closed for safety reasons after repeated warnings to fans to remain seated.
SCOTLAND: Section closed for safety reasons after repeated warnings to fans to remain seated.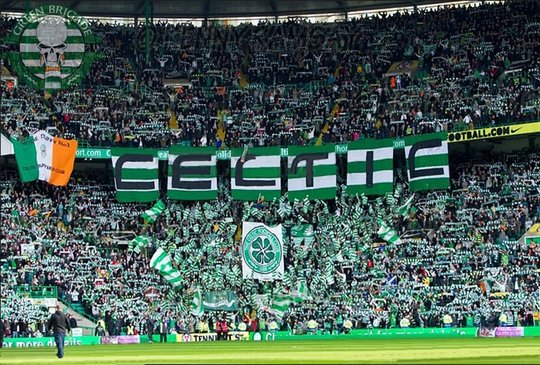 Celtic has decided to close the 111 section where Green Brigade stand during matches. The section has been closed because of "safety reasons". According to Celtic, some of the problems have been overcrowding section, 190 broken seats and fans refusing to sit during matches.
Statement from Celtic:
"In order to protect our Safety Certificate, it is essential that we comply with all of our duties in terms of safety for spectators at Celtic Park. Unsafe behaviour at Celtic Park is not acceptable and we have made our position on this clear.
"Under advice from the Safety Advisory Group, which includes representatives of Scottish Fire and Rescue Service, Scottish Ambulance Service, Police Scotland and the Council, it is open to Glasgow City Council to enforce a reduction in stadium capacity or, ultimately, to close a stadium."
Green Brigade's statement:
''The Green Brigade are disappointed to announce that our section in 111 is to be closed by Celtic Football Club. Pathetically, this is due to 'lateral movement' which has been deemed 'unsafe' by the club's directors. Our group and section has continually made concessions and strived to be co-operative with the club over various safety concerns so we are left dismayed that such drastic and immediate action has been taken over such a trivial and harmless movement.

''The Group is currently seeking legal advice and will consult with those in our section over the coming days. A detailed statement shall be released over the next few days and we'd advise all within our section to take no action until we have had the opportunity to discuss our options together. We would like to stress that this is not the end of the Green Brigade. Decisions and hurdles like these will only strengthen our Group's resolve. We would like to thank the Celtic support who have continually backed, funded and inspired our group from our formation to the present day and we can assure you that none of this support will have been in vain.''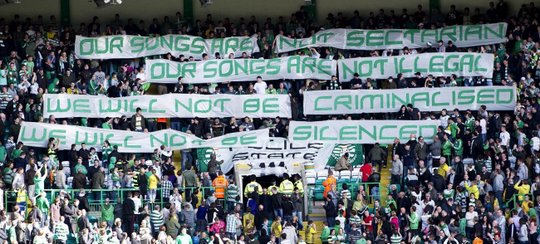 Older photo with Green Brigades displaying banners.
Source: www.celticfc.net , www.ultras-celtic.com
AGAINST MODERN FOOTBALL!