Photos and info of Italian clubs from A - Z.
Photos and info of Italian clubs from A - Z.
During the next weeks we will publish articles of Italian clubs from letter A - Z. There is plenty of decent groups in the lower leagues, unknown for most people. Some of those groups had their glory days many years ago, other groups have strong support from local fans.
All information is written by our forum member "via armenia 5r".
Ancona:
Mostly of their history in 3rd division but great ultras.They played two times in Serie A (92-93 and 03-04) and now are in 5th level after a failure.
Historic groups were Collettivo, Rebels, Brigata, ecc
Friendship with Genoa, Spal and Napoli (Mastiffs). Local derby against Ascoli and Sambe, another big enemy is Pescara.
Once they are left-wing now apolitical.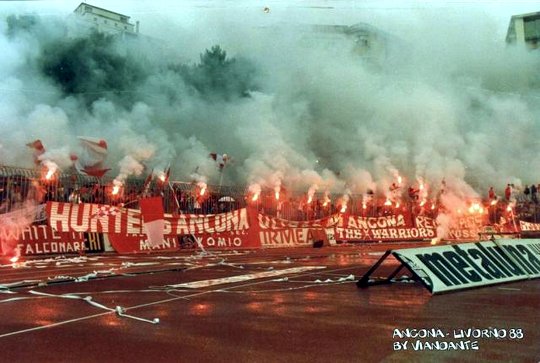 Ascoli:
Small city but this club have the best football history in this region, 16 seasons in Serie A (included whole 80's). In 2013-2014 season they will play in 3rd division.
Historic groups: Settembre Bianconero (in honor of "Black September" Palestinian terrorist Group) born in '74 and Strakaos born in '85.
In 1988 before a match against Inter, one Ascoli ultras was killed, his name was Reno Filippini and killers were from Skins Group.
Friendship with Vis Pesaro, Torino (only Granata Korps), Lazio (not official) and recently with Monaco.
Biggest local derby is against Sambenedettese, then with Ancona.
Enemies are Inter, Verona, Ternana and more.
Right-wing stand.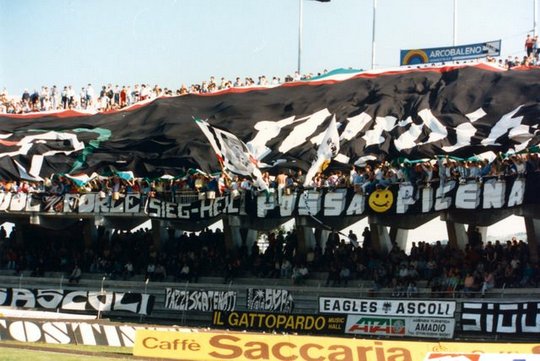 Acireale:
Small city in Sicily ,near Catania, they played twice in Serie B between '93 and '95, but usually play in lower divisions. This season they play in 6th level, sad because it's a good Group.
Friendship with Savoia and biggest local enemy is Messina and Siracusa.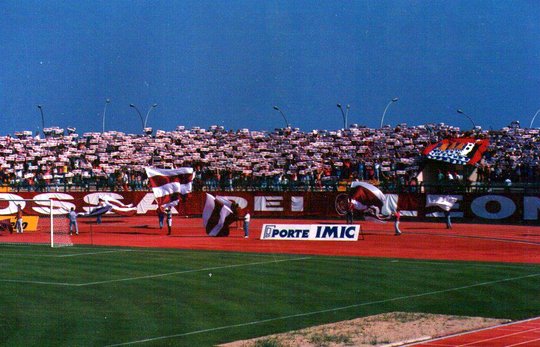 Alessandria:
City in Piemonte, half way between Genoa and Turin.
This club has a big history but they haven't played in higher leagues last 30 years ,now playing in 4th level. Only Italian club with gray colors.
Historic Group Ultras was founded in '74.
Friendships with Viareggio, Trento, Toloun and also Genoa and Torino.
Local derby with Casale, also rivals are Novara, Spezia, Savona.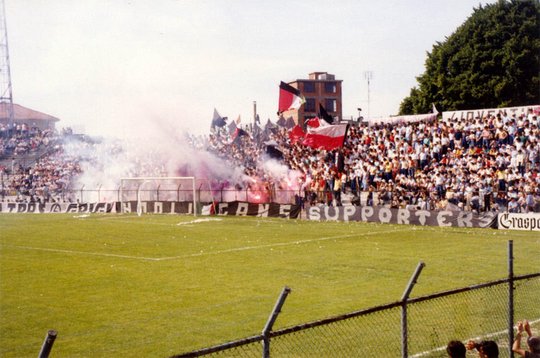 Andria:
Small city near Bari, they played 6 times in Serie B in the 90's, this season they are playing in 6th division after a failure (they were in 3rd level last year).
Good relation with Bari ultras, friendship with Lanciano and Barletta.
Bigger enemies are Taranto and Foggia.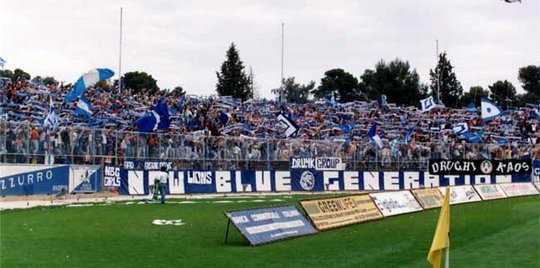 Arezzo:
Little city in Tuscany, in the 80's they played many seasons in Serie B, and last time was in 06/07. Financial problems in 2010 sent them down, and today they play in 5th division.
Two of the historic groups are Commando Ultra (founded in 1977) and Fossa Amaranto (founded in 1991)
Friendships with Chieti and Udinese, main local rivals are Perugia, Siena, Pisa and Ternana.
In the past both right and left wing groups stand together, so you could see Che Guevara face on a banner and a celtic cross on another.
Atalanta:
Club from Bergamo, north Italy. They are among the most present clubs in Serie A after the "big famous" clubs.
They played only one time in 3rd division in all their history, won the Italian cup in the 60's and reached a Cup winners cup semi-final in '88.
Main Group: One of the most respected groups ever in Italy,  Brigate Neroazzurre. Then Wild Kaos was born in 1983, another great group, very violent and feared.
Friendship with Ternana (once Atalanta was extreme left-wing, now apolitical) and Eintracht Frankfurt.
Biggest enemy is Brescia (one of the best local derbies in Italy), Juventus, Milan, Inter, Roma, Napoli, Genoa, Torino, Catania,and many others...
Their stand suffered a huge repression and now days more than 100 lads are under process for the attack at the politician Maroni, the man who made Tessera (Fan ID-card).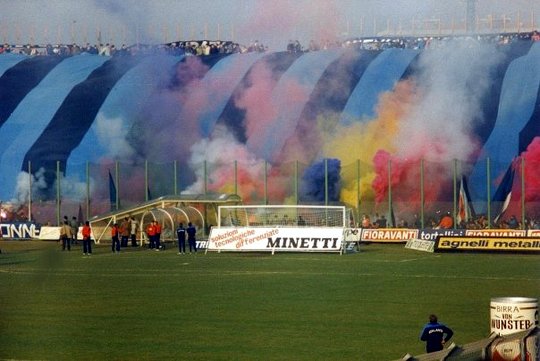 Avellino:
Little city near Naples. They played ten season in Serie A in row between '78 and '88, and became a famous club.
Some historic groups:  Cruels, Bush and Splatter.
They don't have official friendships anymore, but good relation with Casertana, Cavese and Nocerina.
Local derbies against Benevento and Salernitana.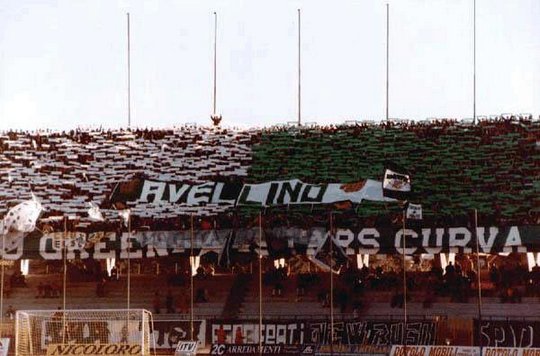 Akragas:
From Agrigento, Sicily. Small club, last time they played in professional league was in 93-94. After a problems in the 90's they had to restart from the 9th level and last year they came back in 5th level after almost 20 years of local leagues...
Main ultras Group:  Fossa dei Giganti, born in the 80's.
Local derby against Licata.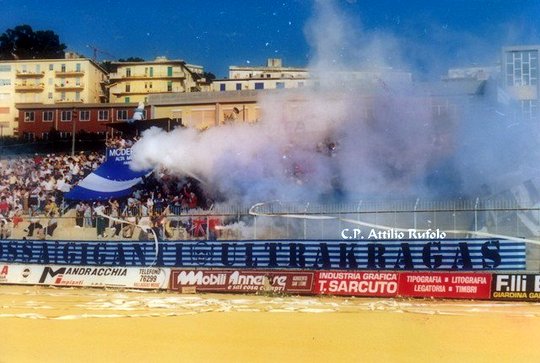 Altamura:
Small city near Bari, really small club, 4th division as their best in the 90's.
Now they are playing in local leagues.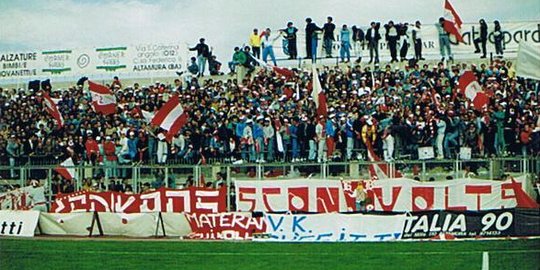 Angri:
Little town near Salerno. This club never played in professional leagues, so big respect to their ultras.
This season a new-founded team will play in 6th level.
Local rivalry with Paganese and Ebolitana, friendship with Battipagliese.
A Group decided to follow Italian national team, and have been famous for that.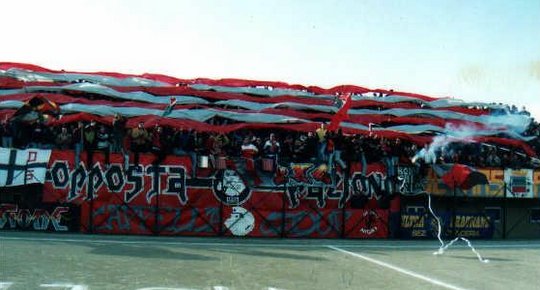 Atletico Catania:
This is a modern football club born in '86,t hat in the 90's tried to replace the true Catania, but they failed. Two times they almost reached Serie B. People in the city never leave the real and historic Catania Football Club. Now days they are playing in the local leagues.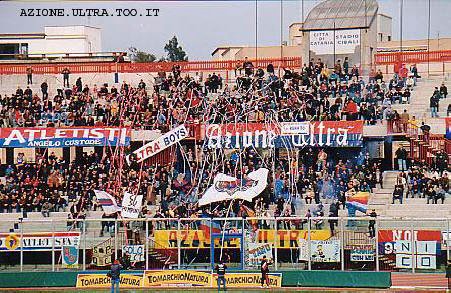 Avezzano:
Small city in Abruzzo in the mountains.
Their best period was in the 90's, when club was playing in 3rd level.
Now they are in 6th division, local League.
They have a friendship with Fermana and many local derbies with L'aquila, Teramo, Giulianova, Chieti, Vasto and so on...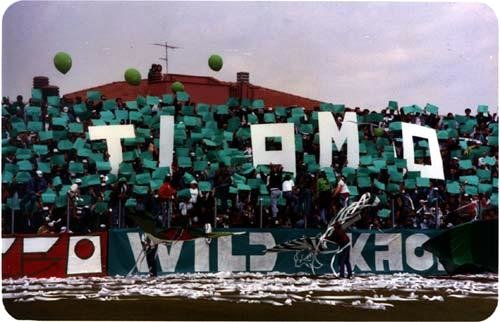 Next article will be letter "B".