Spain: Real Madrid group facing bans after internal conflict.
Spain: Real Madrid group facing bans after internal conflict.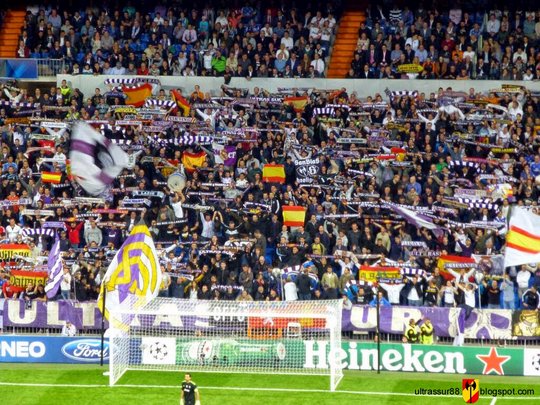 (Ultras Sur during match before the conflict)
The conflict inside Ultras Sur, main group of Real Madrid, started because the younger part of Ultras Sur wanted to change the leadership of the group and the way the group was being run.
Conflict escalated before the match against Real Sociedad in November last year. Before kick of there was fight in a street between the two sides of the group , young part vs "the leaders". Both sides accused each others for use of weapons in the fight, and as a result of this fight the Ultras Sur section inside Santiago Bernabeu was left nearly empty during match against Real Sociedad.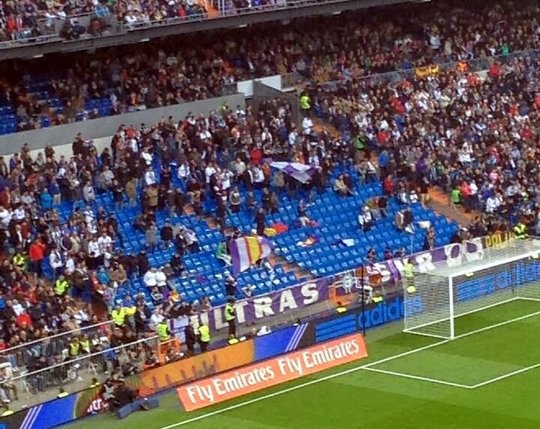 (Ultras Sur during match against Real Sociedad)

The conflict continued after this match, especially in social networks. The young side accuse the leaders for embezzle money, and cooperating with police and club because they talked about the fight to the club.
Leaders of Ultras Sur then accuse the young group and Madrid City Firm for threating members of the group, trying to get control of the group and merchandising and for trying to destroy Ultras Sur as a group.
When this conflict took place in social networks, Spanish news found it interesting as well. Real Madrid owners didn't want any negative media coverage and therefore they decided not give more tickets to Ultras Sur and also block season cards. But still some leaders could enter their section if they showed ID card.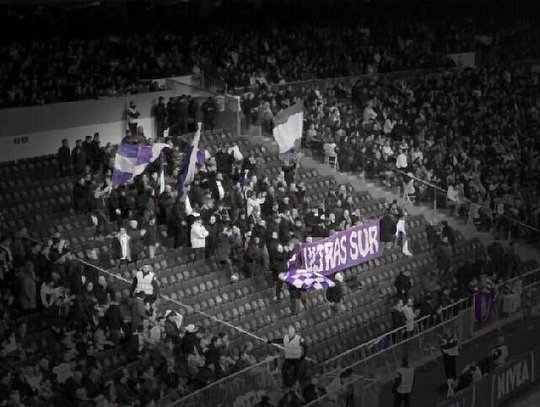 (Ultras Sur section after club blocked season cards)

Media also said club didn't want "violent" memebers of US entering the stadium. The leader of group then decides to leave the leadership of the group and the internal war finished. But the fight inside stadium continued.
Before fans could enter the US section with a season card owned by someone else (in another name), but club now changed this and only owners of the season card got access to the section (ID check when entering).
Many fans disagreed with this new rule because it was normal to have season cards in other names. Now in middle in the season they could not use their season cards anymore.
At the same time rumors was started saying Real Madrid owners want to kick the Ultras Sur crew out of the stadium. A while ago club talked about how to improve stadium atmosphere. It's been discussed a new "fan zone" on the north stand or extend the Ultras Sur section. But after the internal conflict in Ultras Sur, Real Madrid owners decided to replace Ultras Sur with a group of normal supporters. Club then published an announcement about reorganization of the south stand. They also decided that season cards belonging to Ultras Sur members would be canceled.
The two groups "Primavera Blanca" and "Peña" supported this new plan from club and agreed to take over the control of the old Ultras Sur section.


(Match with normal fan groups inside Ultras Sur section).
At the match against Celta de Vigo Ultras Sur members had protest outside their usual stadum gate. The protested against decision taken by the club owners and against fans who accepted this new section.
The atmosphere made by the new group was just awful. No loud chants (and most chants copied from US), material such as flags was given to fans for free from club and poor attendance. Some fans in this new section was even seen sitting eating popcorns during the match.
Of course Ultras Sur is not satisfied with this situation. Few days ago they announced to their members to continue protesting.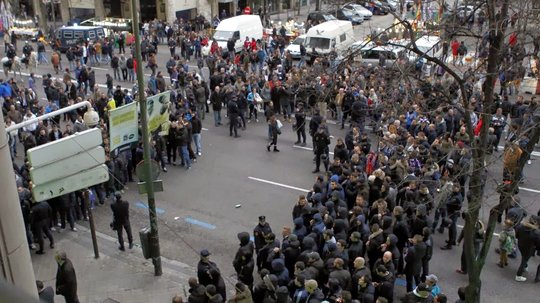 (Ultras Sur protesting outside their stadium gate).

Yesterday (9th January) Real Madrid played against Osasuna in the Spanish cup.
Members of Ultras Sur gathered outside gate 28 (their old section) one hour before kick off.They had banner "Abonados expulsados, oportunistas invitados..." (English: Subscribers expelled, opportunistic invited...).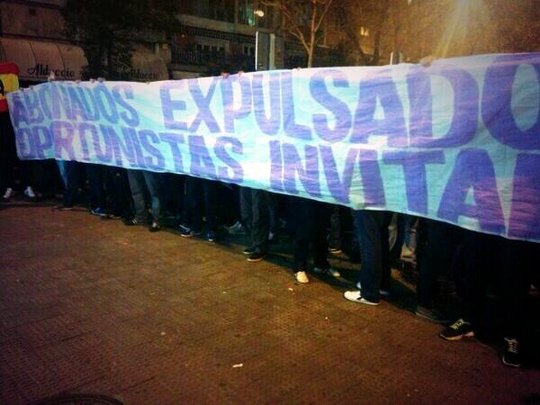 After the protest they went to 3rd tier of the north stand inside Santiago Bernabeu to support their team.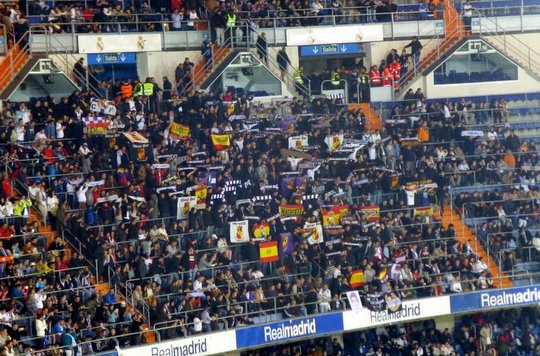 Visit our forum and our Spanish Talk zone if you want to read more about the Spanish Ultras scene.