Australia: ID check for home and away matches.
Australia: ID check for home and away matches.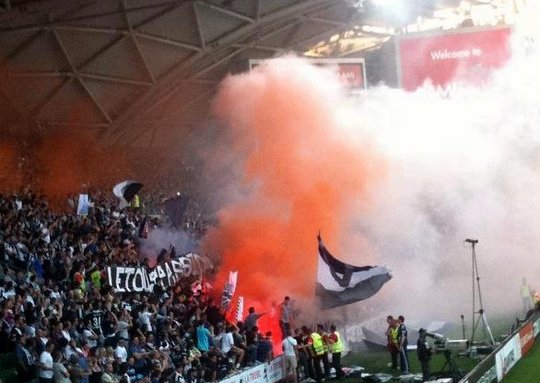 According to heraldsun.com, Melbourne Victory crowds will face the toughest crackdown on spectator behaviour seen in Australian sport for the rest of the A-League season following intervention by the code's governing body to be announced on Sunday.
The changes aimed at rogue fans will see supporter groups subjected to ID checks and bag searches and comes after a banned hooligan tried to enter Etihad Stadium with three flares strapped to his chest.
The crackdown follows repeated trouble last Sunday before the clash with Sydney, when fans marched through the city streets letting off flares.
Football Federation Australia said Victory supporters face restricted access to "active'' areas behind goals until season's end in a bid to eliminate the minority element of trouble makers.
In targeted areas, Victory fans will be forced to show identification to get to their seats and will be banned from entering active areas where fans sing and chant unless they are registered club members.
Additional measures to ensure crowd safety, such as increased bag checks, are also expected to be introduced.
The clampdown will start next week as the next phase of measures introduced by FFA after a CBD brawl between Victory and Wanderers fans on December 28.
It comes as the Sunday Herald Sun reveals a repeat ­offender faces a lifetime ban from matches Australia-wide after last week being busted by police with flares.
The man, aged in his late 30s, was already banned by FFA from attending matches until 2019. He will face further suspensions and be hauled before the courts.
A 16-year-old child, who was allegedly caught lighting a flare at Southern Cross Station, faces a mandatory five-year ban and will be forced to attend court with his parents.
The same strict rules will apply to Western Sydney Wanderers supporters.
A-League head Damien de Bohun said tackling trouble-making fans was necessary to protect sensible supporters and the image of the sport.
"The trial is squarely aimed at preventing troublemakers using the active areas to ­engage in anti-social behaviour that affects the enjoyment of others and damages the reputation of the club and game,'' he said.
The changes mean Victory and Wanderers supporters will need membership cards to enter the active zones, can buy only one ticket to the area and cannot exchange their seat with another fan.
Similar measures were trialled for a "high-risk'' match between Victory and Wanderers in Melbourne last month.
Police are reviewing video footage of Victory fans igniting flares at a march in the city and separate footage posted online.
Commander Rick Nugent said more arrests and charges could result from the review.
Source: www.heraldsun.com.au