Panathinaikos got punished after riot.
Panathinaikos punished by greek football federation after supporters attacked own players against Olympiakos Volos 18.12.2010.
After final whistle in the match Panathinaikos - Olympiakos Volos 18.12.2010. Supporters of Panathinaikos invaded the pitch, chased their own players into the locker room and threw projectiles at them. They also attacked the VIP section. All this in anger after losing 1-0 against Volos.
Before the game Gate 13 showed a banner: "We are jobless and you wallow in luxury. Respect (the team symbols), patience is running thin."
Its not this single result it self that caused the anger. It was more like an outburst because of many things. Players acted like it was "fun time", team played like they were from second division and lack of patience.
Now the Greek football federation punished Panathinaikos. Two next matches, against Aris and Kavala will be played with empty stadium. They also received a fine on about 75 000 euro. Not long time ago they received a fine on about 100 000 euro for some other trouble.
From the match: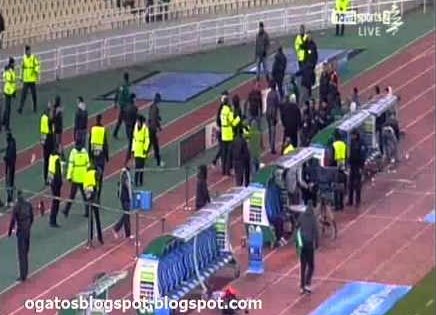 {youtube}faWOMp5pBq0{/youtube}
{youtube}3oNyQFE5GfE{/youtube}