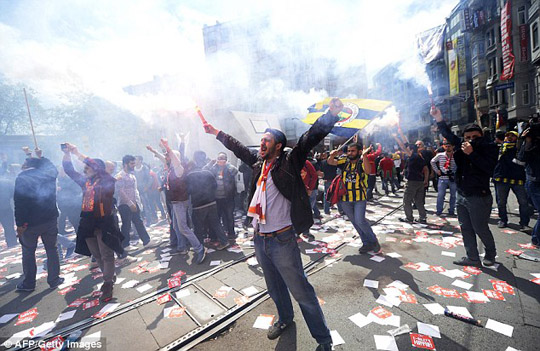 Turkey: All supporters unite against "Passolig"
Fans from the big Istanbul clubs such as Besiktas, Fenerbahce and Galatasaray put aside their differences to protest against a common enemy this weekend - the authorities who want to introduce an electronic ticketing system at Turkish league matches.
There have been protests in other cities too.
Police used tear gas and water cannons to disperse the supporters who gathered on Istiklal Avenue (Istanbul area).
Reason of all this is the new e-ticketing system called "Passolig". This new system will requiring football fans to buy special tickets, which can be bought only by "Passolig" card. The card comes in 3 forms - credit card, debit card and pre-paid card. 
Passolig card will include photo of its owner on the one side, and all the identity information on the other side, such as personal ID, names, address, place of birth, phone number etc.
The ticketing cards will also allow the operator to access supporters' bank account details and other private information, which can be passed on to the police and TFF(Turkish Football Federation).
Few days ago, total of 40+ groups of supporters signed a declaration urging fans not to buy such stuffs and to boycott matches. 
"The e-ticket system does not only demote the concept of supporter to a customer, but it also files all our private data", was said in the declaration.
All football clubs that don't use the new ticket system will reportedly be fined 100,000 liras ($47,000) per game.