USA and World Cup 2014 fever.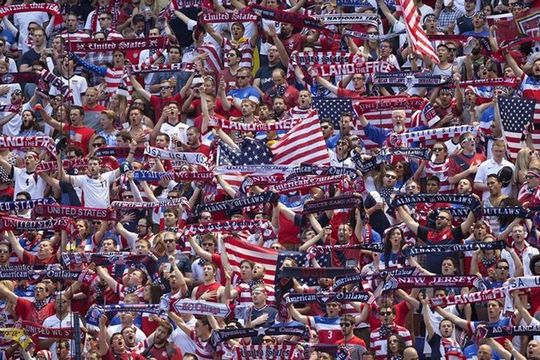 The World Cup has so far been widely acclaimed as one of the most entertaining and unpredictable in recent memory. The tournament has certainly gripped the globe. In fact, it seems that the 'beautiful game' might just have conquered its final frontier – The United States.

Of course, one significant reason is the impressive displays shown by Jurgen Klinsmann's side throughout the tournament. Hardly fancied by William Hill bookmakers or any other experts to get out of a tough group including Germany, Portugal and African giants Ghana, the United States progressed to the knock-out rounds. Had it not been for a slice of last-minute Ronaldo magic, they would have recorded a famous victory against Portugal.

The United States has shown little appetite for football through the decades, despite actually hosting the World Cup in 1994. This time though, it's different. The performances of Klinsmann's side have certainly caught the imagination. Each of their group games attracted an average television audience of more than 19 million Americans, more viewers than typical NBA finals and World Series. Meanwhile, a big screen showing of one of the games at Chicago's Soldier Field reportedly attracted 25,000 people. However, this cannot be explained solely by the fortunes of Team USA. More tickets for World Cup matches in Brazil were sold to Americans than anyone else. That's right, more Americans travelled to the World Cup than fans from Argentina, England, Holland and all other historically football-crazy nations.

So, has football finally caught on in the United States? Time will tell and certainly nobody should expect 'soccer' to seriously challenge the American version of football, basketball or baseball any time soon. However, the local league, Major League Soccer has slowly but surely increased in both quality and popularity in recent years.

In addition, the performances of the United States team in Brazil have captured the imagination well beyond home soil. For many football fans across the world, Klinsmann's side have been admired and become a 'second team.' For a start, they have played an entertaining brand of football throughout and have shown a determined 'never say die' attitude which has further boosted the admiration. Even in defeat, as they were knocked out in extra-time by Belgium, the US team simply did not give up. It is a squad full of hard-working players and few if any genuine superstars. For fans across the world, Team USA represents a footballing outlook worthy of respect.