Hungarian supporter speak about the problems in Hungarian football and society.
Hungarian supporter speak about the problems in Hungarian football and society.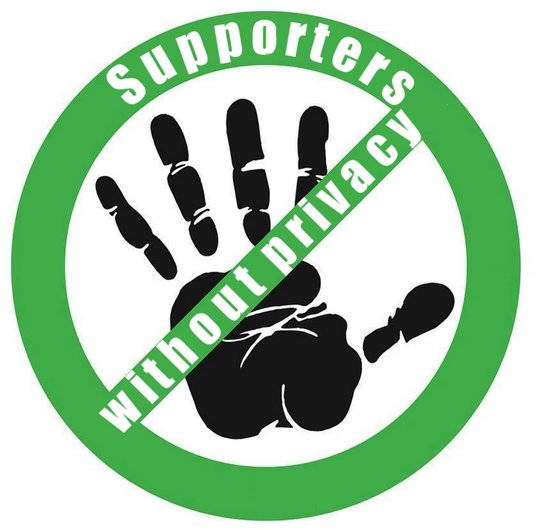 This article is written by one of our forum members. The same text can be found at Hungarian Ultras site.
---
Freedom of speech.

That's something that nearly not existing in Hungary thanks to Orban Viktor. He and his government try to hide everything from their own people. They buy every kind of medias in Hungary, televisions channels, radios, newspapers. If they can't buy it they try to kill them with rules against them and only them.
Example: www.lemonde.fr
or
Financial Times: Search for the terms 'Orban' (You have to register).
New World Order?

Even Lajos Kosa, prominent member of the current government had problems with a new system which will be developed and installed in our whole country to check out highway tickets. The new system will be installed everywhere and works as a machine that recognizes if you drive faster than allowed. But it will be a dynamic and online system which will collect data about your license plate so everybody can follow you all over the country.

For us supporters it means you can't get into the city without being "watched". Imagine that Rijeka fans come to Hungary. The authorities only checks out Croatian license plates and will know where they are and how many fans they will be.

Quote from Lajos Kosa: "I have a different problem with it (the new system)… because if I want I could operate it like I could follow all kind of vehicles in real time. And then there is only one thing left: have a television which would be forbidden to turn off and then it would watch my home…"
Football business

Well, that's the point where you can see where dictatorship ends. Average attendances on Hungarian matches is between 2600 – 2800 spectators for the whole league (Ferencvaros leads with 9100 spectators). That's not a number which could produce any kind of profit or interest of investors. But somehow millions and billions are invested into Hungarian football. You could say, what's your problem with that? First of all it it's my MONEY, it is money from tax. Billions invested into football from Hungary's budget. Second thing is, it is not helping. Last year we had no teams in international competitions in August!

First of all. Our teams really needed new stadiums that's no question. Ferencvaros and Debrecen deserved it. But so far Hungary has much bigger problems, but currently millions are invested into stadiums, not just into one or two but many more. Don't forger we are speaking about a country with high debts and millions of poor people who lives from day to day.

For example for the new national stadium they are planning to spend 35 million euro. Yesterday government just said they have to cut the budget with 35 million to keep our budget under the deficit which were accepted by us and the European Union. I don't have finance studies but the essence is that.

So far billions invested into shitty football. Don't sounds like a dictatorship. There is a village where our president lives with his family (and his friend who became one of the wealthiest man within 4 years. Oh before I forget he was a plumber...). There is a first league football team, the Puskás Academy. It is a very interesting team, if you consider the fact that it has nothing to do with Puskas Ferenc.
Puskas Ferenc played in Kispest and he is still the most popular for ultras of Kispest (first ultras in Hungary, from 1991). They have a banner which is older then 'Puskas Academy'. Says Puskas, Kispest, Hungary.

(Banner in the middle)
Not enough that this team of our president stole or bought (both shameful) everything, all the relics of Puskas was placed in that village (population of 1800 people). So Ultras Kispest made a bigger version of this flag against Puskas Academy to protest against this stealing.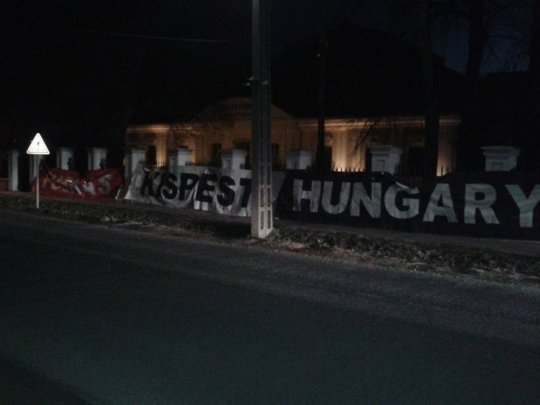 The part of 'Puskas' was forbidden to show because the Academy didn't allow to use Puskas' name in their stadium. Kispest fans, who are bringing Puskas' name to everywhere in Hungary for many years were not allowed to use their OWN hero's name.

Diosgyor and fans from many other Hungarian clubs showed solidarity with Kispet fans: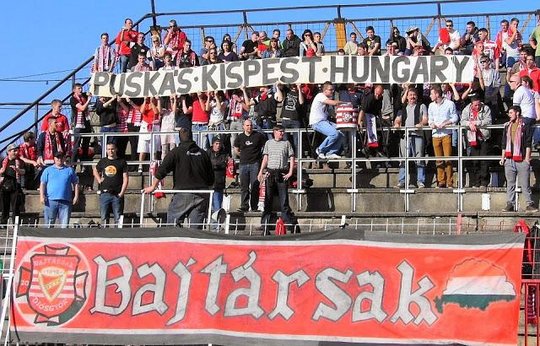 That was just a little story, so we have the Puskas Academy, in the village where our president lives. So from our tax MONEY they build a stadium here.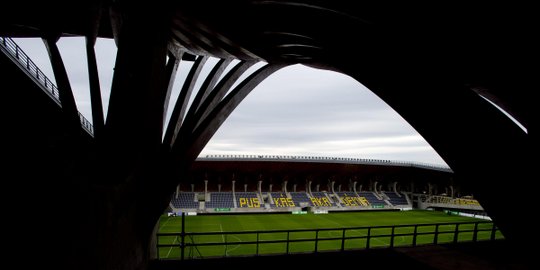 It was built for 3,8 billions forint. The club is one year old or less. The stadium has 3800 seats, the village has 1800 people living there. The club which plays here are named after Puskas Ferenc who has nothing to do with this club or place, the stadium was named as Pancho Arena, which was Puskas' nickname in Real Madrid. What else? Aww, didn't mention? It was built in the plot owned by the President Orban himself. Surprise!


Sugar daddies

What's the business here? Anybody could ask. Hungarian teams don't produce any kind of profit, only from investments. But why would anybody invest to them? Because they are forced. Oligarchs with billions have to invest into football. Almost every team are influenced by current politics. Ferencvaros was taken by Kubatov (member of current government, friend of Orban Viktor). Diosgyor has a sugar daddy, Leisztinger. Debrecen's owner just won the right to open CASINOS which is forbidden for everybody else. After government kicked out the owner of Nyíregyháza, a "sugar daddy" just showed up and spent billions. Videoton, Paks, etc. all influenced by the government.

Let me talk about Diosgyor, I think they are the best in Hungary or very near to Ferencvaros. They have the highest number of supporters. Sounds like worth to invest into, right?

Quotes from Leisztinger, owner of Diosgyor: "There is no business. So far I have a contract about giving a monthly present to the club. There are many ways to take care of society and it is one way. Question is, does it worth to do when you don't have supporters?"
"I had a speak with Mr. Csányi (president of Hungarian football league, also richest person of Hungary who were never involved in football before he was forced to do it, he was a banker) and he convince me very fast about it. That thing with supporters and the atmosphere… I would say it was accidental. I didn't expect it, I didn't have a clue about it…"
Investing billions into a team he didn't know about after a little conversation with head of MLSZ. Very professional from one of the richest and best business man of Hungary...

Why would anybody do that?

First of all, because of connections. Don't think that UEFA and FIFA don't see it.
Orban was asked to give an award for FIFA, he has a close relationship with both presidents of FIFA and UEFA.
Who is on those picture? Merkel, Putin, Orban (president of Hungary) and Johnny Depp? Nope, son of Orban with leaders of countries.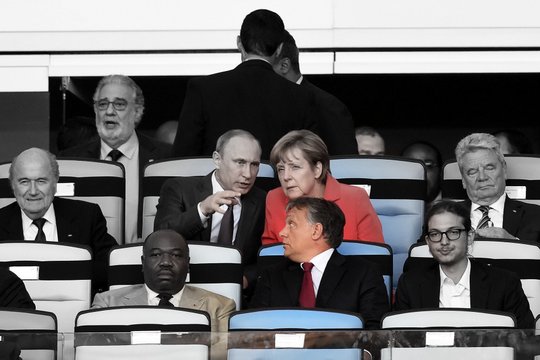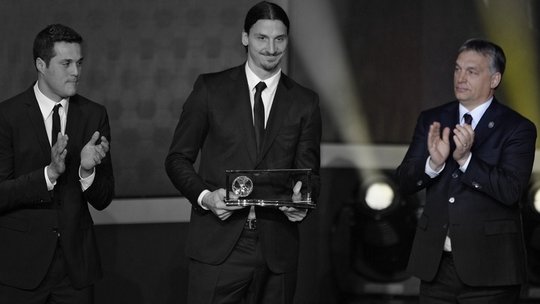 Second time. They fear the power of supporters. We are always against the current authorities and against the last government. People showed their anger and hooligans were int he first rows. When people attacked in the protest in Hungary, hooligans led the attacks. It is our heritage. Lads of Budapest were the synonym of hooligans in the communist era of Hungary. Those young lads were fighting with the regime and died for their country. Ferencvaros was a center of '56 and many of them was supporters of Ferencvaros.
Let's speak about Ferencvaros

Who is Kubatov Gabor?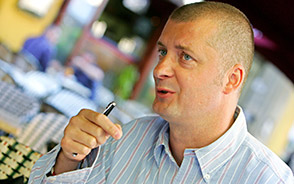 He has been chairman of the District XXIII of Budapest Fidesz branch since 2002. He has been party director of Fidesz since 1st July 2006. In the parliamentary elections held in 2006, he was elected from the Budapest Regional List. He was member of the Committee on Culture and the Media since 9th October 2006 to 13th May 2010. He also secured a mandate from the party's Budapest Regional List during the 2010 parliamentary election. He is a member of the Committee on Human Rights, Minority, Civic and Religious Affairs since 30th May 2006.
Kubatov served as campaign executive of the party during the Hungarian fees abolishment referendum in 2008 and the 2009 European Parliament election in Hungary. He is the current President of the Ferencvárosi TC.

In two audio recordings (disclosed in 2010) and in a video (disclosed in 2012) Kubatov speaks about creating and managing a list containing data on the party preference of voters. Fidesz allegedly uses this list to activate its voters. Additionally, in the video Kubatov instructs Fidesz-activists to break the campaign silence period to send lazy sympathizers to vote.

I could mention many things about him. Sold out the Ferencvaros stadium which was called after Albert Florian, legend of Ferencvaros and Hungary now called Groupama Arena. He is a 'good' soldier of current power and he is the mastermind of listing Hungarian people and he does the same with Ferencvaros fanatics.


How important is real supporters for him?

There is such a thing that called FradiBusz. First of all you have to understand that Ferencvaros is the most popular team in Hungary, there is around 1,5 million sympathizer of the club. Every away stand is full with them. Many people go to home games from every part of Hungary and from Slovakia, Romania and Serbia.

So one supporter of Ferencvaros made a system of small bus companies which brings people to Budapest for Ferencvaros games. They can travel with other Ferencvaros fans and it is very cheap to do. Many groups are forming from these travels and a new base of ultras started. It is also very good for Ferencvaros management, supporters buy tickets and spend money merchandise.

As the founder of system against the new card system. he asked a couple questions from the president. Kubatov considered the whole system as a 'not serious' initiative so FradiBusz is boycotting with at least 1000 supporters who travels with that way and one of the most successful things, the FradiBusz is currently not working.

There are many things, missing sponsor moneys, interesting contracts, debts payed by government and so on.


Fradi Security

It is big money to defend such a club. It is not just a couple hours work for every week, they have to take care of every away game because hundreds are going on aways. Who are they? Criminals, bouncers, ex-hooligans and ex-cops... Scum of the night life for sure.
Don't forget with the new system you will give your personal data, address, eye and vein scans to criminals, killers.

Some example of them.
"Those whores can only protest, they can't fight (About fans they must protect and who supported the club for decades.)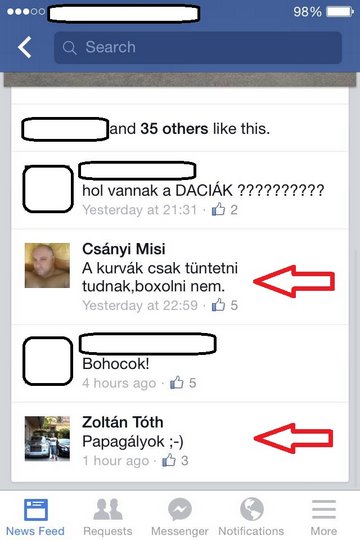 Prison of Vác. Comment: I were there too. Fantastic.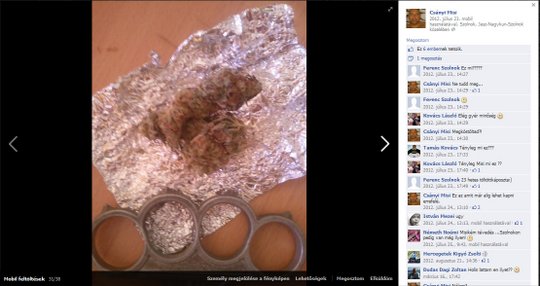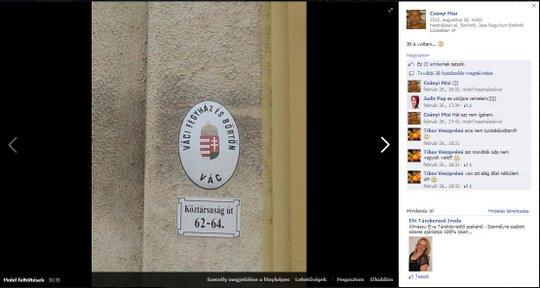 Another story:

The comment: "I'm writing from my son's profile to you president of Ferencvaros, please answer me why does Ferencvaros employ a killer, called Bogdán Ádám Ferenc? He killed my brother on the Hajógyári Island. I would like you to kick him out. Please answer me!"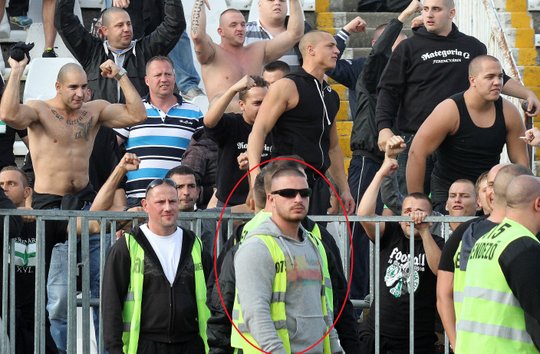 Killer working as Ferencvaros security. Of course the comment was deleted by Kubatov.
Secret picture. In the last derby an older Ujpest fan spoke about the past of the leader of Fradi Security. They were taken out of the crowd and beaten by Fradi Security: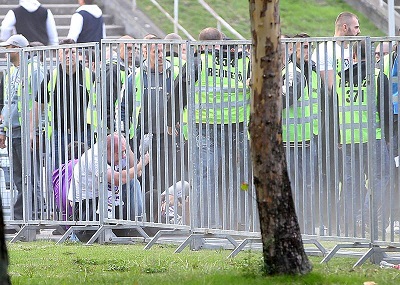 Ferenc Sz.

Well known ex-hooligan and leader of Fradi Security. He was in jail for 10 years, guess why... Because he killed a man. Gun to his head, an execution!
Don't forget that this man will receive every data of you...

He got a personal message, he posted an ironic text about it. "In the past when I was a school boy, sometimes teachers came to our home. That was called FAMILY VISITS. It was in the past, maybe not even true." Family visits, from a killer.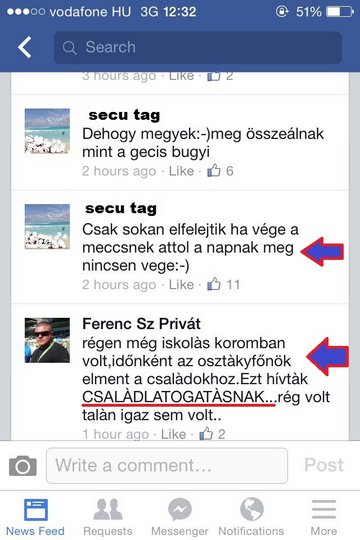 Liberal youth occupied the head office of current government, FIDESZ. They didn't use any force just went into and didn't want to leave. In western countries it is not a big deal, but in Hungary?. Orban didn't send the police, but called his friend, Kubatov who sent the FRADI SECURITY to defend and clean the head office of CURRENT GOVERNMENT. Killers bringing out university student with force: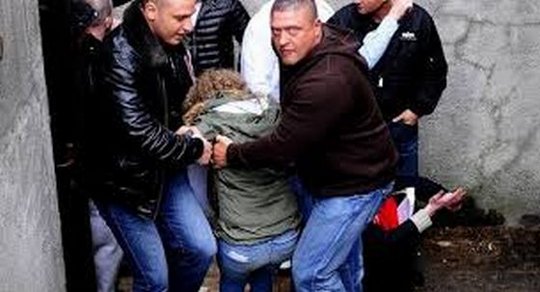 New system, new stadium:
What is exactly the vein scanner and how does it work?

Fujitsu's official developers the BioSec Group made the new system (hardware and software) which identifies a person within one second by a secondary authentication. For example, the system comparing the data collected by the scanner with data collected and stored on your supporter card. In fact every human being has unique veins in their hands which served instead of a PIN code. The new solution is storing this information in a database, and the system compares the information obtained by the scan. Thus, if the solution becomes widespread, even the palms can also serve as an identification document. As the data are coming from the living human body it is impossible to scam this system.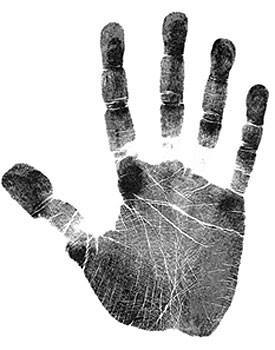 BioSec's service package for physical access control include the planning, installation and maintenance of electronic and mechanic systems, as well as the consulting services. The BS GateKeeper physical access control system (Palm Secure vein base biometric technology) combines the world's most developed vein template algorithm with speed, user convenience and highest security. The vein sensor represents the latest biometric technology, due to the fact that the vein template is an inner "ID", therefore, it cannot be reproduced, copied or faked. The Common Criteria Certificate, which is the highest classification in the field of IT security underlines the above mentioned.

Using BS GateKeeper instead of cards, PIN codes, your hand becomes the key, what you carry always with you. You can identify yourself with your hand and open doors.
Security in Malta:
Short story: This security crew were sent to Malta when Ferencvaros played there. Unofficially abused and attacked Ferencvaros supporters and removed protest banners against current management and new system.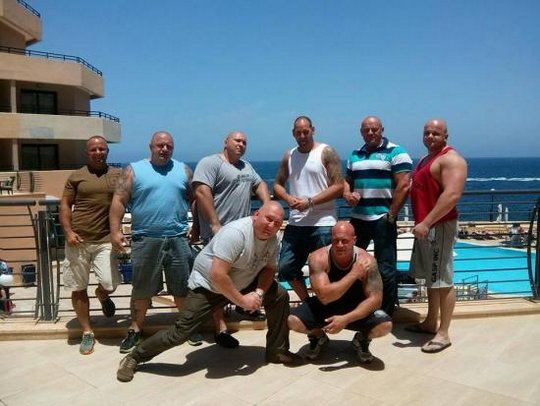 Rijeka:
530 tickets were sent to Budapest, you could only buy by registration card. Real ultras and hooligans didn't register but they have many connections with Croats. So a Croatian friend called Rijeka management and asked if they were going to sell tickets in Rijeka. They told them that Rijeka will sell tickets for away sector, they have 500 tickets more. The first 500 tickets were sold in Budapest and on match day when fans without tickets were in Croatia, president of Ferencvaros asked for rest of the away tickets, so nobody could buy it in Croatia.

When Rijeka found out there was 300 fans without tickets, they wanted to sell the tickets because they were not sold in Budapest, but president of Ferencvaros did not allow. Also lot of data of Ferencvaros supporters were given to Croatian Security and police. 300 people were at the stadium. Fradi Security checked the supporter cards, if your number wasn't correct, they brought you to the police.


Prostest: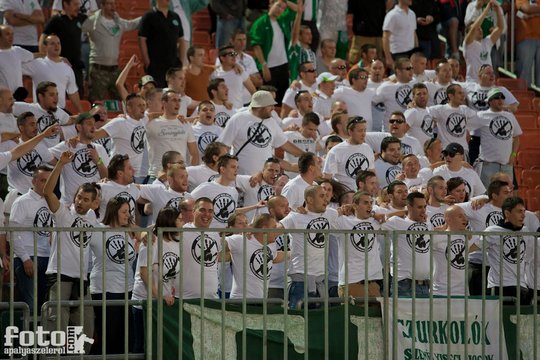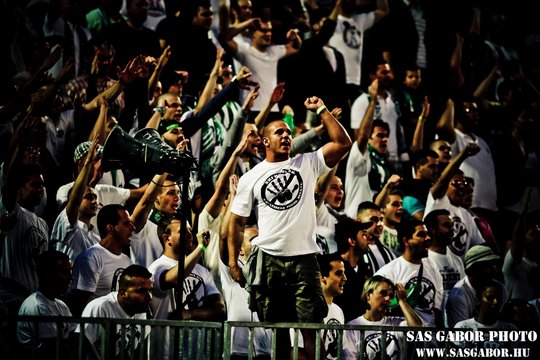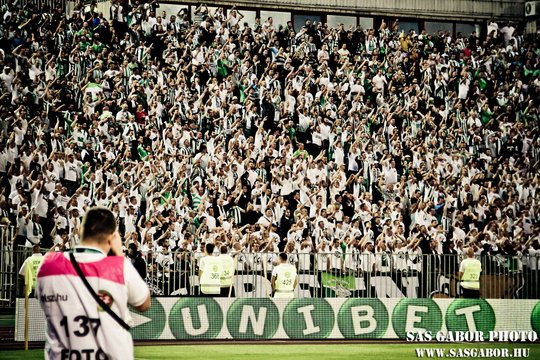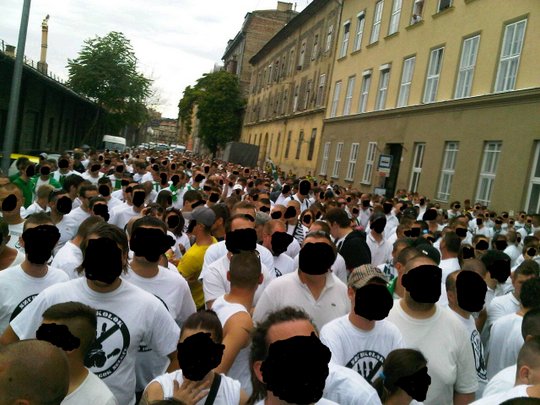 What should I say. Corrupted politics obsessed with power. Dogs of government taking over our clubs. Never seen strict rules and eye and vein scanner. It is deep shit. But Ultras of Ferencvaros won't register, won't give up their fight. If you think such things won't happen with you just think about it. There is a country where everything can be done, there is a prime minister who is a very close friend of FIFA and UEFA president and one of the most radical football supporters are having a new security system which was never built before.

I wouldn't be surprised if YOUR club would be the next. Fuck Modern Football, Fuck Kubatov! Supporters without privacy!
Visit our forum if you have any questions. Click here.