Switzerland: From sponsor name Stade de Suisse to traditional name Wankdorf Stadium?
Switzerland: From sponsor name Stade de Suisse to traditional name Wankdorf Stadium?

(Picture of the old Wankdorf Stadium, built in 1925)
Two supporter associations of the Swiss capital's football club, Young Boys Bern, launched an unusual initiative. They are demanding their stadium's old name back. In the fans opinion, the stadiums' adopted commercialized name, Stade de Suisse (Swiss bank), should make way for tradition.
The name was changed nearly 10 years ago after the old traditional Wankdorf Stadium was demolished and the new stadium, which got the name of a Swiss bank, was raised.
So why change the name now? The two supporter associations, Ostkurve Bern and Gäubschwarzsüchtig, are reminding fans that the name rights deal expire in summer 2015, so it's high time to let the stadium operations know what they think. On December 2nd, they launched an online petition which until now gathered nearly 10 000 signatures!
Sign up here to help the Young Boy Bern fans:
(Full name - City/Post code - Street - Email)

(Wankdorf Stadium was demolished in 2001)
The fans of Young Boys Bern believe if they bring back the old stadium name, it might give the modern stadium a better identity. Since the opening of the new stadium in 2005, many fans have felt alienated by its dull, soulless character. Meanwhile, the name Wankdorf represents a legendary, iconic venue in the history of Swiss football. Not only was it the site of the BSC Young Boys' most crucial games, it also hosted the legendary final of the 1954 World Cup.

Facts about Wankdorf Stadium:

- Built in 2005.

- Site of the WC final in 1954 as well as several European Cup finals.

- Maximum capacity: 64 000.

- Stadium demolished in 2001 and in 2005 the Stade de Suisse opened.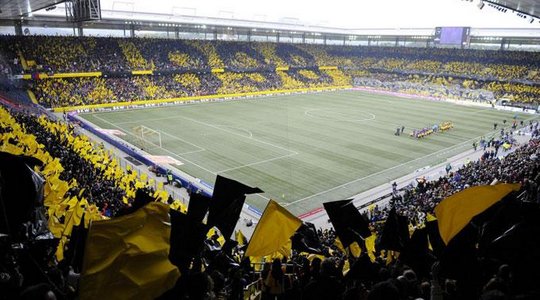 (Picture of Stade de Suisse)