Belgium: Here is the full story of what went wrong with Lierse SK.
Belgium: Here is the full story of what went wrong with Lierse SK.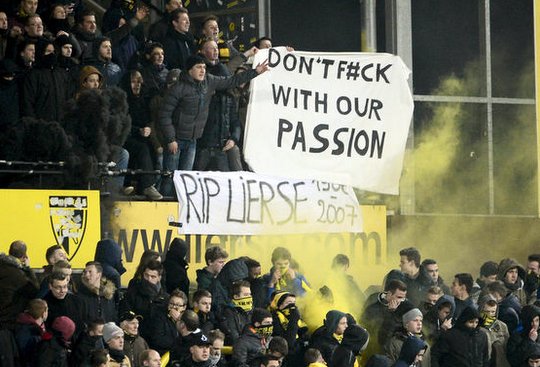 In the Belgian league match last Sunday against Standard Liege, fans of Lierse SK stopped the match when they threw pyrotechnics onto the pitch. They also displayed many banners against the Egyptian club owner Maged Samy as well as banner with the text "R.I.P. Lierse SK".
One Lierse SK supporter will now give you the full story of "what went wrong":

It all started back in 2007. Our team was almost bankrupt and the end was near. Like in any other club in the same situation we didn't want to see our club die and start all over again.
During that period Maged Samy entered the stage. A wealthy Egyptian business man who was member a the Wadi Degla holding. In a short period of time he took over the club and its property's, and cleared all main debts with the partners and the city council.
In the beginning we where thankful. He brought Lierse from 2nd to first league in 3 years. But then his true nature started to show.
Maged Samy wanted to display the presence of his holding in our club so he started to fiddle with the club jersey. The shirt sponsors became Wadi Degla and the first year he wanted a blue lining on our sacred yellow-black jersey. The blue was a reference to his other team Wadi Degla FC (Egypt) who play in red and blue. Because there where more comments coming from us Flemish supporters than there where from the Egyptians, the jersey changed to it's former glory. But he also change the colors and design of his Egyptian club, which suddenly got a new logo in yellow colors, very similar to Lierse SK!
Here you can see the old logo of the Egyptian club and the new logo they got: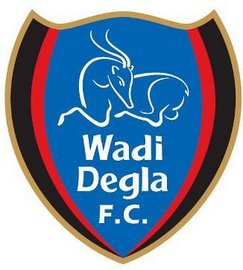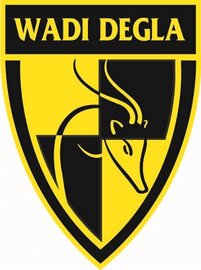 His flamboyances didn't stop.
He told the newspapers he wanted to play champions league withing 5 years (2012) and move to a bigger stadium. But after moving to the Pro League in 2010 the team always faced relegation and were lucky to survive every time. After some supporters started to get mouthy and called him a camel on Facebook and criticizing his way of doing things he started to assault them verbally on Facebook. He started threatening the fans and said he would put a camel in the Lierse logo.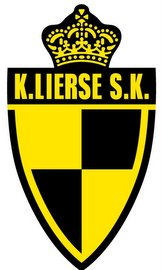 After one little victory that season he sent his Egyptian players (Lierse existed of almost 6 Wadi Degla players on loan in its main squad) with an Egyptian flag to the main stand where the hardcore fans are placed. Fans answered with songs like 'put your flag up your arse'
Samy was so mad he started his own banning of fans which he thought were responsible for the insults. But due to Belgian law the bans were invalid.
The 'Facebook - war' was big news in Belgium and caused a lot of censorship for Lierse Supporters (banning public forums,...). YBA (Yellow Black Army) became public enemy in the offices of Lierse.

After a season with protest from YBA, the attendance dropped because there was no atmosphere. Also players from the youth squad didn't get contracts and started to go to the big rival YRKV Mechelen.
The Belgian board of Lierse started a positive campaign towards supporters. An old club legend, Stanley Menzo, was hired as trainer. A group of supporters was chosen to restore club's values. Samy didn't come to Lierse anymore and all started to fall into place again.
Together with the purchase of our club Maged Samy also decided that Lierse would become the staring place of new talents from the Jean Marc Guillou Academy. In previous times this academy formed players like Eboue, Yaya and Kolo Touré...
These young players don't play competition until the age of 15 and play on "bear feet" until the age op 12 years.

The beginning of this season the first players started to enter our squad. Instead of selecting a few players Maged Samy demanded the trainers to select the majority of the academy players.
It was clear after a few games that these small and skinny players weren't ready and were too young. Lierse started dropping down the table and the trainer Menzo was sacked.
Slavisa Stojanovic was bought. He became champion with Crvena Zvezda (Serbia) and came to Lierse to bring discipline. But also he failed. He didn't get more than 3 points in 10 games. He was sacked last week when Maged Samy came to belgium one more time. Together with Serbian trainer, 6 of our older man players were forced to leave, many of the loved by fans of Lierse.
This was the last drop for the supporters which resulted in the protest last Sunday. Right now Lierse SK is ranked last in the Belgian top division.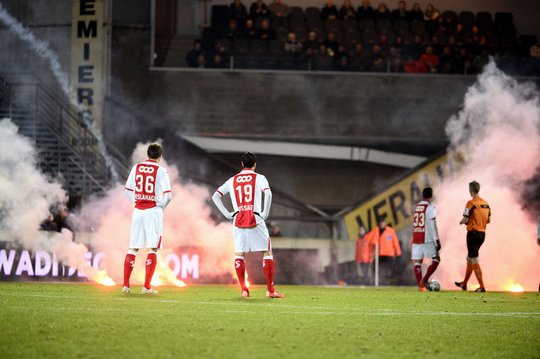 Thanks to our forum members for this article.

Click here for photos and videos from the protest last Sunday.