England: Fans boycott away match because of expensive tickets.
England: Fans boycott away match because of expensive tickets.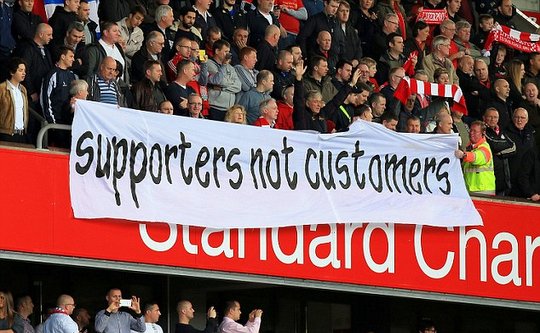 Past months Liverpool fans displayed several banners about ticket prices in Premier League. Now the red fans took a step further and decided to call for a boycott against Hull away 28th of April.
The price for a ticket in the away sector is £50 and Liverpool fans say enough is enough.
They ask all their fellow supporters to boycott the Hull match and instead gather outside Anfield for an demonstration.
Here is the message from Spirit Of Shankly, Liverpool supporter's Union: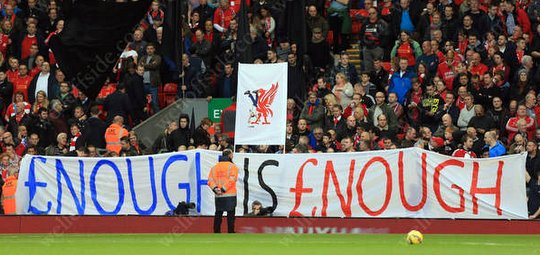 Liverpool FC are playing away to Hull City at the KC Stadium on Tuesday 28th April. Match tickets are priced at £50. £2 will be knocked off per ticket by way of a subsidy from Liverpool FC and this is to be taken from the £200,000 Premier League away fans initiative. That makes it £48 a ticket. Last season, tickets for this fixture were £35.

Stoke City played Hull City at the KC Stadium in August of this season. Their tickets were £16.

Everton FC played Hull City at the KC Stadium in December of this season. Their tickets were £35.

The mark up for Liverpool FC fans compared to Stoke City is 200%. The mark up compared to Everton FC is just over 31%.

That's double the cost for Evertonians compared to Stoke City and then treble the cost for Liverpool FC fans. Remember here, we're watching the same opposition, from the same seats, from the same stand, with the same facilities in the same league.

Read that again - £48 for a Liverpool FC fan and £16 for a Stoke City fan. A 200% mark up. This is unacceptable.

With support of the Spion Kop 1906 group, the Spirit of Shankly Management Committee have decided that we will not be attending this match. Instead, we will hold a demonstration at Anfield to voice our displeasure at the disgraceful pricing of Premier League tickets.

In solidarity, many of the regular independent coaches that are organised and travel from Liverpool will also not be travelling to this fixture. Fans can simply not afford to attend every game at the prices that are currently set.

We would encourage fans to join us on that night to tell the money men of the Premier League cartel that they cannot continue to charge exorbitant prices, whilst making obscene amounts of money. This wealth should be shared and passed back to the lifeblood of the game, the supporters.

For our members in London, a separate demonstration will be held outside the Premier League Head Quarters.

We are aware there are many fans who would wish to simply stop attending games until prices reduce, however we are also only too aware that these fans fear of losing out on attendance credits.

We also acknowledge that if people simply refuse to buy a ticket, they will end up in the hands of the modern day football tourists that the clubs are so eager to attract.

With this in mind, we will personally be purchasing a £10 ticket in order to maintain our credits and not go. We would urge those who support this initiative to do the same and join us at Anfield.

After the demo, we will head to a local pub to watch the match together. More details will follow on this.

This is our chance to show that the power is still with the fans. If we stop going, the game will eventually die. Take this chance to send a warning to the people that run the game, we will no longer accept these prices when there is more money in the sport than ever before.

We demand the redistribution of wealth. Join us from 7.00 pm at the Anfield and let the powers that be know Liverpool football fans are at the front in the fight for affordable football for all.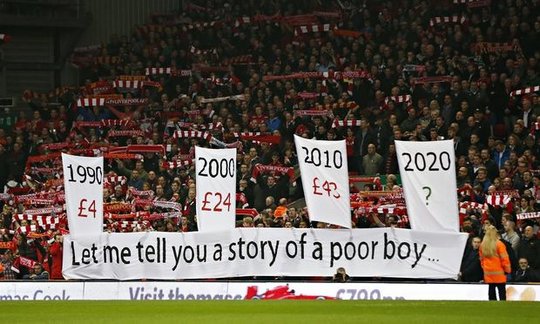 Source: www.spiritofshankly.com