Design t-shirt for Ultras-Tifo and win some cool prizes!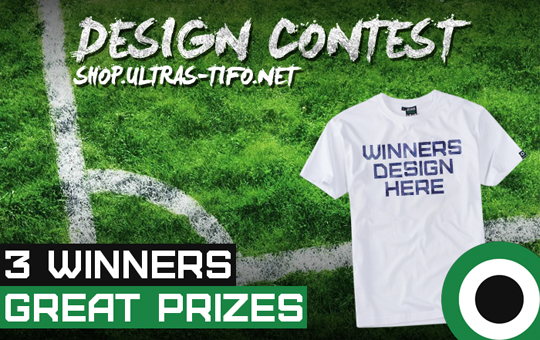 SCROLL DOWN TO SEE WHO ARE THE WINNERS!

Hello, ultras! It's time for our new contest where you can show your design skills.

As you know, last month we opened our shop where we offer original Ultras-Tifo Streetwear t-shirts and other products.

Now we give you the opportunity to create original and unique print for our t-shirts. You can design whatever you like, it just has to be related to world of football fans (ultras).

We'll choose 3 best projects and at least one of the designs will be printed on our T-shirts.

If you are ultras and you know how to work in programs like Photoshop, Corel, AI... this is chance for you to create something which fans around the world will wear!


PRIZES:
1st place: Ultras-Tifo Streetwear t-shirt + bucket hat + 200 Ultras-Tifo stickers
2nd place: Ultras-Tifo Streetwear t-shirt + 100 Ultras-Tifo stickers
3rd place: Skull balaclava + 100 Ultras-Tifo stickers


RULES:
1. File must be sent in jpg or png format and minimum 1000px shorter side (if you make it in vector file, send it also) on mail This email address is being protected from spambots. You need JavaScript enabled to view it.
2. Competition last 10 days (till  Friday, 5th of June)
3. Winners (total 3) will be chosen by us (try to be original and creative)
4. All projects you send us become our property and we can use it for future projects and promotions (of course with your name as author)
5. All projects received will be published on Ultras-Tifo Facebook Fan Page
6. Maximum 3 designs per person
7. Name of the file must be like this yourname_yourcountry.jpg
If you need templates for t-shirts, here you can use some of ours: http://imgur.com/a/E3CVN

Album on Facebook: https://www.facebook.com/media/set/?set=a.10152803933042466.1073741864.176796467465&type=1
09.06.2015 WINNERS
We received many good designs and was very hard to choose only the 3 best, but this is our final choice (click on photo to zoom):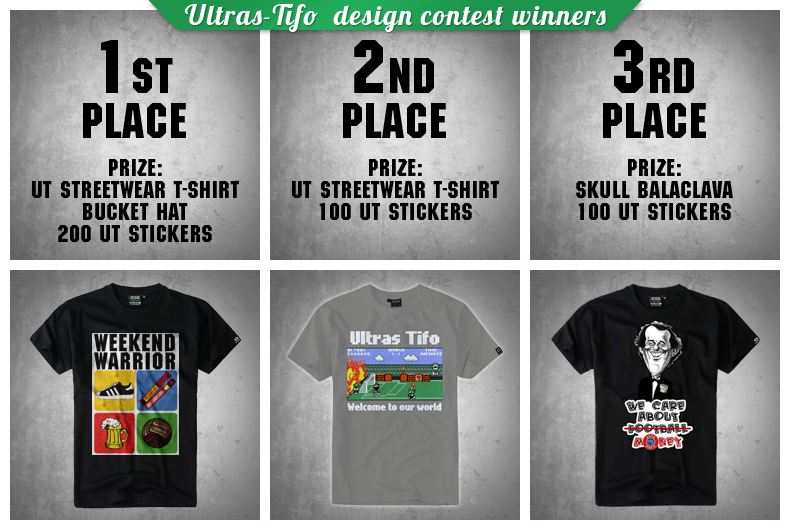 1st place  - Dadang from Indonesia

2nd place - Zielono from Poland
3rd place - Tsvetelin from Bulgaria

First design will be printed immediately and should be available in our shop in few weeks. Also we plan to use many other designs we received to make stickers and also as inspiration for our future projects.
Thank you all!