Laos: Thailand - Vietnam 04.09.2015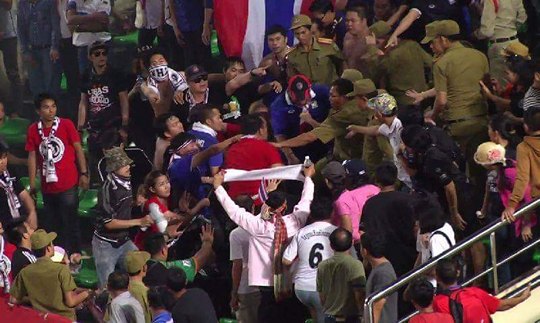 AFF U-19 Youth Championship game (final): Thailand - Vietnam 04.09.2015
The violence, in which a warning shot was fired after a Lao policeman was punched, erupted during Thailand's 6-0 win over Vietnam in the Asean Football Federation Under-19 final at the  National Sports Complex Stadium in Vientiane (country Laos).

Fans, behind an "Ultra Thailand" banner, waved a flare after the War Elephants scored a second goal in the 11th minute, prompting the intervention of security forces.

Thai fans then clashed with Lao police. Footage from the ground shows the crowd becoming more agitated after a Lao policeman reached for a woman's mobile phone. A man dressed in black punched the policeman in the face. Another policeman immediately drew his gun. A warning shot was fired, and police appeared to bring a Taser as backup.

Police arrested 25 Thai fans, who were released next day and allowed to return home after diplomatic intervention.
Watch the video!
Source: www.bangkokpost.com