Join our contest and win great prizes for free!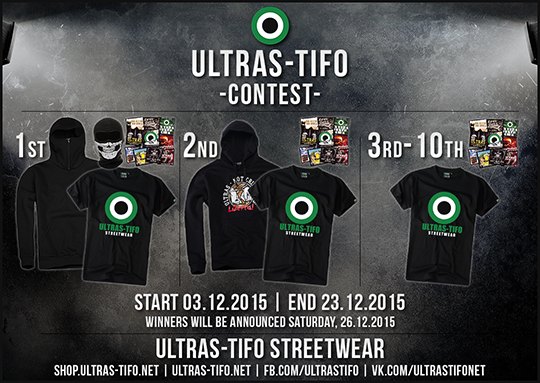 ULTRAS-TIFO contest (3rd - 23rd December 2015)
It's soon that time of the year again when people use to give each other gifts. As many of you know, Ultras-Tifo.net celebrate 11 years 24th of December. To celebrate it we have decided to give you free products from our shop!
To get one of these free gifts, you need to join our contest which is similar to one contest we have done before.
What you need to do
Make a cool photo which include "Ultras-Tifo" and send it to use via our Facebook fanpage (inbox) or email (contest[at]ultras-tifo.net).
There will be 10 winners of this contest. To win you simply need to be creative. Take photos in your stadium, pub, mountain, under water or even strip club. Use pyro, stickers, graffiti or your girlfriend to make the photo even more interesting. Just remember to somehow show the word "ULTRAS-TIFO.
PS: You can't add "ULTRAS-TIFO" via graphic software after the photo is done, it need to actually be part of your photo. Just be creative!
PRIZES:
1st place: Ultras-Tifo Ninja Hoodie + Ultras-Tifo Streetwear t-shirt + Skull balaclava + Ultras-Tifo stickers.
2nd place: Ultras-Tifo Hoodie "Ultras - Not criminals" + Ultras-Tifo Streetwear t-shirt + Ultras-Tifo stickers.
3rd-10th place: Ultras-Tifo Streetwear t-shirt + Ultras-Tifo stickers.
RULES:
Your photo must include "ULTRAS-TIFO".
Maximum 3 photos per person.


Write your name or nickname, email so we can contact you if you win and your country of destination. Send this to email contest[at]ultras-tifo.net or in inbox on our Facebook fan page

Contest is ending 23rd of December. After that our crew will choose the 10 winners and give our prizes for free!
We use the right to use photos you send us on our web site and Facebook fanpage. We will never publish the full name of anyone who participate in the contest, neither the winners.
Some photos we receive during the contest period will be published in an exclusive gallery on our fanpage.

To give you idea what you need to do, these are three winners from the last time we organized this contest: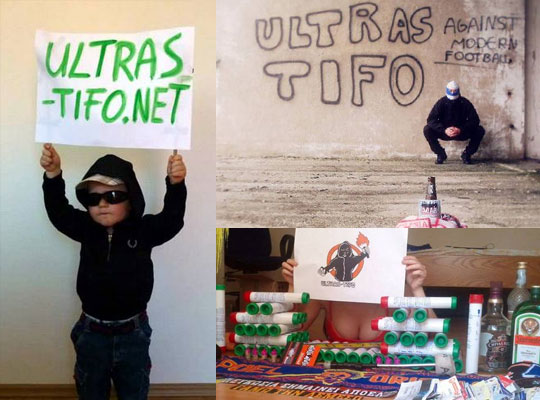 Good luck!