New anti-terror T-shirts available in shop!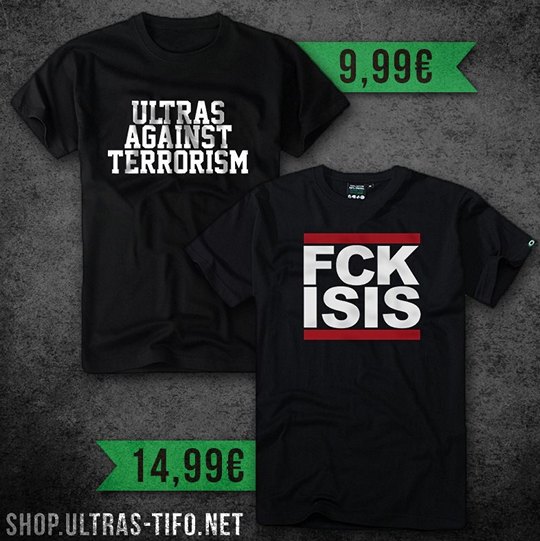 New anti-terror T-shirts available in shop: FUCK ISIS and ULTRAS AGAINST TERRORISM!
As a result of the increased terror threat, we have decided to create two new T-shirts to unite ultras against terror.

Terrorists has already attacked our beautiful football game, first in Paris during a national match, and now latest in Iraq on an amateur football match.

Unfortunately increased security rules will also effect football supporters in Europe, and especially Euro 2016 in France. There will be more police in the streets on match-day, the security check in the entrances will be way harder and we believe punishment for breaking any rules will be even worse for us.

Example: What will happen if you get caught with pyro on match in Euro 2016?

Since a few years ago French authorities classified many of the biggest supporter groups as "criminal organizations". If you promote such a group, or wear any of their products (logo or name), you will be arrested. With the fear of terror in Europe, we ultras fear the police also will hit harder on football supporters.

Let's show people that we can stand united against terrorism!
T-shirts are available in our shop. Top quality and low price! We are shipping worldwide (shipping price starts from 4.99€). Visit: