A great-grandmother has been banned for a year from Leeds United, after pitch invasion during their final home game of the season.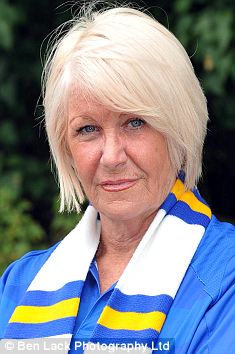 A great-grandmother has been banned for a year from Leeds United, a club she's supported most of her life, after mounting a one-woman pitch invasion during their final home game of the season.

Margaret 'Mags' Musgrove, 63, who has followed Leeds United for more than 40 years, got carried away and ran on to the Elland Road pitch wrapped in the club's flag during the match against Burnley on April 30, determined to tell players that she adored them.

The 5ft 4in fan was headed off by stewards before she reached any of the players and was locked in the club's holding cells, according to the Yorkshire Evening Post.

She was arrested by police but later released without charge. However, she has now had her new season ticket seized.

The ban means she will not be able to see her beloved club in action until May next year.

Mrs Musgrove, who has 13 grandchildren and three great-grandchildren, said of her pitch invasion: 'I just wanted to shout, "Lads, I love you".

'I had my Leeds United bag across my chest and a United flag tied around my waste. It was hardly threatening.

'It's not like I am a hooligan. People who do much worse than this get the same ban.'

She added: 'A suspension from a few games would have hurt, but I already feel like I have been punished enough.

'I've followed Leeds for years - I just got carried away. I don't go out, Leeds United is my social life.'

Mrs Musgrove, from Bradford, West Yorkshire, has written several letters to Leeds United, pleading with them to re-instate her season ticket, but the club is standing firm.

However, fellow football supporters are rallying to her cause.

Hundreds of people have signed up to the Facebook group Give Mags Musgrove Her Season Ticket Back Mr Bates, while many others have signed up to Mags Musgrove Is A Legend.

In a letter, Leeds safety officer Sue Kilroy told her: 'It is a requirement of attendance at Leeds United home and away fixtures that supporters do not behave in any way contrary to the rules and regulations of the Football Association, Leeds United Football Club or the equivalent policies and rules at other Association Football Clubs.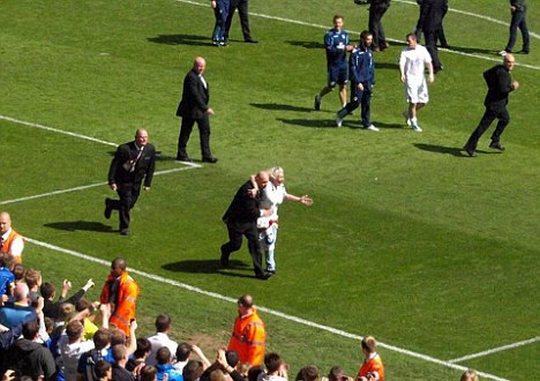 'We have reason to believe that (Margaret Musgrove) may have acted in breach of these requirements.

'Accordingly you are suspended from all fixtures and your right to purchase tickets to attend away fixtures is also suspended.'

Mrs Musgrove claims to be owed money by the club after paying for part of her 2011/12 senior citizens' season ticket. It costs £432 for such a ticket in the North Stand next season.
Join Facebook group of support "GIVE MAGS MUSGROVE HER SEASON TICKET BACK MR BATES!"

Source: www.dailymail.co.uk