Germany: Help fans of Carl Zeiss Jena with "crowdFANding".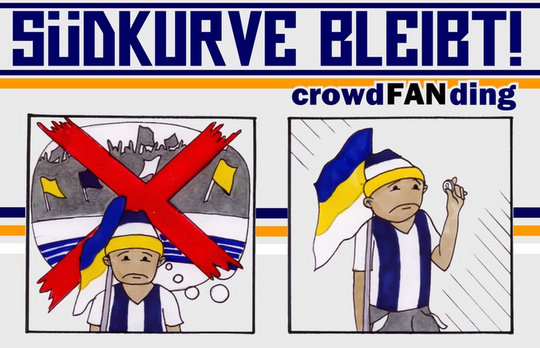 Germany: Help fans of Carl Zeiss Jena with "crowdFANding".
Fans of Carl Zeiss Jena (German 4th division!) want to gather money to be able to get their own traditional "SÜDKURVE" when the new stadium is built.
They will soon be forced out of their old stadium (new one will be built in 2018), politicians, owner and police show lack of interest to maintain supporter traditions and whishes. In this article you can read how Carl Zeiss Jena supporters want to solve that problem. But they need YOUR help!
So far they have founded 57 000 EUR!
THE SÜDKURVE HAS TO STAY!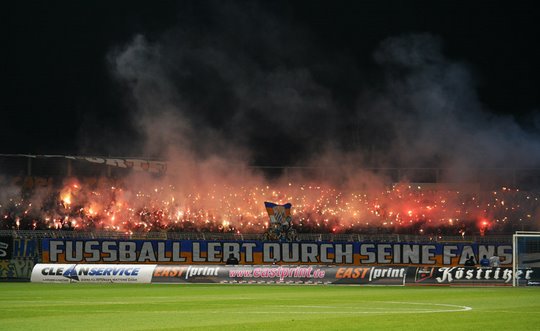 After years of discussions the Jena city council decided to knock down the rundown stadium, the Ernst-Abbe-Sportfeld, and to rebuild a new football stadium in its place. The active fan scene of FC Carl Zeiss Jena wants to use this unique opportunity to get directly involved in designing the new stadium for the next generation of fans.

For decades the SÜDKURVE has been THE place for the active fans. It's the core of vocal and visual support. The blue-yellow-white supporters have been coming together for generations to show spectacular choreographies and to support their football team.


Unfortunately the joy regarding the new stadium was dampened when it became clear that the SÜDKURVE would have to move due to modern infrastructural requirement. The city planners have foreseen the SÜDKURVE for the away-fans – OUR traditional place! The aim of the police is to strictly divide home- and away-fans on their arrival. According to the emotionless and simplified ideas of the police, there is no space for a large home block for standing places in the south. The police and fire department plan to move the SÜDKURVE to the northern part of the new stadium with no regard for the clubs tradition.

WE DON'T WANT AND WON'T ACCEPT THAT!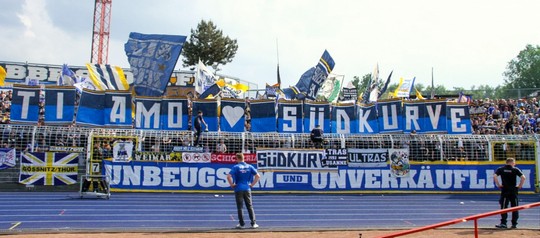 We demand a fan-friendly area for our guests in the north. Therefore the Jena fans developed a detailed concept and presented it several times to the local decision makers. This concept shows different scenarios to make the home fans happy and at the same time fulfills the security requirements.


But that is obviously not enough! It doesn't matter how good our presented concept is, keeping the SÜDKURVE will result in extra costs. We will not accept that these extra costs, as the only reason for local politicians, put an end to the SÜDKURVE. We are committed to filling this gap with all our might and to investing the money from this campaign to make sure that the SÜDKURVE stays where it belongs. Think we are crazy but we are going for it! And that's why we are asking you to support us. We want to move something together with you that makes the police and politicians listen – 'crowdFANding' should save Jena's SÜDKURVE! crowdFANding is a new tool for fans!

Just imagine you lose your football home…
VIDEO:

We are sure that all sports fans can imagine how we feel at the moment. We think that it could happen to any fan and that's why we believe you will support us. Right now it's us that has to cope with that and we will…

And who knows maybe we will end up building our FAN-friendly stadium ourselves.

Many thanks for your support – we appreciate your solidarity and trust!

crowdFANding.net – a new and internationally unique tool for sports fans!

"SÜDKURVE BLEIBT!" is the pilot project for this new and innovative crowdfunding platform. After its successful launch it should serve as a platform for other fan projects and provide a reliable technical infrastructure, a flexible communication concept, a unique crowd and much more. 'crowdFANding.net' makes FAN dreams come true…

One voice is quite – hundreds are loud – thousands cannot be overheard!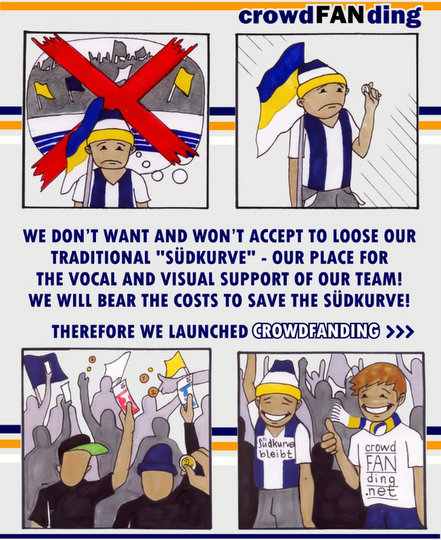 Source: www.crowdfanding.de