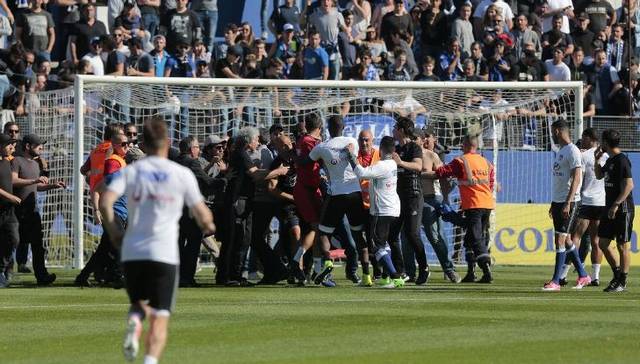 France: Match abandoned after fans invaded the pitch!
The French Ligue 1 match between Bastia and Lyon was abandoned after home fans invaded the pitch at the Stade Armand Cesari and attacked players on two occasions.
Kickoff had been delayed by almost an hour after Bastia fans came onto the pitch and appeared to attempt to attack Lyon players as they warmed up.
Lyon's player Menphis Depay shoot into Bastia fans stand and laugh. One Bastia fans dislike his gesture and try to reach him on the pitch, some others fans followed him and chaos started.
The visitors were persuaded to go ahead with the match after initially refusing to do so, but a further incident as the teams tried to leave the pitch at half-time meant the game was abandoned.
The Ligue de Football Professionnel (LFP), which governs France's professional leagues, will meet on Thursday to decide what action to take.
READ ALSO >> RIOTS: Lyon - Besiktas 13.04.2017