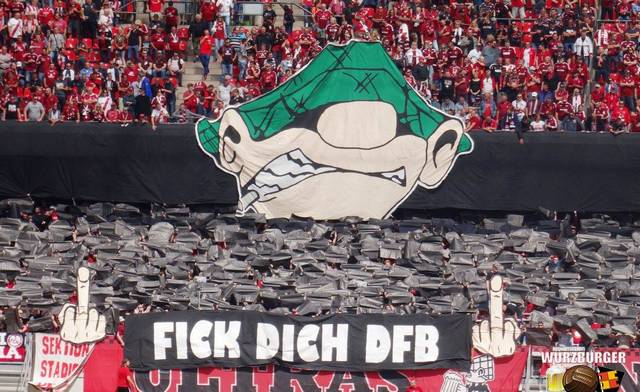 Germany: Fans protest the DFB (German Football Association)
All across the leagues, fan groups led a coordinated protest against the Deutsche Fussball Bund (DFB) with common banners, chants and a combined desire to be heard.
The opening matchday of the new season saw the perceived common enemy—the DFB—targeted in a league wide effort. The same "Fick dich DFB" (Fuck you DFB) banner was spotted at many German stadiums in al lelagues.
The display of anger against the DFB seen on matchday one is just an extension of a long-running sense of dislocation felt by fans and a backlash against the insipid and growing 'commercialisation' of football.
Non-traditional kick-off times, personalised tickets, threats to the 50+1 rule on ownership, collective punishments, overseas tours, the plan to allow the Chinese U20 side to play in the German fourth tier, the razzamatazz of the DFB Pokal final (Helene Fischer's performance) are all issues fans have taken against.