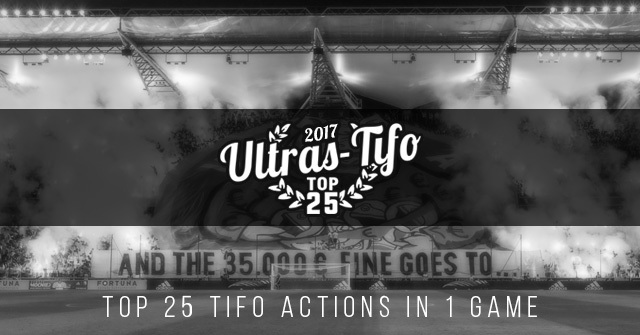 Best worldwide TIFO actions in 2017!
Every year we create articles to share with you the best shows created by football supporters all over the world.
During every week we witness stunning shows, top choreography, and magnificent pyro shows.
This time the Ultras-Tifo crew chose 25 of the very best TIFO actions and we let you vote for which of those 25 actions you like the most. We must admit it's nearly impossible to choose only 25 TIFO actions, but we tried our best. We focused on originality, pyrotechnics and the final result when everything was displayed.
Top list below is lined up by date!
How to vote?
We want you to choose best of the best. All the actions are listed in one album on our Facebook page. Photo (action) that got most likes till next Monday (15th January) will be considered as winner and best tifo in 2017 by Ultras-Tifo fans. netbet.co.uk
Visit our Facebook fanpage and vote for your favourite TIFO actions!
TOP 25 TIFO ACTIONS IN 2017:


Standard Liege - Gent 19.02.2017
20th anniversary of Ultras Inferno. 3 choreo's displayed and all of them looks decent.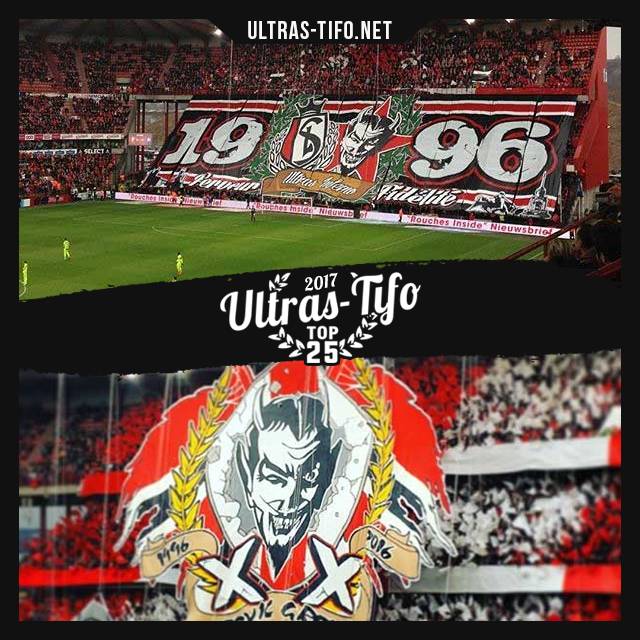 Impressive year by fans of Rennes and especially the ultras group Roazhon Celtic Kop who had their 25th anniversary. Many different shows displayed in this match, including pyro.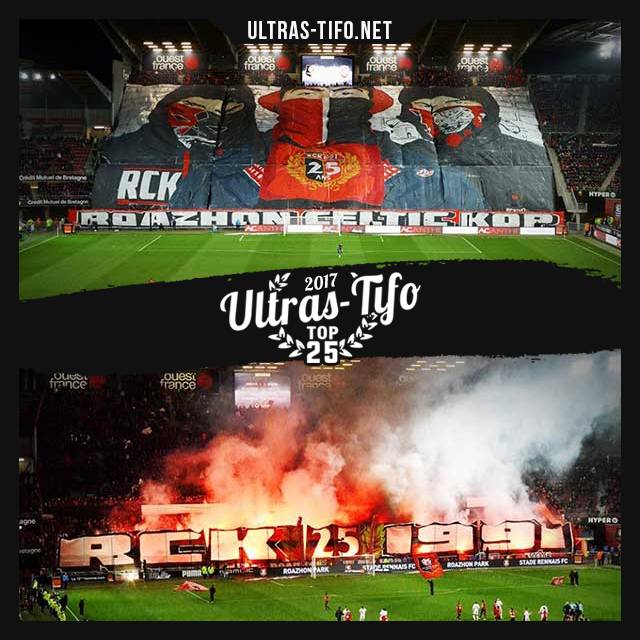 FC Basel - FC Zürich 02.03.2017
Not surprised to see Basel on the list again. Fans of this Swiss club always impress us with creativity and pyrotechnics. In this match, they displayed one 3D choreography along with 3 pyro shows.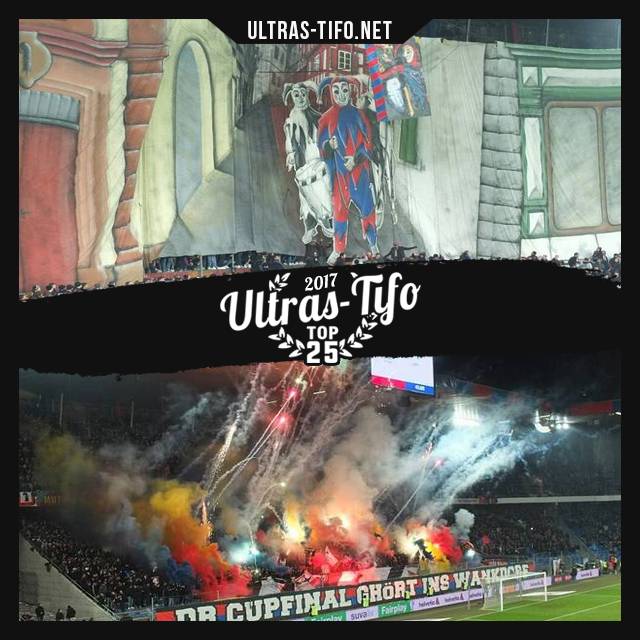 FC Copenhagen - Ajax 09.03.2017
"Smokenhagen" show by the Danish ultras when they played against Ajax in Europa League. A very good idea and the who displayed looks fantastic.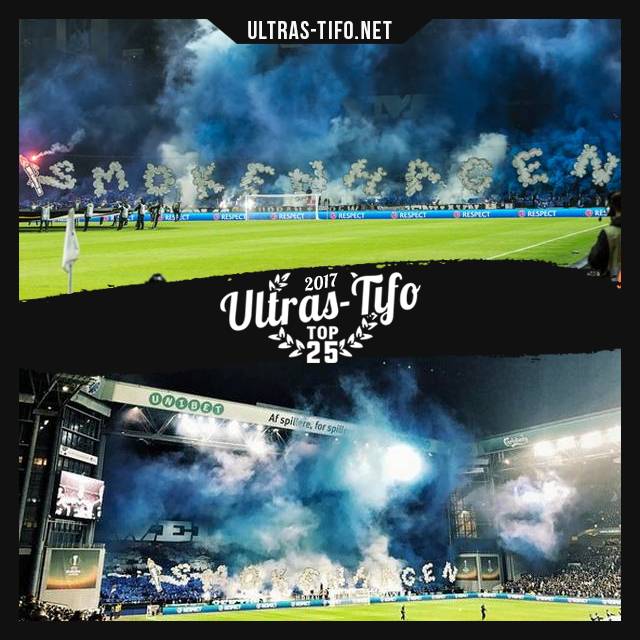 For the first time in history, Inter - Milan derby started at 12.30 lunch time in Italy. As you know both clubs are now owned by Chinese owners, so the match was set to start in the prime-time in China.
Because of that, Inter fans made a tifo "Even at lunch.. Viva L'Inter".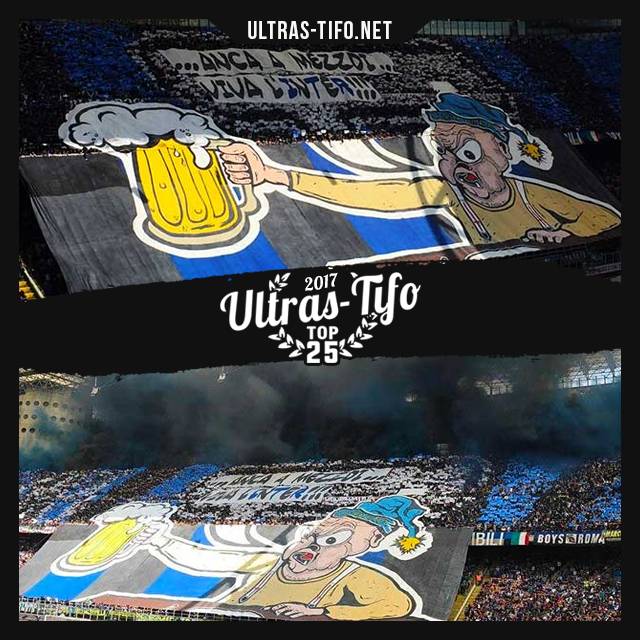 Olympique de Marseille - Saint-Étienne 16.04.2017
What a day in Marseille! For the match against main rival Saint-Etienne, both South Winners (30 years) and Fanatics (29 years) celebrated their birthdays. So many different shows displayed behind the two goals and Commando Ultras even made one card display with a text "Fuck LFP" (French FA).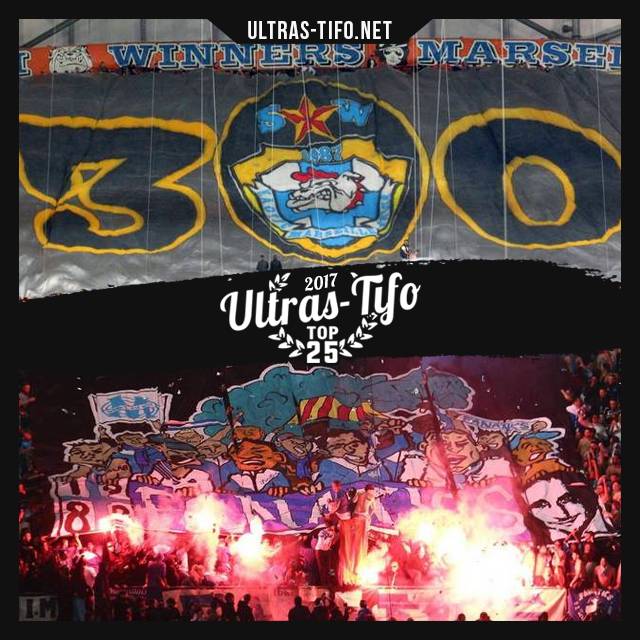 Schalke 04 - Hamburg SV 13.05.2017
Fans of Schalke decided it was time to pay attention to their rich history, which includes winning the UEFA cup back in 1997. Flags were given to all spectators and several nice banners displayed all around the stadium when players entered the match.A huge show which also looks good!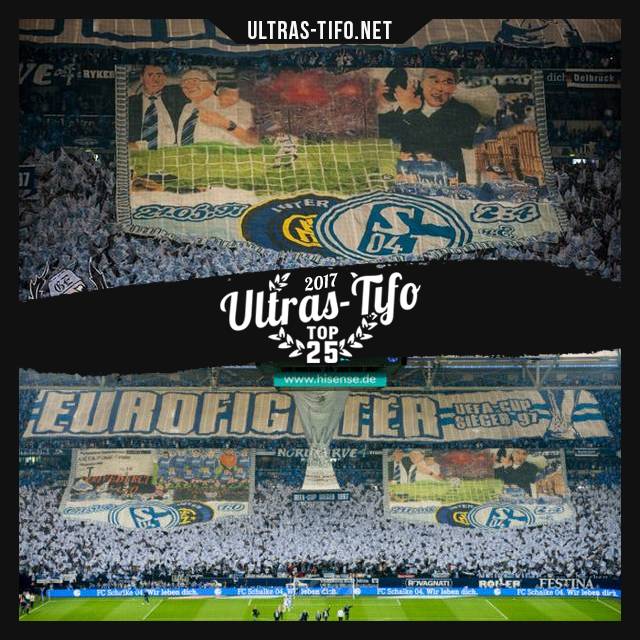 Karlsruher - Dynamo Dresden 14.05.2017
"Footballarmy Dynamo Dresden". One of the most impressive away trips we saw last year. All fans dressed in military clothes!
The main TIFO is against the German FA and the pyro is probably used to piss them off.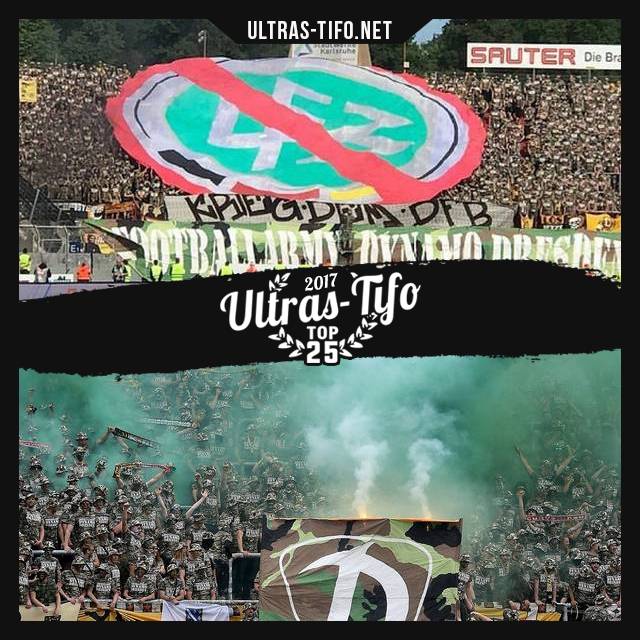 Saint-Etienne - Paris Saint-Germain 14.05.2017
25th anniversary of Green Angels. So many details, so many choreos and just perfect pyro! Also, Magic Fans, who celebrated 25 years in 2016, made a great show on the opposite tribune in this match.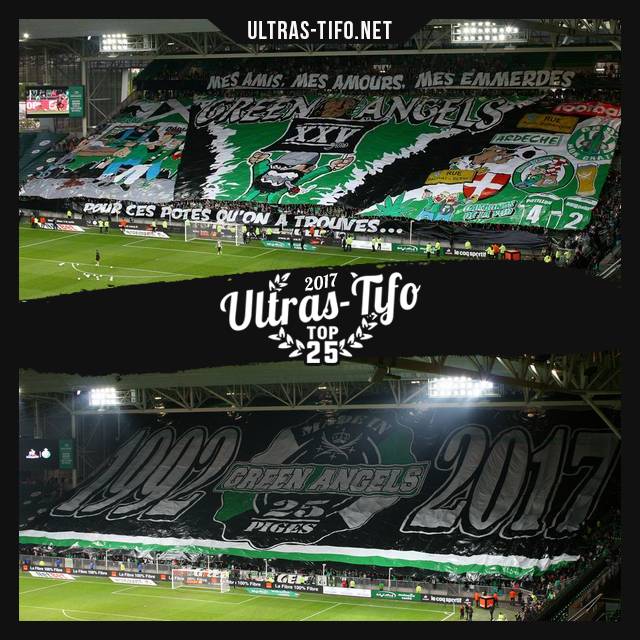 Spartak Moscow - Terek 17.05.2017
The first title since 2001 and fans of Spartak knew how to celebrate that! Choreography on all 4 tribunes, several banners raised to the roof, pyrotechnics and pitch invasion at the end of the match. The paintings look fantastic and it's just amazing how ultras of Spartak managed to organize all this in one match.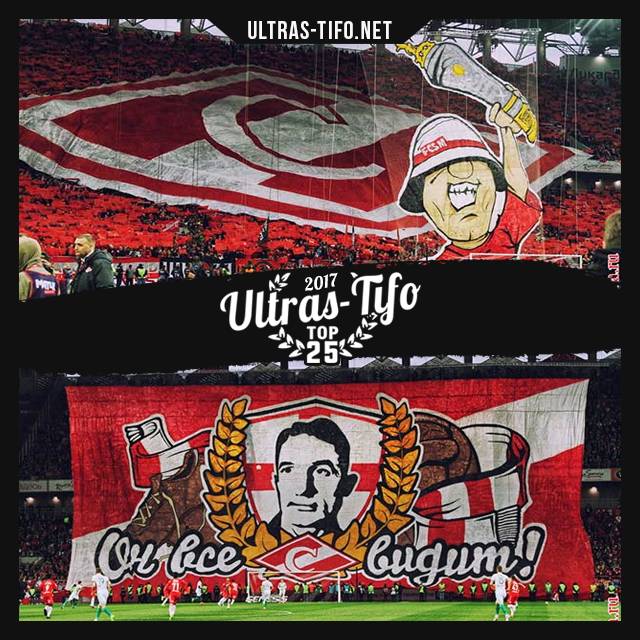 Celtic fans honoring 50 years anniversary since they won The European Cup trophy back in 1967. Card display all around the stadium with some smaller details such as flags used to create the number "50". The Green Brigade also made a small show which includes pyro.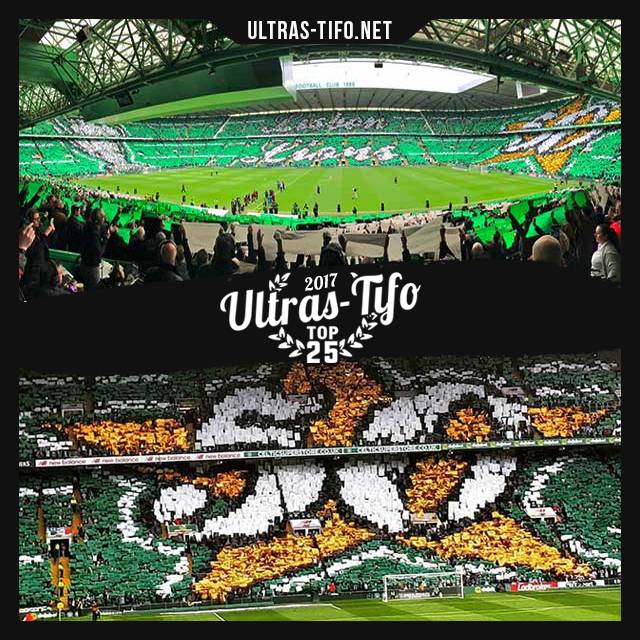 Zenit - Spartak Moscow 06.08.2017
Great year by fans of Zenit who displayed many nice banners in their new stadium. The match against Spartak is always interesting and this time fans of Zenit made fantastic shows! Choreography all around the stadium and amazing banners.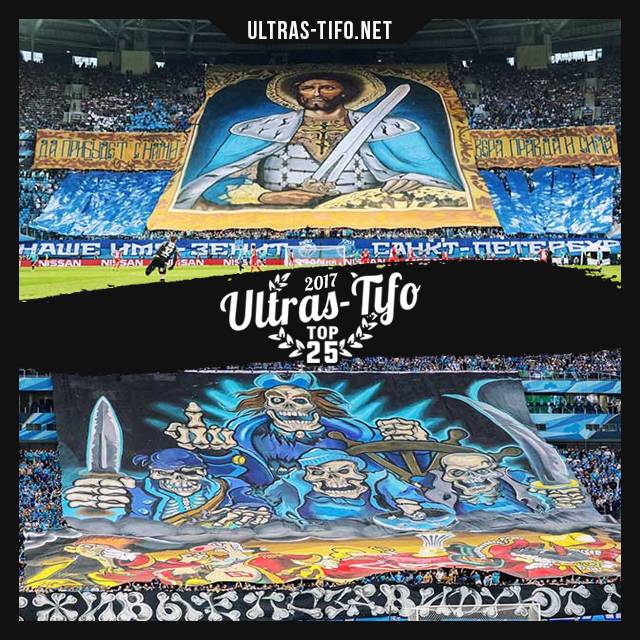 Legia Warsaw - Sheriff 17.08.2017
UEFA fined Legia 35 000 euros for illegal use of pyrotechnics. In the following match in Europa League ultras of Legia answered UEFA with this show!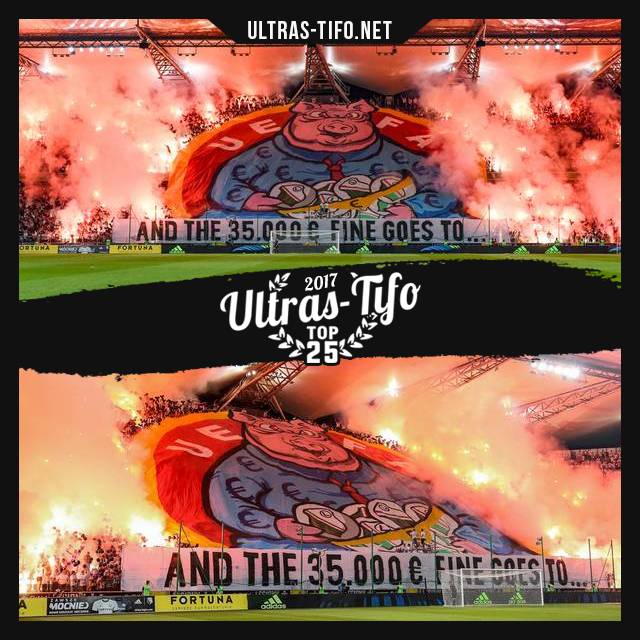 Lech Poznań - Korona Kielce 15.09.2017
The group Ultras Lech '01 celebrated their birthday against Korona Kielce. Some good choreo's displayed together with beautiful pyro shows.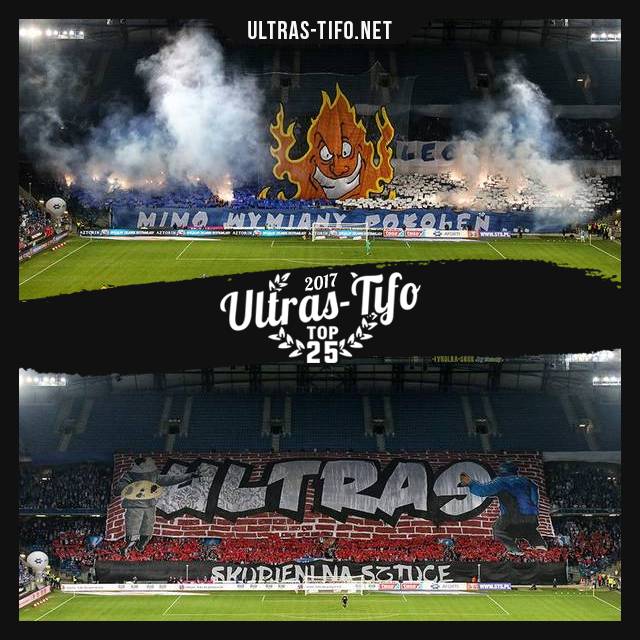 Galatasaray - Fenerbahce 22.10.2017
Derby of Istanbul! This rivalry is well known and for this match fans of Galatasaray had prepared one 3D-choreo with inspiration from Rocky.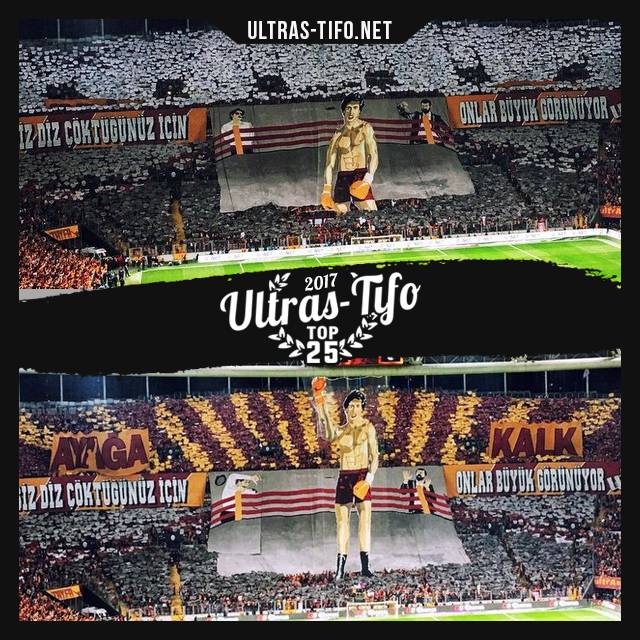 1. FC Magdeburg - Borussia Dortmund 24.10.2017
"You think the game is over, the games have only just begun". That's the message fans of Magdeburg displayed when Borussia Dortmund visited them for a match in the German cup. This show just looks perfect, and considering Magdeburg play in the 3rd division it is even more impressive.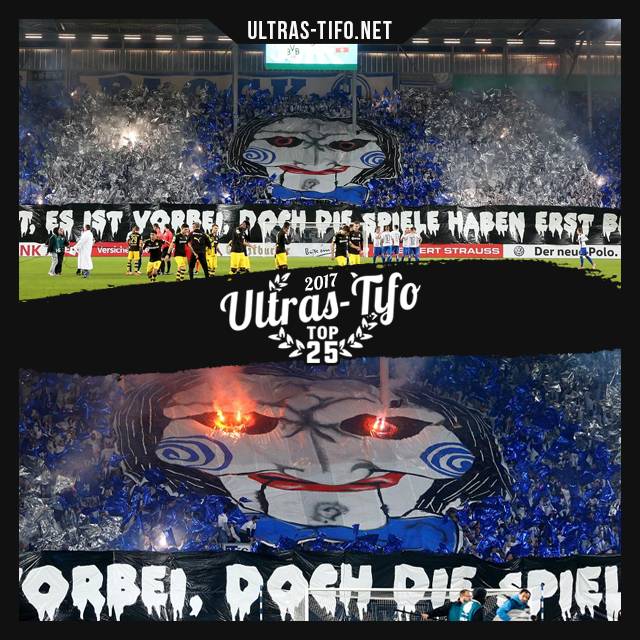 1.FC Nürnberg - FC Ingolstadt 06.11.2017
"Nürnberg shines in all Germany, just like the sun between moon and stars".

Beautiful show by fans of FC Nürnberg in the German 2nd division. The pyro, which they included in this choreography, looks perfect!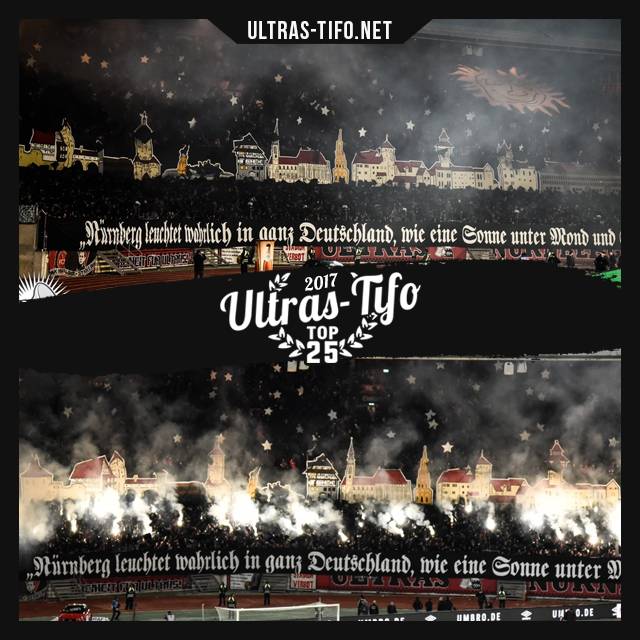 Aris - Boca Juniors 08.11.2017
8 years ago Boca Juniors visited the Greek club Aris for a friendly match. That match is well known by ultras all over the world for a crazy pyro show. Now, 8 years later, the Argentinian club Boca Juniors returned to Thessaloniki in Greece for another friendly match. And once again Super3, fans of Aris, created "yellow hell".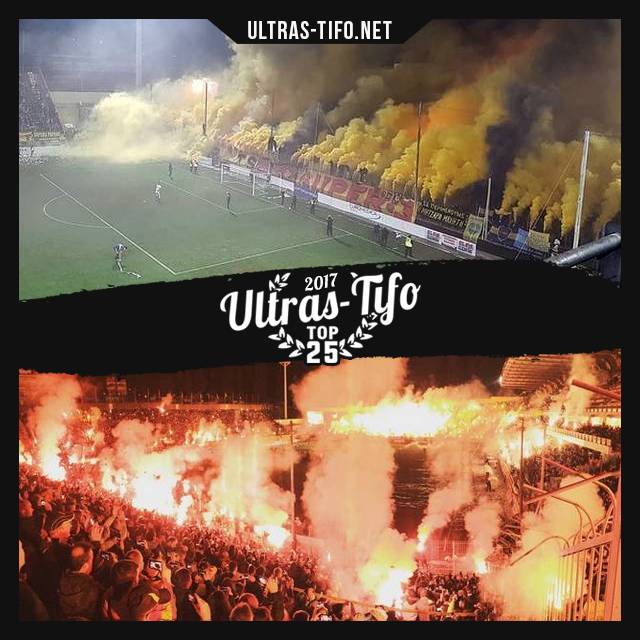 Legia Warszawa – Górnik Zabrze 19.11.2017
Second show from Legia among the top 25 TIFO actions. Once again amazing!
The crazy pyro made it perfect.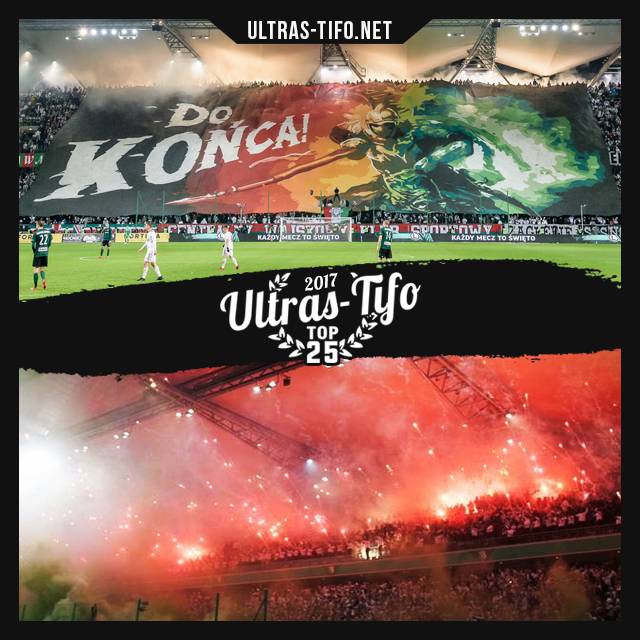 Bordeaux - Marseille 19.11.2017
30th anniversary of Ultramarines.
The main show looks perfect with so many details. The banner in the middle changes several times as well.
After the main show, there was even more TIFO displayed along with pyrotechnics. Thumps up to Ultramarines!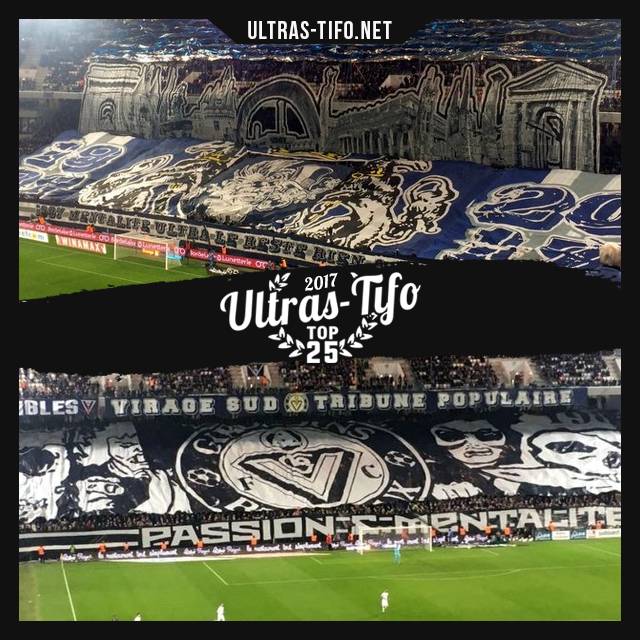 Derby d'Apulia! When Bari played against one of their main rivals their fans created one very nice choreography. At the lower tier ultras displayed painted stripes which shows their city and the upper tier held up cards. This show just looks perfect!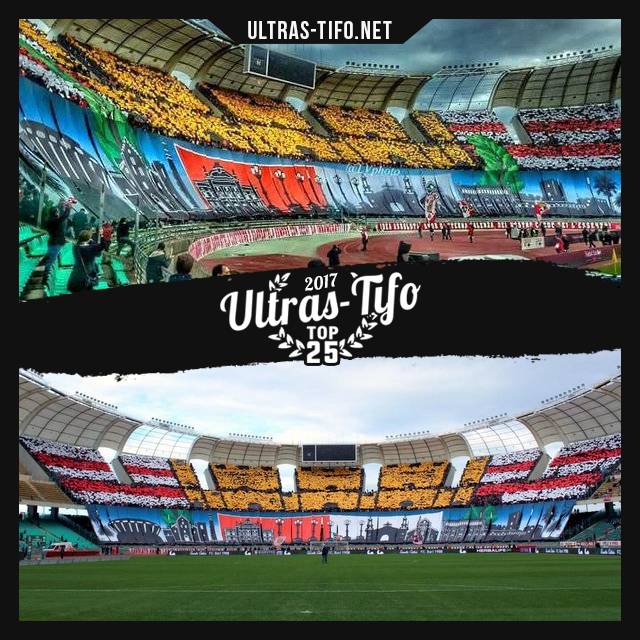 Śląsk Wrocław - Zagłębie Lubin 26.11.2017
Great derby in Poland! Slask is a military club and the fans prepared military themed choreography for this match.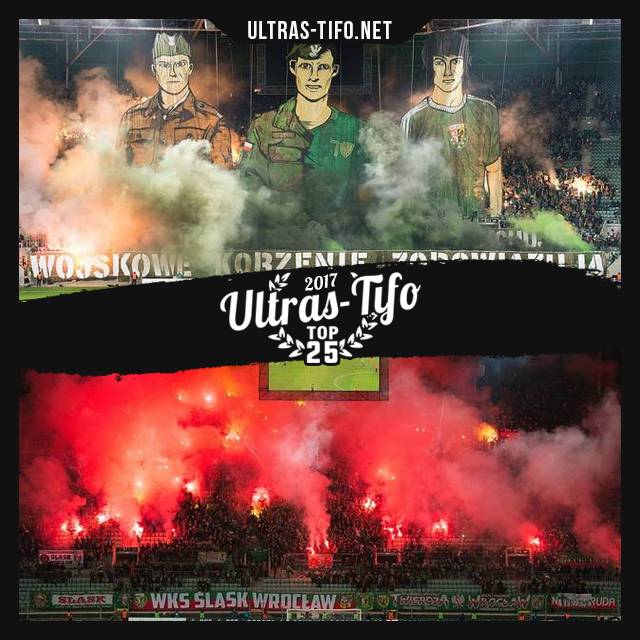 Every year ultras of Porto displayed something which goes to the top of best TIFO actions. In the classic match against Benfica they did it again. Two great shows behind both goals and 2-stick flags given to rest of the fans.
Rosario Central - Newell's Old Boys 10.12.2017
Derby known as "Clasico Rosarino" in Argentina is always interesting. For this match fans of Rosario had prepared one massive flag which covers all 4 tribunes. And the paint job is well done as well!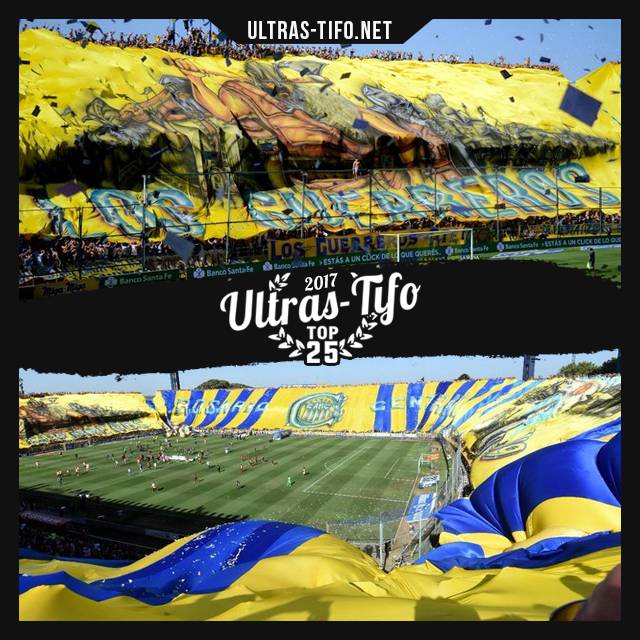 Very good year by fans of Lyon and especially the ultras group Bad Gones who celebrated 30 years in this match.
The main show looks brilliant together with chaotic smoke. Later they displayed another big banner and even more pyrotechnics used.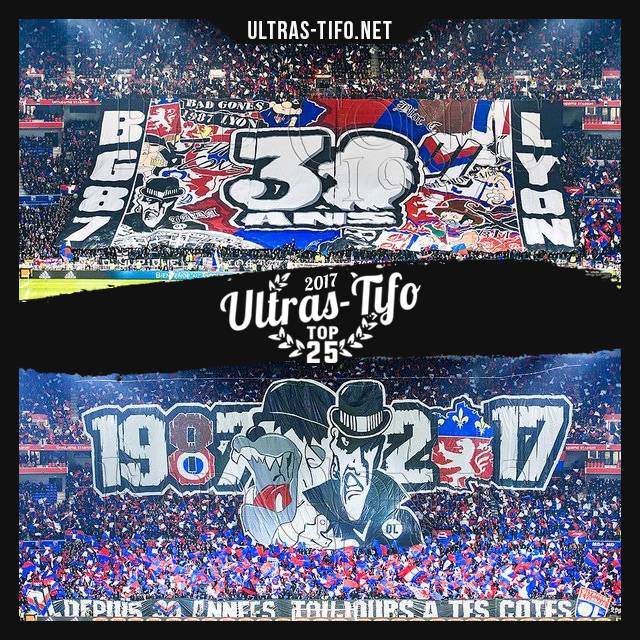 Visit our Facebook fanpage to vote.
Picture/action with most "Likes" win.

Tell us here in comments, or on our forum, which action was best for you and why.
Check also: TOP 25 tifo actions in 2016!