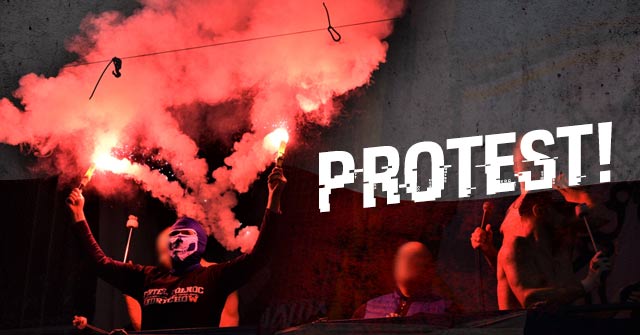 Ultras in Poland united
Mass protest started this weekend by many ultras of different clubs in Poland.
A meeting was held in Warsaw where ultras signed under one statement "Nothing about us without us".
Commission of the League (responsible for punishing clubs for behaviour of fans etc) wants to make new regulations for the next season. In general, the new regulations are way bigger fines for pyro, away bans and many other things in this direction. Ultras are saying that if any decision about them is taken without them being into the discussion, then the current "soft version" of the protest will be turn into something way bigger.
Some of the points that are about to be active from the new season are:
- No away fans in risky games - basically no away fans in every 2nd game in Poland. Who gives info if the game is risky - the cops, of course for them is better if a game is without away supporters.
- Whole stand ban for pyro - Commission of the League could close AND(!) ban everyone from that stand for 3 games if there was a pyro.
- Bans for whole groups just for vulgarisms. Cause everyone is so soft nowdays, yes.
- Bans for troubles on roads! Since the new season the Commission will have the rights to punish clubs and fans for troubles outside the stadium... Who will give them info? - The cops. Again, for the cops is way easier to provoke such troubles or false report, so a club/fans are fined/banned.
It's obviuos how crazy these new rules are. Both for the supporters and for the clubs(financial). In this weekend, last league round before the play-offs, all games started in the same hour. In each one of them fans protested by delaying the games, in different places between 8 to 20 minutes.