Ongoing fight inside Partizan Belgrade groups.
Ongoing fight between Partizan Belgrade supporter groups.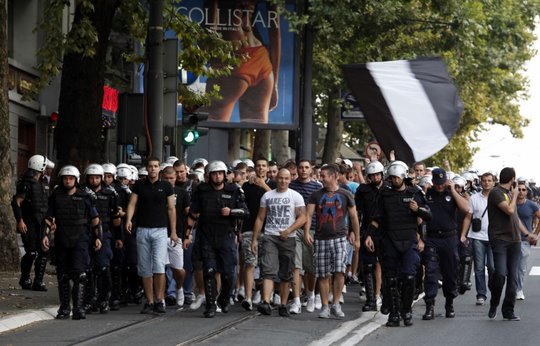 There has been a conflict between several groups inside Grobari for a long time now. We won't go to much into details about it, as we cant confirm what is true or false.
Currently main group on south stand, Alcatraz, are attacked by few other groups (Young Boys, South Family, Vandal Boys, Koalicija, Fontana, Grobari Beograd, and part of group Juzni Front), which are together called "Zabranjeni" ("Forbidden"). They take this name because they are not allowed to enter stadium (because Alcatraz connections with police and club board).
Forbidden accuse Alcatraz for cooperating with police and for stealing money from other fans (sell overpriced tickets). They also accuse one of the main lads of Alcatraz to be a former leader of "Our Thing", smaller group from Crvena Zvezda, main rival of Partizan. In general they don't agree about how Alcatraz run their curva.
Lads arrested when they walk to Stadium:

This is one of many situations. Lads with tickets for Partizan match walked to stadium, few km before they arrived police arrested them and told them they could not enter the stadium area.
Partizan - Genk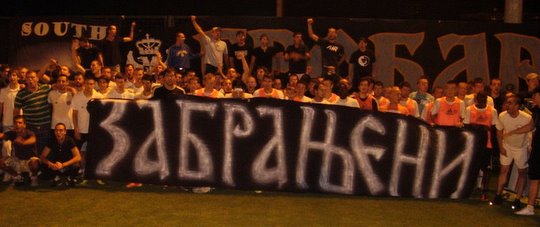 Banned lads met up at training before the match against Genk. Here you can see them with the banner Zabranjeni (Forbidden) together with players. Flag behind is from "Grobari Beograd", it was taken in a fight on away match in Serbia last season. "Grobari Beograd" is among the forbidden groups now.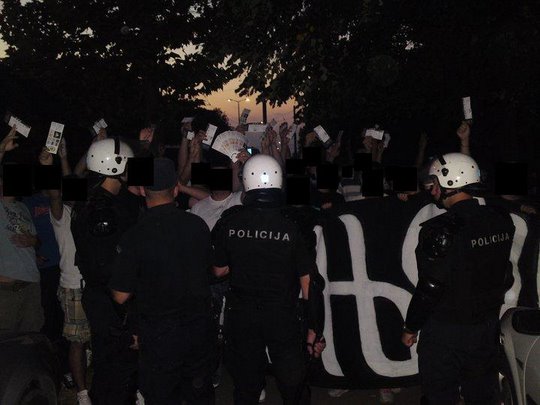 200 meters from the stadium police stopped them again. They had their group banner "Forbidden" with them. They showed tickets for the match, but police didn't allow them to enter stadium.
Meet in Church instead of entering a match: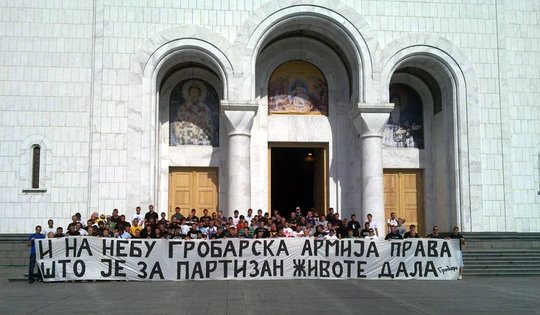 At match day against Novi Pazar 13th August some lads decided to not trying entering the Stadium. Instead they were in the Church to lit candles for all the Grobari who are no longer with them.
Banner: And on the sky real Grobari army,who gave their lives for Partizan !
Sevojno - Partizan 21.08.2011:
"Forbidden" stopped by police in Uzice.
Partizan - OFK Belgrade:

500 Grobari walked in protest against administration of Partizan, as they couldn't enter this match either.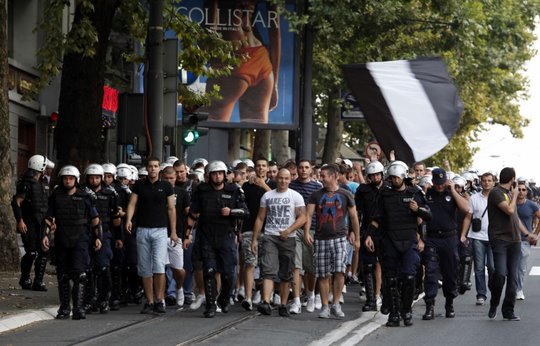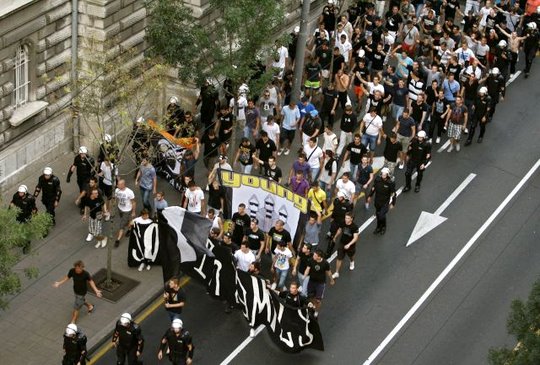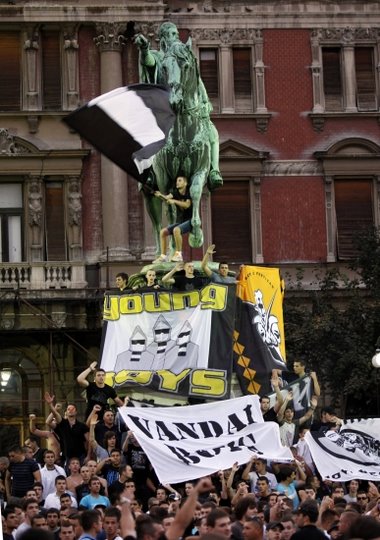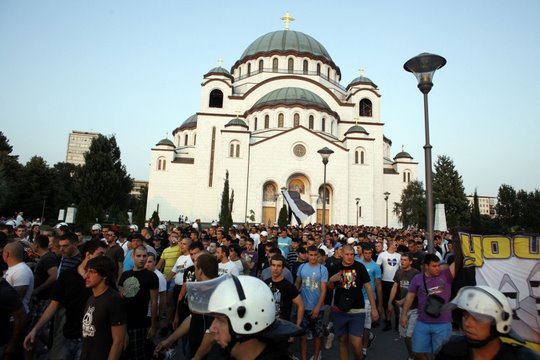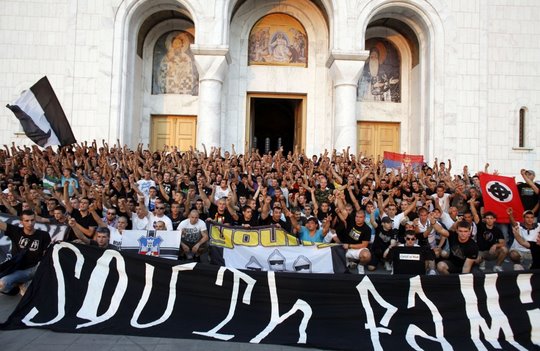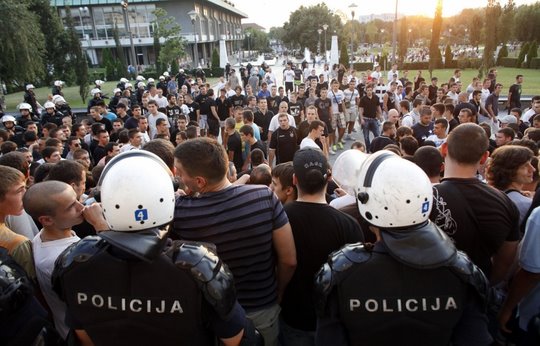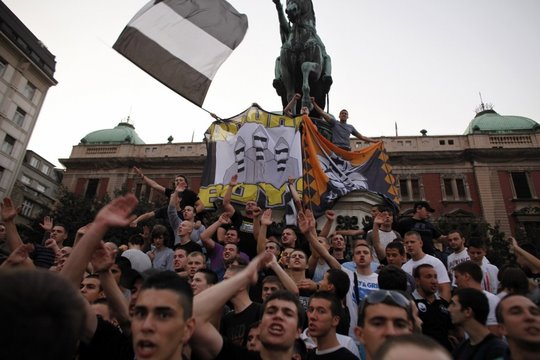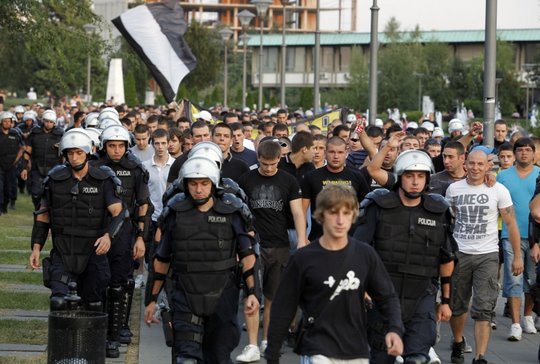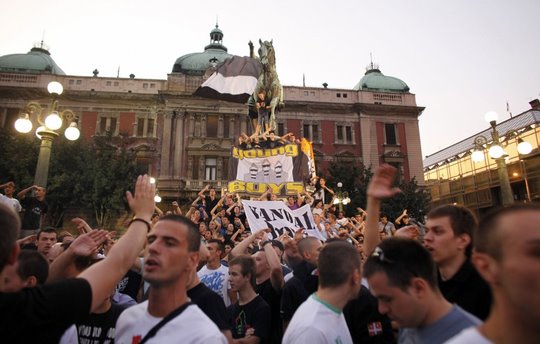 South stand on that match:
More about this conflict here in this topic!