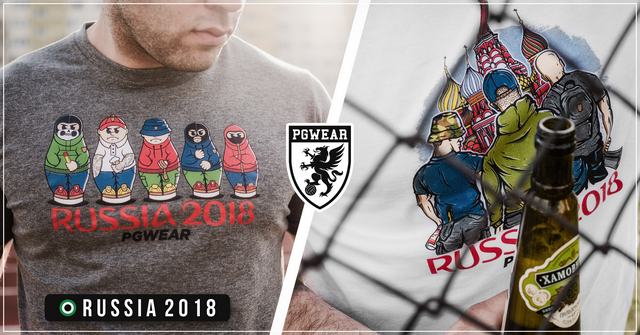 Ultras-Tifo Shop: Russia 2018!
It's less than two months till start of the World Cup in Russia and in corporation with PgWear we proudly present you official World Cup products for fans now available in our shop.

As usual, top quality products coming from PgWear productions. Made in Europe. Shipping worldwide!
All products coming in limited edition so don't wait with the order ;)
T-shirt - Matryoshkas

Fabric: 100% Cotton
Weight: 210gr/m2
Available sizes: S-3XL
Price: 25,95€
Football Jersey - Russia 2018
Fabric: 100% micropolyester
Weight: 180gr/m2
Available sizes: S-3XL
Price: 34,95€
Football Shorts - Russia 2018
Fabric: 100% polyester
Weight: 210gr/m2
Available sizes: S-3XL
Price:34,95€
T-shirt Russia 2018 – Red Square
Fabric: 100% Cotton
Weight: 210gr/m2
Available sizes: S-3XL
Price: 25,95€
Russia 2018 Stickers
Limited set of 5 stickers
Price: 4,95€