Cops took revenge on Ultras after the revolution in Egypt.
Cops took revenge on Ultras after the revolution in Egypt.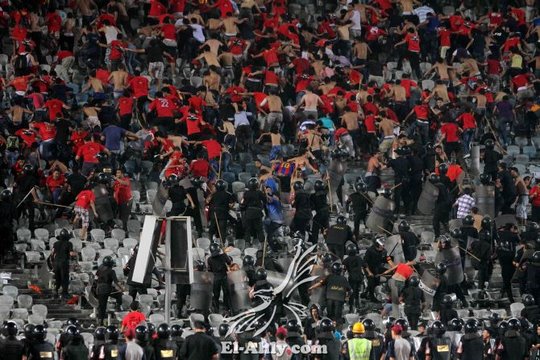 What was a normal cup match against Kima ended up in chaos when cops invaded the curva with Ahly supporters and some of the groups like Ultras Ahlawy and Ultras Devils.
Supporters in Egypt, and specially from Al Ahly, played an important role in the revolution against president Hosny Mybarak and his regime. After the revolution Supporters could celebrate during matches with way more freedom, less cops and lot of pyro. Police were gone, only few soldiers armed up with AK 47 had the security role inside Stadiums.
But things change quick in Egypt. In last matches a huge number of cops have been lined up in front of the curva. When Ahly fans started to chant against Hosny Mubarak and his regime symbols that failed things started to get hot. At the moment match ended cops attacked everybody in the curva, they started with the lower rows and fought their way up.
The fight continued outside in the streets. Cops attacjed every red shirt person they saw, while fans attacked every cop they saw.
Several cars got burned, among them two police cars and two police motorcycles. At least 12 fans arrested.
1 member of Ultras Ahlawy was hit by a police car. Its not confirmed he is dead, but its trouble to "find" him in hospital. Not clear how many people who got injured.
This for sure look like an revenge from the police side!