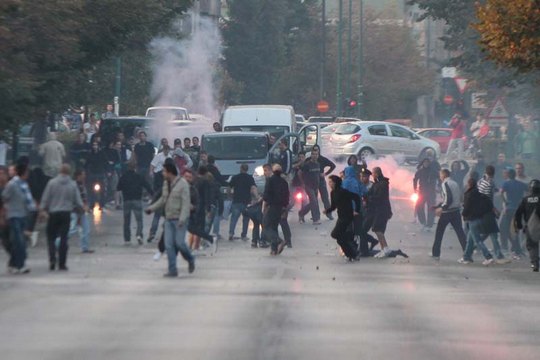 Željezničar Sarajevo (Bosnia and Herzegovina) - Hajduk Split (Croatia) 06.10.2011
Friendly match that was supposed to be played yesterday for Željezničar 90th birthday was canceled because of big riots before the match.

All started when group of Torcida (Hajduk ultras) that first came to the stadium entered south stand (where Željezničar ultras are located) and attacked guys who were preparing choreography and destroyed it totally.

Outside stadium Maniacs (Željezničar ultras) grouped for revenge and attacked other group of Torcida that were coming with vans and cars. In big riots, at least 11 people injured and 50 arrested.
Group of Torcida from Split (buses and vans) were stopped 30km near Sarajevo and not allowed to enter city.
This is 3rd canceled match in Bosnia and Herzegovina in last 2 weeks! First was Borac-željeznicar, second Zrinjski-Velež, and now this "friendly".