Ultra magazine about world scene entirely written in English!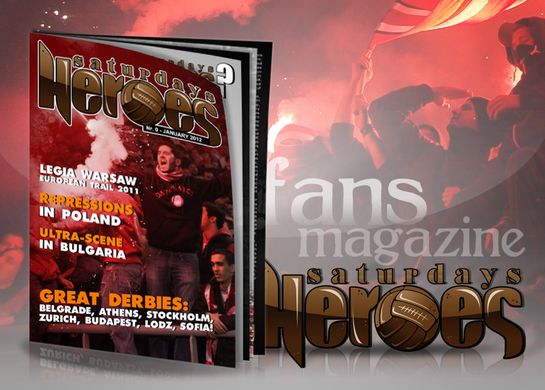 "Saturdays Heroes" is new ultra magazine about world scene entirely written in English! We bring you their presentation.
ABOUT MAGAZINE:
We provide you magazine, addressed to the fans from around the world, interested in the ultras/casuals/hooligans things. Our dream is to create a magazine on a global scale, that is accessible and understandable for fans in all countries!

We certainly intend to write about all the countries, in which organized fans movement exists. We are not debutantes in this area, as for over 10 years we have been issuing monthly "To My Kibice" ("This is us, the fans") dedicated to Polish ultras and hooligans, and also, for over 8 years, a quarterly magazine "To My Kibice Plus", which contains reports and interesting facts about football fans from Europe and sometimes also from other parts of the world.

Now we go one step further, and will choose the most interesting themes from both Polish magazines, add even more content and present it to you in English!

Every corner of the world and its ultra movement specificity will find it's place in our magazine! You are welcome to send us photos, reports, stories of your groups, regardless of nationality, religion, political beliefs, etc. Let it be a truly global fans magazine, the one we have never seen before!

We hope that you will keenly help us, and thanks to you, our periodical will get more and more interesting. Our ambition is to contribute a little to popularize the traditional ultra style, despite the trends of modern football. Our magazine is to be a sort of durable, printed archive of interesting reports and photographs, so that their memory will last for a long time, which cannot be said about the vast depths of the Internet.

"Saturdays Heroes" will appear every three months.

WEB SITE: http://sheroes.eu/

Last but not least: what does the title of our magazine mean? "Saturdays Heroes" is a title of famous English fan song, performed by The Business band.
HOW TO BUY?
You can buy magazine from retailers, via paypal, credit card... More details about ordering can be found here. Price is 3.90 Euros!
Some of the topics in first issue (Nr. 0 January 2012):
- REPRESSIONS IN POLAND
- ULTRA – SCENE IN BULGARIA
- FANS' SCENE IN THE BASQUE COUNTRY
- INTERVIEW: "ITALY - A PARADISE FOR FOOTBALL TOURISTS"
- AGAINST MODERN FOOTBALL: SITUATION IN ROMANIA
- WKS ŚLĄSK WROCLAW – THE EUROPEAN TRAIL 2011
- LEGIA WARSAW – THE EUROPEAN TRAIL 2011
- Reports from Legia games in Europa League vs Gaziantepspor, Spartak Moscow, Rapid Bucharest, PSV Eindhoven and Hapoel Tel-Aviv!
- Review of the most interesting games in 2011 year!!!