Pitch invasion during Denmark - Sweden in 2007
Pitch invasion during Denmark - Sweden in 2007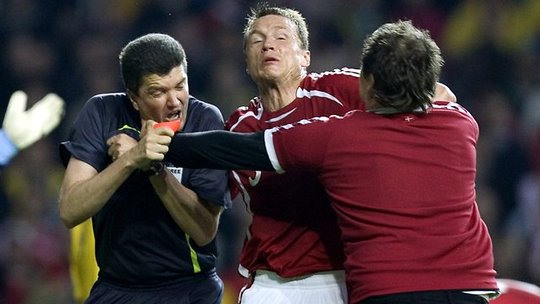 Danish fan has to pay 250 000Euro (1,9 million Danish Kroner) after he tried to attack the referee during a match in 2007.
It was in the European Championship qualifier between Denmark and Sweden the Danish support invaded the pitch. Score was 3-3 at this moment and referee had just given Sweden a penalty. The Danish supporter ran straight towards the referee, but never managed to hit him or injure anyone.
As a result the referee abandoned the match for safety reasons (!?), and Sweden were awarded a 3-0 win.
Later UEFA (=mafia) fined the Danish FA and banned them for playing in Copenhagen's Parken in the next two qualifiers.
The fan had appealed against a 2009 decision by the Copenhagen City Court which had ordered him to pay 900 000 Danish Kroner, but the High Court doubled the amount, and now he have to pay 1,9 million Danish Kroner, or about 250 000euro!
Reason for the huge fine is the Danish FA who sued him for loss of earnings after their next two matches had to be played in a smaller stadium.
As of 250 000euro was not enough, he also stayed 20 days in jail.
Ultras-tifo have a few questions:
- This fan, who have two kids and wife, never injured anyone during this "attack". Why did the match get abandoned? Pitch invasions like this can happen nearly at every stadiums in Europe. This was a one man action, take him off the pitch and continue the match!
- UEFA (=mafia) moved the next two matches to another stadium, as a result of this Danish FA earned less money. But why move these matches? Parken have the best safety in Denmark, and again, this could happen at any other stadiums as well. Why not just let Denmark play their next matches in Parken?
If it wasn't for the referee and UEFA (=mafia) overreacting there would never been any need to sue this supporter!
Is it correct to ruin a whole family for this, when nobody got injured and nothing damaged?