Ice Hockey: Police brutality at Stockholm derby.
Ice Hockey: Police brutality at Stockholm derby.
After some trouble in the past Ice Hockey derby police really wanted to show who has control inside Globen.
Few hundred police officers were ready for the match.  Inside Globan police and security lined up in the stairs, to avoid supporters staying there. Supporters didn't like this aggressive behavior, and it didn't take long time before violence broke out.
AIK supporters had the fight behind the stand in the corridors, while Djurgården supporters had trouble with police in middle of their section, as you can see in the videos.
Result of this day:
Match delayed 30 minutes.
4 people arrested for violence against officers.
11 suspected for use of drugs.
4 for having drugs.
4 for being drunk, 3 of them under 18 years.
And 69 fans was sent away from the match.
Photos & Videos: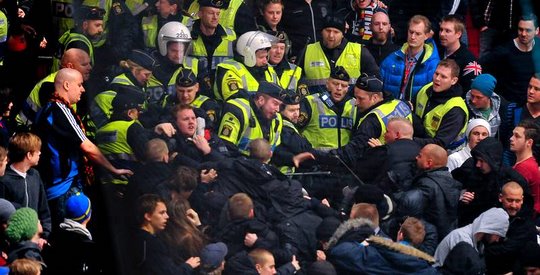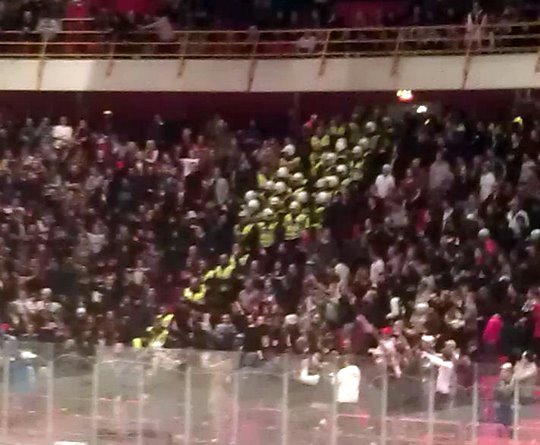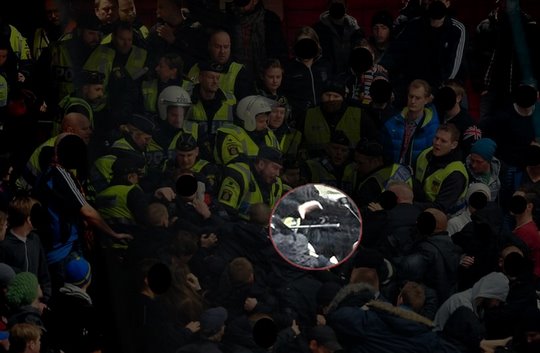 Tickets for this match did cost about 3 Euro extra as the clubs, this time AIK, is forced to pay police for the big number of officers on duty during this derby.
It was not easy to get into the Arena. Two times each supporter got searched in the doors, and everyone had to pass metal detectors similar to what they use in airports. Inside the Arena police were lined up in the stairs, obvious very aggressive. Police used their batons without any reason in the corridors and terraces. It didn't matter if you were "category C-supporter", kid, women or parents on match with your kids. One wrong move and police hit you.
Even the pub outside the arena with AIK supporters were stormed by the cops. Kiosks and pubs in and around the arena had to close due to police orders. Outside toilets police searched every fan before they were allowed in, and inside toilets civilian police waited to do urine tests to check if people were effected by drugs.

As a protest all Ultras and lads from both AIK and Djurgården left the arena.
Many fans had to visit hospital, and after the match police continued their work and attacked groups of supporters in the streets.
As a result of this police brutality it will be way harder for the clubs to attract normal spectators to their matches. Another issue if the hate against the cops. They have never been popular, but now they got for sure a lot more angry supporters against them!