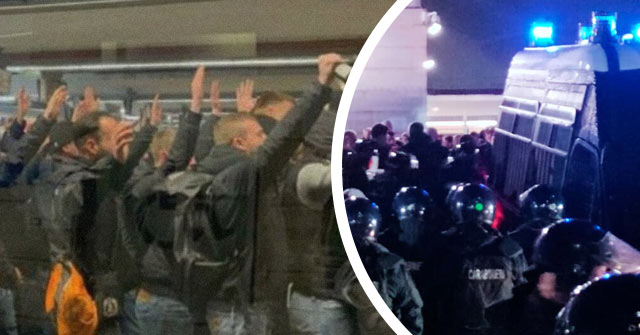 UCL: Over 300 SGE fans in Naples
Despite attempts by SSC Napoli and the local administration to ban German ultras from tomorrow night's match, between 300 and 400 Eintracht Frankfurt fans and their friends from Atalanta arrived in Naples tonight.
Upon their arrival at Napoli Central Station Piazza Garibaldi, a heavy police presence detained all the fans. Each of them was identified on camera by a police officer and put on buses to be taken to their hotels, where the carabinieri will continue to closely monitor the visiting ultras, according to Napoli Today.
Video below:
Tifosi dell'#Eintracht che nonostante il divieto invadono #Napoli in compagnia di gruppi italiani alleati…
No non siamo nel Medioevo, oggi è il 14 marzo 2023.#napolivseintracht #championleague #napolieintracht #portointer pic.twitter.com/urNiH6NjE8

— Luigi De Giulio (@GiGiDeGi) March 14, 2023
Napoli-Eintracht: tifosi tedeschi arrivati in città. Perquisiti e identificati#14marzo pic.twitter.com/VGpkdVHonL

— AGTW (@AGTW_it) March 14, 2023