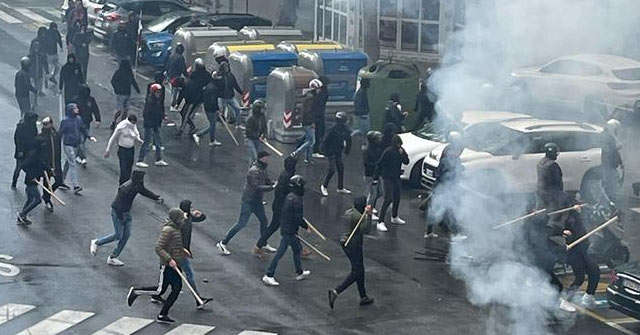 Italy: Fight between groups of Genoa
A big internal fight broke out between groups of Genoa after the Serie B match between Genoa and Perugia.
The incident occurred in Piazza Galileo Ferraris, just next to the stadium, almost 2 hours after the game when the police presence around the stadium had subsided.
The groups involved in the altercation were reportedly 5R & Carruggi against Nucleo, a group that emerged from the dissolved Speloncia Brigade. The reason for the fight is unclear, but it is suspected that it may have been a power struggle for the most central position in their ultras sector.
Reports from Italian sites suggest that the political motive is less credible, even though Carruggi is close to the left and the Nucleo is markedly right.
Disagreements over certain group friendships may also have played a role, as a few Marseille supporters are said to be also involved in the fight on one side. Five people were taken to the hospital, including one Perugia fan who was a friend of one of the Genoa groups. All five individuals are known to the police from previous encounters.
Video:
#Scontri tra #tifosi genoani dopo la partita #GenoaPerugia : le immagini pic.twitter.com/oOZbjujl5H

— Telenord (@Telenord) April 15, 2023
#GenoaPerugia, scontri tra tifosi rossoblù un'ora e mezza dopo la partita

Leggi qui - https://t.co/AmRHzufsgU pic.twitter.com/LVQsC6NE8P

— Telenord (@Telenord) April 15, 2023
All photos are published for informational purposes and are copyrighted to their respective owners.