Shot in head by Spanish police after match against Schalke.
Shoot in head by Spanish police after match against Schalke.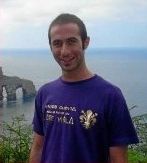 28 years old Iñigo Cabacas Liceranzu , supporter of Bilbao, died Monday 9th March after struggling for his life the last days. A smaller riot broke out in city after Athletic Bilbao played against Schalke 5th March. It's said two fans had a little dispute while drinking after the match. Police came and shoot some rubber balls, while fans replied with bottles.
According to newspapers Iñigo were hit in the head by a rubber ball fired from the Basque Police. Iñigo was sent to hospital where he was in coma, and today he sadly past away.
Spanish police are known for their brutality against football supporters. It's still not 100 % confirmed what or who killed Iñigo, but we hope we will see justice in this tragic case!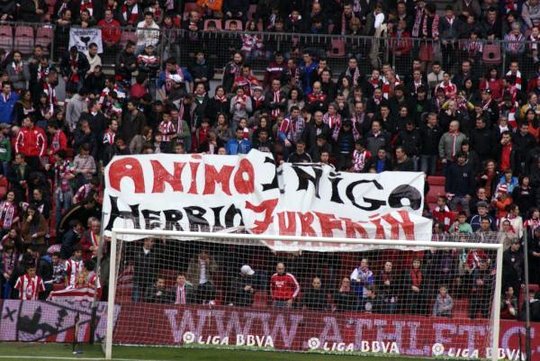 Narration of a witness' testimony appeared in social networks:

"I witnessed what happened on Thursday. After the football match I agreed to meet my brother and girlfriend to have a drink at the Kirruli, as we use to, and just after arrival we saw two people, both wearing Athletic shirts, wrestling each other. People nagged at them as it was time of celebration and nothing else happened. We continued discussing the match, laughing... and some 5-10 minutes later (I think) some four vans of sepoys [slang for Basque police forces], masked as a matter of course, and with the guns readied. People began crying and whistling against them because nobody understood what they were doing there, much less with that attitude. And they just began shooting indiscriminately (three of them specifically).

It must be said that the area where all happened is a narrow street and that they were shooting at head level from some 20-30 meters. People scattered around and soon (some 5 minutes later) we heard a girl asking for an ambulance. I and my brother went there and saw a person bleeding from the head. I and someone else run towards them (the black ones [the anti-riot police]) asking for an ambulance and one said "it will come".

Not knowing what else to do we went back to the place where the body was, together with 6-7 other people, and suddenly I noticed how I was beaten with a baton on the arm and the back (from behind, while squatting). Raging I told them: "look what you have done, you have killed him" and one of them replied "that I must see myself" and hit me twice again and sent me away. The ambulance had not yet arrived, not a siren could be heard either. Besides, the police vans impeded the access of any vehicle.

The Police claims that they attended a call saying that someone was injured. If so, where was the ambulance? Why four vans full of sepoys arrived instead? Why masked armed men descended from them if they had to succor a person? How could have we been partying with a person in such a state?

From here I ask the murderer or murderers to show their faces, that their wives/husbands, sons/daughters, friends know that they have a monster, an amoral person without conscience and a happy trigger at home. I ask the responsible people (all politicians without exception) to condemn the incident and that justice be made. I ask that they take the weapons and the masks from them and that a morality test be made before they can join this shit of insecurity corps we have. Ask a why and, even if it is useless, a compensation. I want to say that I am ready to declare this wherever is needed. My telephone number is XXXXXXX.

Go Iñigo!"
Rest in peace mate