Sectors for Ultras of Saint-Etienne will be closed
Sectors for Ultras of Saint-Etienne will be closed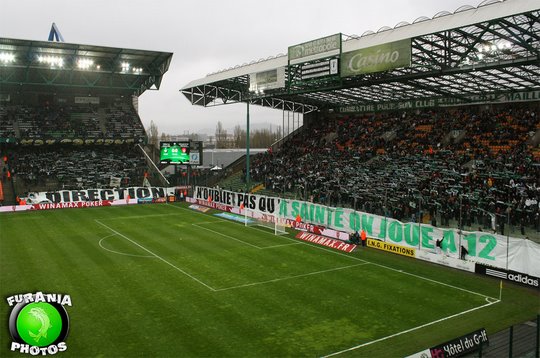 Message from Magic Fans and Green Angels to president and team management (Saint-Etienne vs Brest)
Two weeks ago 650 St. Etienne fans were banned from traveling to Ajaccio to see a football match (Ajaccio - Saint-Etienne). This measure was put in place for the following reason: "the repeated nature (of the supporters) and events are likely to disturb public order". The events likely to disturb public order are the use of pyrotechnics. Example smoke bombs in the stand.

19th of April the Professional Football League has taken an unprecedented dictatorial decision:"following the use of 16 pyrotechnics (yet none were lit) and the throwing of a firecracker on the lawn near the players, the League has decided to close the Jean Snella stands and sector 34 in the Henri Point stands until the end of the season. This is the sectors reserved by Magic Fans 91 and Green Angels 92.

These are the two strongest groups of supporters of ASSE, and the origin of the most beautiful tifos in France.
The LFP decided on Thursday to punish harshly and unfairly Saint-Etienne, depriving the club of their strongest supporters. Their closing of the doors in this way is arbitrary.

The sanction takes effect Monday, April 23 at midnight.


This concerns a section of 10,000 seats and ban from stadium for about 7,000 people who have already paid for their seats as they are season ticket holders in these sectors for the last 3 home matches at Geoffroy Guichard Stadium.

All the "Green People", but also all French supporters, must mobilize for the freedom to passionately encourage and support.

The "Green People" decided to make a petition entitled"Liberty for Geoffroy."


Support ASSE Ultras by signing your name on this list: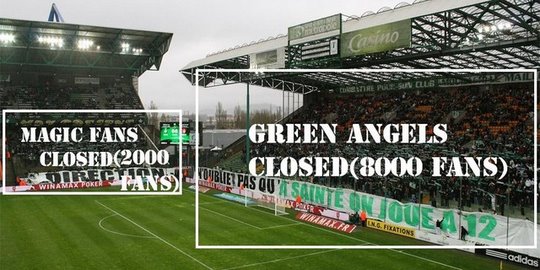 You can read more about this situation here.

Liberty for Geoffroy!