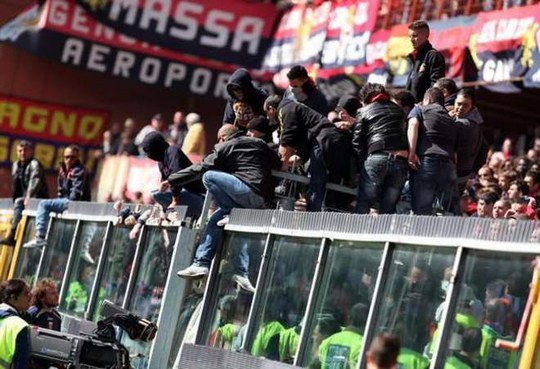 ITALY: Genoa - Siena 22.04.2012
After their team were losing 0:4, Genoa ultras stopped match at 53th minute. They blocked entrance to dressing room, throw pyro on the pitch and demanded from players to give them shirts becasue they are not worthy wearing club colors.

All of the Genoa players incredibly cooperated, except loan striker Giuseppe Sculli, who refused to remove his shirt, while wing back Giandomenico Mesto broke down in tears.

Captain Marco Rossi, who was given the responsibility of taking the shirts and passing them on to the ultras, proceeded to go over to the group of supporters in a bid to bargain with them.

Sculli then appeared to try to negotiate with his shirt still on, along with Sebastien Frey, who tried to pull his back and was quoted in the Italian media as saying: "This is my shirt, we are all for Genoa."

Frey seemingly played the role of peacemaker between the ultras and players, as he then pleaded with Siena to come back out onto the pitch and complete the game, which still had 37 minutes remaining.

Play finally resumed after a 40 minute delay, with the Bianconeri eventually winning 4-1. However, it is expected that a round of talks between the Genoa players and ultras will commence at the club's training complex on Monday.

Genoa is in danger of being relegated to Seria B.
Source: goal.com