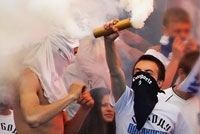 Last year Dynamo Kiev Ultras released "Last Argument", a great documentary about ultras scene in Ukraine.
Film talks about repression before Euro2012 in Ukraine and Poland and general ultras topics.
Even thought it's made by ultras group, film is very professional and high quality. Now is available with English subtitles, so make sure to watch it.