BULGARIA: Very important match for Levski.
BULGARIA: Very important match for Levski.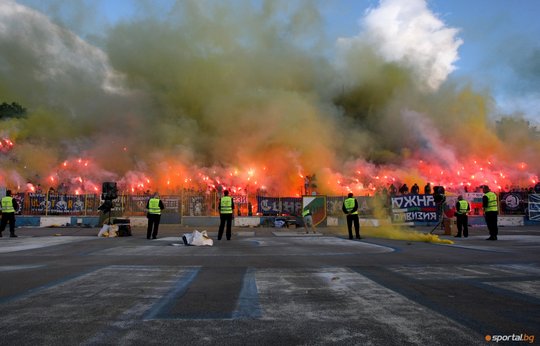 Last round this season in Bulgaria.
After the 1-0 victory against Ludogorets a week ago, Levski now had 1 point lead down to the same club.
This last round they met Slavia Sofia. At the same time Ludogorets won their match, therefore Levski needed 3 points against Slavia to become champions.
At the start of the match Levski displayed a choreo with the text "Champions".
Levski started good and got a 1-0 lead in first half. In second half the situation changed and Levski made a stupid owngoal. Right after this goal supporters of Levski lighted lot of pyro to motivate their players.
It didn't help. Match ended 1-1 and Levski lost the first place by one point up to Ludogorets.
For those who don't know, Ludogorets is a typical sponsor club, similar to Red Bull clubs. Club was founded back in 2001 and some rich businessman now invest a lot of money in the club. The club is from a small town with just ~30,000 inhabits.
Photos & Videos: