Best derbies in the world
Sunday, 02 January 2011 18:30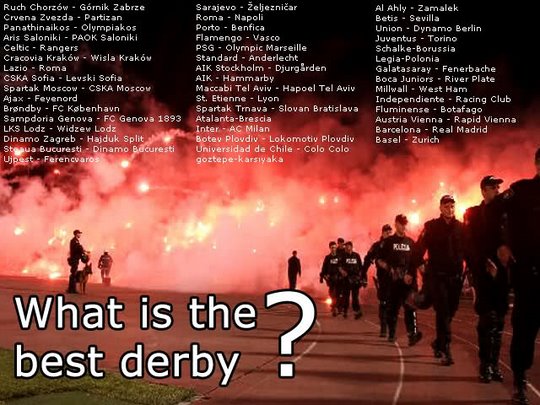 10 best derbies in the world, voted by our forum-members!
In September 2010 we created a poll on our forum with some of the best derbies in the world (See the poll here), more then 1200 votes!
As usual we don't care too much about the quality on whats going on at the pitch, here at ultras-tifo we are interested in what supporters do.
Here are the 10 winners:
1. Belgrade derby -  Crvena Zvezda - Partizan (click on club name for photos):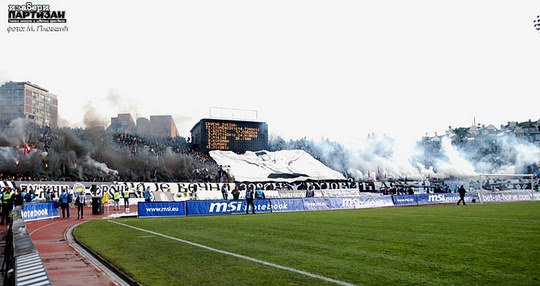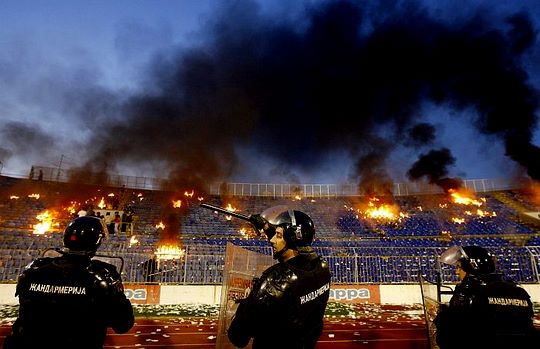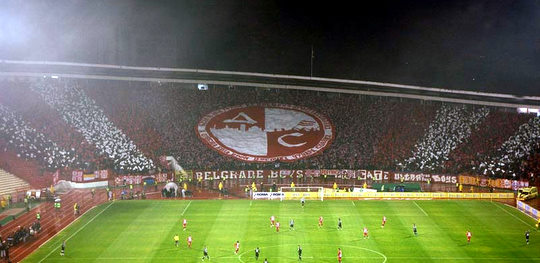 Belgrade debry host the two biggest Serbian clubs. Delije from Zvezda (Red Star) and Grobari from Partizan always create an impressive atmosphere when these two clubs meet, either at Partizans Stadium or few meters away at Zvezda`s Stadium "Marakana".
Grobari actually consist of three large groups and many subgroups: Južni Front, Grobari 1970 and Grobari Beograd. They stand in the south end of the stadium, which they`ve been doing since the 1950`s.
Delije were founded in 1989, before that groups as Red Devils, Zulu Warriors and Ultras ran the show in the north stand of Zvezdas Stadium. Now days there is plenty of subgroups in the north stand, like Belgrade Boys, Ultra Boys, Brigate, Heroes, KCZ, and Ultras, to mention some of the better known groups.
Links: www.delije.net, www.juznifront.com , arhiva.izaberipartizan.com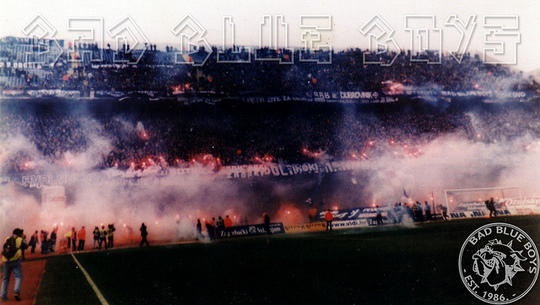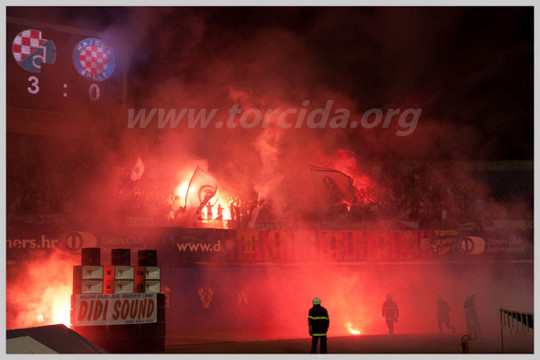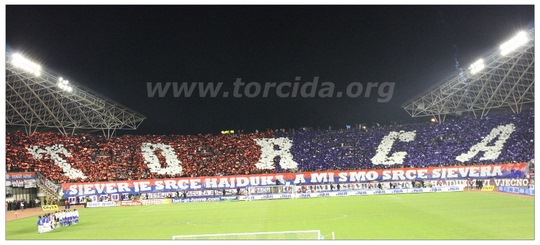 Its about 400km between Zagreb and Split, but this match is still the most interesting match in Croatia. Big tension between capital Zagreb and second biggest city in Croata Split.

Bad Blue Boys from Dinamo, Torcida from Hajduk. Lot of pyro and lovely atmosphere everytime they meet.
Bad Blue boys were founded in 1986 and stand at the north Stand at Maksimir Stadium.
Torcida is known as the oldest supporter group in Europe, founded in 1950, also this group stand behind the goal at the north stand.
Links: www.torcida.org  , www.badblueboys.hr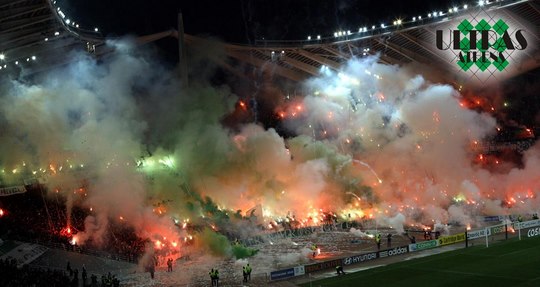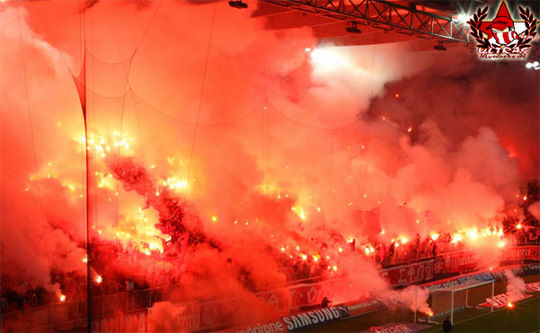 Olympiakos vs Panathinaikos, Athen on fire! This is, maybe together with Aris and PAOK from Thessaloniki, the two clubs in Greece with most supporters. Greek football federation dont allow away supporters when Panathinaikos and Olympiakos meet. We dont support that, but to be honest, we can understand why they wont allow away supporters. Even if supporters from these two teams cant meet inside a stadium, it is still normal with incidents in the city before and after this derby.
Panathinaikos play their matches at Olympic Stadium of Athens. They moved some years ago from their historical stadium Apostolos Nikolaidis Stadium, built in 1920s, to this new modern national stadium due to standard requirements from UEFA.
Main group of Panathinaikos is Gate 13, oldest group in Greece, founded in 1966. Before Gate 13 were founded they had several smaller groups, mostly named after different places in Greece/Athen. Since 1962–63 there had been thoughts of founding a universal club under the name of the stadium's gate where the team's most devoted supporters met but at the time there were many difficulties. Slowly the name Gate 13 was starting to get recognized and respected from players and fans.
Olympiakos play their matches at the new Karaiskakis Stadium in Piraeus. Main group is Gate 7, founded in early 1970s.
Links: Ultras Athens (PAO) , Ultras gate 7
The Derby della Capitale, derby of the capital, Roma. One of the most political derby on our list. Left against right.
In the history of this derby there is plenty of episodes with violent. In 1979, Lazio fan Vincenzo Paparelli was hit in the eye and killed by a flare fired by a Roma fan from the opposite end of the stadium. Beside of violence you have Stadio Olympico filled up with 72 000 supporters, creating a great atmosphere and often nice chores.
Lazio supporters have the north stand, Roma the south.
5. Aris - PAOK, derby of Thessaloniki:

Derby of Thessaloniki! Aris and PAOK is not really one of the better known football clubs, but for those who follow the supporter scene has most likely heard about them before.
Together with the Athen derby, it is not allowed with away supporters when these clubs meat. But Super 3 (Aris) and Gate 4 (PAOK) can guaranty you a nice show if you ever visit this derby, even without away supporters.
There is still many incidents between Aris and PAOK ultras. In March 2010 Aris played away against Kavala (not so long trip), during the match PAOK supporters attacked Aris. Notice: Aris did not play against PAOK!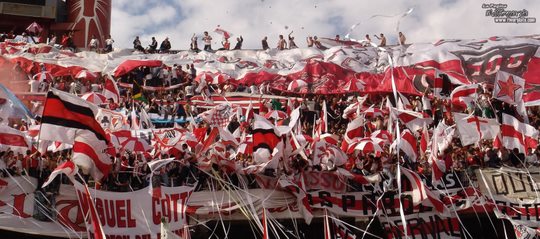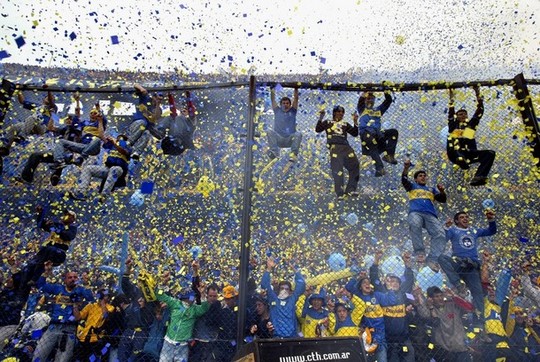 Superclásico, derby between the most popular and successful clubs in Argentina. Boca is known as the club for the working class, River Plate is known as upper-class supporters. But now days they generally have supporters from all classes in Buenos Aires.
La Bombonera (Boca Juniors) and El Monumental (River Plate) is two huge stadiums, totally filled up with South-American atmosphere, always starting many hours before kick off.
The Old Firm derby from Glasgow. One of the oldest derbies. This is real hate, this is Catholics against Protestants.
Not much to do with the ultras-culture, but this derby is famous anyway and voted up by our members as one of the top 10 derbies.
Derby east of London. Both clubs famous for hooliganism, with a good reason! Because they played in different divisions many times they haven't met so often as clubs from other famous derbies are used to. But when they meet they do it good!
As with everything else in England, this derby have might seen its best days...
Derby of Sofia, capital of Bulgaria. We move back to East-Europe again and find violence, pyro and good atmosphere.
About 20 minutes from the derby in May 2009, enjoy:
" target="_blank">Movie 3
The Holy War, or more correct Great Derby of the Royal Capital City of Krakow (Poland).
This is two small clubs if we compare them with clubs from rest of the world, but this derby is starting to be well known. Both clubs moved into new stadiums now before Euro 2012, but capacity of the older stadiums were not even close to 20 000!
Cracovia's firm is called Anty Wisla, and they do really hate Wisla. Most firms in Poland agreed to not use weapon, but in Krakow they didnt. Knifes and other tools are gladly used when hunting your enemy.
At derby day cops will be lined up everywhere in riot gear, everything can happen.