Football Factory - Ultras online shop!
Tuesday, 08 May 2012 08:08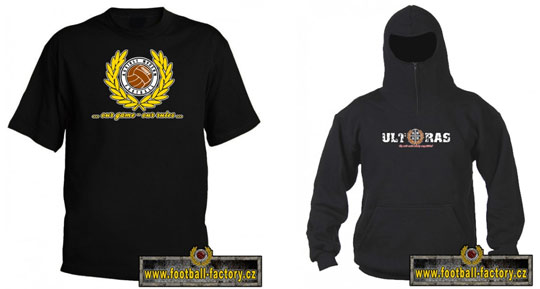 Football Factory is an online store for the active football fans! We are based in Prague, Czech Republic. Our E-shop sell products throughout Europe.

With our activities we started in 2009. We specialize in producing clothes and other accessories. Our offer currently includes over 50 different themes T-shirts, sweatshirts, hoodies, ninja sweatshirts and other types of clothing. Theme of our motives are obvious - Ultras, Against modern football, 1.3.1.2., Casuals, etc. Our products are available in all different sizes and color variants.

Product orders can be done easily through e-shop, which is completely in English. Payments for goods are accepted through PayPal - Payment currency is the Euro. Postage is 9 Euro. Goods are subsequently sent through the Postal Service to the addresses of our customers.



Our products can be viewed here:
Hoodies
T-shirts

We hope that you visit our E-Shop and will be of interest to you. If you have any questions we respond to all by email: This e-mail address is being protected from spambots. You need JavaScript enabled to view it
[sponsored article]